Formidably cool: Wolf Alice at Brixton Academy
Effortless, if slightly safe, the Mercury Prize winners proved that they never fail to deliver a good gig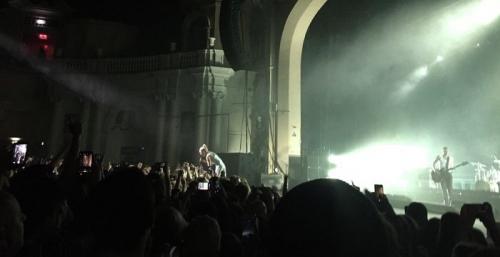 For such seasoned professionals as indie rock band Wolf Alice, the Brixton Academy is merely a playground. Give the four-piece a venue filled to the brim with enamoured fans, a disco ball, and a setlist of family favourites, and they will undoubtedly, characteristically, impress. The "formidable cool" of lead vocalist Ellie Roswell makes the whole thing appear completely effortless.
And yet, there is nothing basic about Wolf Alice's music. Their whimsical lyrics combine with wonderful vocals and catchy riffs to create a style soft enough to capture millenials' hearts, but hard enough not to alienate old-school rock fans. Bangers such as You're a Germ were crowd favourites, but the slower numbers, including Blush, were also beautifully delivered. It was a well-executed, fail-safe set, and the audience would have expected nothing less.
They know the formula for a good gig like the back of their hand, and have no trouble delivering it time and again
I suppose what I am trying to say is that Wolf Alice put on a great show. There's no doubt about that. As bassist Theo Ellis mused in between songs, the band have been in action for six years now and have released two very successful albums. There is no disputing that they deserve this success; all four members are exceedingly talented musicians, and frontwoman Ellie has quickly become somewhat of a cool-girl icon. This is all very well, however I can't help thinking that the band might be plateauing. They know the formula for a good gig like the back of their hand, and have no trouble delivering it time and again. The risk here, of course, is that their shows are perhaps beginning to lose the off-the-cuff excitement so unique, and essential, to a good rock show. We know all the words to their hits, and have even come to anticipate how the guitar solos will go, or at what point Ellie will come down from the stage to sing to the crowd. This is not to say we don't enjoy the show, in the same way that we enjoy the reliable cheesiness of chips from Van of Life.
In all fairness, it is always a challenge doing a tour that isn't off the back of a new album release. Released in September 2017, the songs from Visions of a Life have already taken on the role of comforting favourites, rather than exciting new material. For this reason, I'm not at all disappointed by the slight lack of 'wow factor' I felt at Wolf Alice's live show. I'm much more excited to see what the band have to offer in 2019. In my eyes, their live shows are currently sitting on a comfortably high 2:1, but we all know they are more than capable of achieving a first this year.