A bluffer's guide to Rossini's Il signor Bruschino
Confused about where to begin with Cambridge University Opera Society's Michaelmas show? Anna Wagner has you sorted.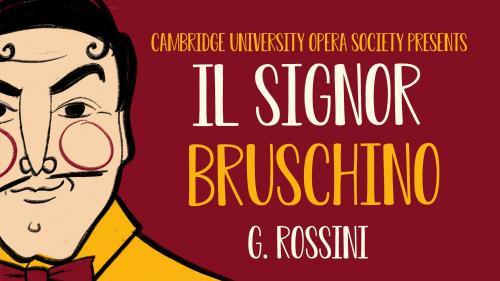 Want to put an end to those recurring nightmares of being exposed as a fraud in the crowd of classical music fanatics? Never fear! This short guide gives you all the tools you need to impress at the next opera evening in Cambridge.
For the past decade, if you typed Gioachino Rossini into Camdram, you found nothing but blanks – until now! Right on time for the 150th anniversary of the composer's death, the Cambridge University Opera Society is taking over Emmanuel College Chapel to put on his one-act farce Il signor Bruschino in the original Italian. As a cultured bluffer, you are therefore perfectly justified in going around shouting, "Happy death day, Gioachino!" (especially on the 13th November).
Don't forget to list classic comic opera tropes smugly
Not only had he a fantastic first name, Gioachino Rossini (1792 –1868) was also one of the most popular opera composers of his generation. By the age of 37, he had already dashed off no fewer than 39 operas in less than 20 years, before enjoying a well-deserved 40-year retirement. At the tender age of 18, he experienced his first professional success as an opera composer with a one-act farce he wrote for the mini Teatro San Moisè in Venice. After three more one-acters came Il signor Bruschino, performed when our Gioachino was only 21. Despite a variety of fun musical escapades, like the violinists tapping their bows on the music stands during the overture, the premiere was a huge flop – the audience was thoroughly offended by the saucy jokes…
As with all good opera librettos, the plot is absolutely unintelligible on paper. The poor librettist Giuseppe Maria Foppa tried to compress a convoluted five-act French play into a mere 90 minutes! Experienced bluffers will note how fiendish Foppa has cunningly added to the confusion by endowing two of the protagonists with reasonably similar names – Florville and Filiberto. Florville masquerades as the young Signor Bruschino to win the hand of Sofia, who is already promised to that eponymous gentleman – a match arranged by her guardian. Threatened with this arranged marriage, the crafty couple manoeuvre to outwit their gibbering elders, including the old Signor Bruschino, to win their happily ever after.
In short: tenor loves soprano, but old men get in the way. Point out that you have distilled this simple formula from extensive study of the Italian libretto to anyone who will listen. If pressed, you can add that Rossini's later operas, like Il barbiere di Siviglia, will recycle it. Don't forget to list classic comic opera tropes smugly: plucky soprano, crafty tenor, mistaken identity, fake letters, disgruntled old men… typical Italian farce, don't you know.
Don't be put off by the fact that CUOS is performing the show in the original Italian: a libretto is included in the ticket price, so you'll be able to follow every word. Of course, if you prefer, you can just cast it aside and chuckle knowingly at random points, bathing in the admiration of your fellow audience members for your firm grasp of 19th century humour. All in all, only the most embittered Rossini-hater could fail to come out smiling!
'Il signor Bruschino' is on at 8:30pm on Monday 19th to Wednesday 21st November 2018 in Emmanuel College Chapel. You can purchase tickets here