A sonic youth: is new music old news?
Columnist Anna Mochar questions the culture of charts and reviews when, regardless of its age, music will stand on its own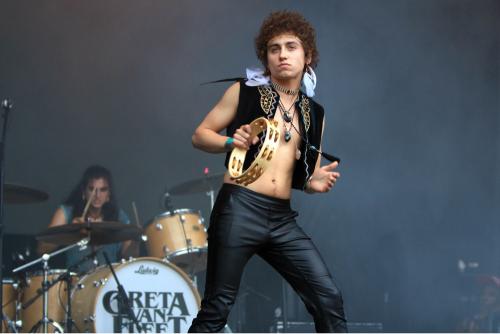 New music has a fresh taste to it – green and blue, and red like autumn. It holds the potential to one day become a favourite song or album. And the decision as to whether or not it's going to hold a special place in your life is entirely up to you. However, it's hardly ever as simple as making an active decision to like a song. Mostly, the relationships we forge with new music are down to a more intricate process of introspection and being subconsciously drawn to music that matches our mood.
What can be defined as 'new music' in this context is, of course, not confined to new releases – any song that I come across for the first time fits the brief. In the days of widely-available music and video streaming services, allowing us to find even the rarest version or performance of a song, coming across new music that will go with your tastes is often down to algorithms. Based on your searches and the content you consume. When we can continually discover music that we are sure to like (both contemporary and from decades back), what importance – if any – do the charts as a guideline for new music still hold? How important is critical acclaim at release, when we have a world of undiscovered music at our fingertips?
The importance of the album as a self-contained, coherent work doesn't really matter in the context of modern consumption
The world of music reviews and charts is one that happens at a distance from my personal music consumption. I am perfectly happy to go without new music for weeks at a time, choosing instead to listen to the same four songs on a loop. And when I do eventually choose to branch out, I will normally only do so based on recommendations from friends and family. The truth is, I can find it a bit daunting to listen to new music – particularly an album as a whole.
Perhaps this is down to music consumption becoming more 'bitty': we can pick and choose our favourite tracks from various albums and artists, add in some covers or live performances we have found online, and put it all on shuffle. The importance of the album as a self-contained, coherent work doesn't really matter in this context – except when it is a work that encapsulates a particular vibe. Something that can be put on to enhance a moment or mood. When viewed like this, the question as to whether or not an album is engaging as a whole becomes almost irrelevant to the listening experience, as do critical acclaim and chart success.
Personal associations are what make new releases of interest to me
Take, for example, the new Greta van Fleet album Anthem of the Peaceful Army. It has had rather mixed reviews, to say the least. Greta van Fleet has, in general, been confronted with accusations of being too derivative and amounting to little more than a Led Zeppelin tribute act. While there is some truth to be found in these points of criticism, I have still been listening to this album during my walks to and from lectures in these past few sunny October days. Sunny is just the way to describe this album. It is tinged with nostalgia and positivity – just what I need when I'm feeling nostalgic about the present already, as the business and socialising of Cambridge make me hate to think about it all having to come to an end eventually.
What also factors into my enjoyment of this new release is the fact that Greta van Fleet's double-EP From the Fires was the soundtrack to my Easter vacation and exam term. Coming back to a band that has defined a portion of this year for me, has brought back memories of early summer: working out on the lawn in college, ice cream study breaks, and reading at the Mill pond, while cows graze next to me.
Everyone has formed similar associations with various artists. And these associations are what make new releases of interest to me, personally. Wider cultural relevance seems to be less of a factor in this context – a point that might be tied to today's less conspicuous youth subcultures, with those that are defined by a particular musical sensibility rare. And, of course, a far greater amount of music is freely available to us today than it was ever before. As the modern world of music breeds a type of fan who is more independent, the chart success of new releases is, therefore, less significant than ever