Escaping the female DJ trap
Meet the women tearing up Cambridge's clubbing culture: Niamh Curran investigates the gender dynamic on nights out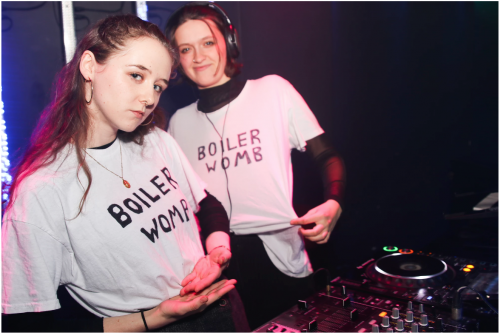 As someone who doesn't club, it came as a surprise that a number of my female friends were suddenly DJs. Rather cynically I dismissed some of my friends efforts as, just a fad. When I look back, I see the 'bad feminist' in me showing. After talking to a number of female DJs in Cambridge, I started to see this not as a fad or a craze, but as a change in the tides.
From my own experience, I have seen similar changes in the Cambridge comedy scene over the three years I have been here. I'm glad to see more often than not, there is a gender-balanced line-up at nights I perform at, and frequent women and non-binary only smokers. Female DJs seem to facing a lot of familiar ups and downs as women in comedy.
There are often benefits for women who break into a more traditionally male field. A certain level of forgiveness to their novice status, but also an element of novelty. Kaye, who DJs under 'Kitkat', commented that, "I feel like expectations are lowered as you're seen as less experienced." She points to the practical point that female DJs do not often get the chance to be as experienced as their male counterparts, because they just aren't booked as much. She claims that this can often make the moments where you play a great set feel even better, because it defies the expectation.
Jemima, who DJs under 'just jemima', commented a similar point, "to be a woman and put on some really slammin techno and just be like 'fuck you' is a really empowering experience".  However, this obviously comes with a downside. Frequently those interviewed pointed out that despite the low expectations, women were held to a higher standard. This is both in their mixing, and what they do while at the decks. Naomi, who DJs under 'Mag', commented that often male DJs don't have to think as much about being 'perfect' in their set, where women do.
We shouldn't stop having women and non-binary only DJ nights, but there should be more of an effort for the club nights outside of these to include more women
Yet this can have a more problematic issue when you come to be seen as the 'woman' DJ. As Jemima claims, "you have to form your identity as a woman DJ, men don't have to be male DJs." The aim of a lot of these nights out that focus on female and non-binary DJs in Cambridge is presumably to normalise their role in these fields. But women are then faced with the problems that all these efforts create. Outside of these nights you tend to be 'the woman'. To gain an advantage here, some of the women might capitalise on that role. As Jemima, comments that while it might be 'cool right now' to have female DJs, the othering of female DJs will hopefully disappear over time.
Part of the problem might be seen to come from the atmosphere around dance music itself. It was commented by all those who I interviewed that there is a 'boy's club' feeling around dance music. Yet it's not just the dance music, but the dancefloor itself which can become a highly masculine atmosphere.
Men tend to dominate the space, and this can often lead to the sexualisation of the space, although it would be fair to say that that is not just men. This means that for these female DJs the act of DJing, of taking up space, making noise, where women normally don't is immensely empowering.
A flip-side of this male dominated space is that if gives a sense of solidarity to the few female DJs there are at Cambridge. This is seemingly reflective of the wider world, where there are disk collectives attempting to connect female DJs. In Cambridge there are some smaller collectives for female DJs around.
Jemima commented that she felt a responsibility to try and help foster these spaces for the younger women coming into DJing, as those who were older than her had very little opportunity for this. Yet, the more obvious attempts that can be seen to provide a space for women are in the nights out. These are events which promote female and non-binary DJs such as Playhouse, King's Bunker, and Avant Gardening. Yet despite these efforts, the electronic nights outside of this are still overwhelmingly male.
Overall, the lot of women interested in DJing seems to be improving. Like many women trying to get into these fields, those who are in there now are paving the way for the those who come after. We shouldn't stop having women and non-binary only DJ nights, but there should be more of an effort for the club nights outside of these to include more women. We need to escape the female DJ trap.