First Aid Kit Ruins review
Swedish folk duo return with their dreamy Ruins, that while imperfect, is a "brilliant testament of the healing powers of music"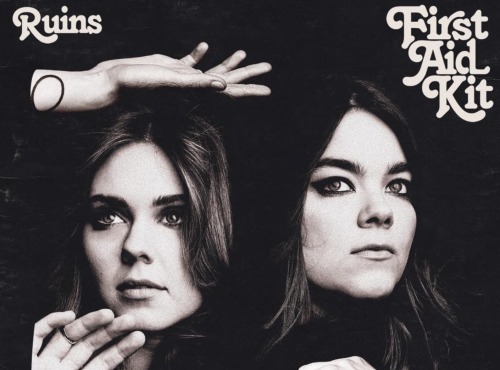 Three years have passed since the release of First Aid Kit's last album, Stay Gold, a period in which the state of adolescent grace the Söderberg sisters wished to preserve crumbled. Tensions between the pair and Klara's split from her now ex-fiancé confirmed their fear that 'no gold can stay', leaving them (you guessed it) in ruins. Despite a mediocre plateau in the middle tracks, Ruins eventually becomes a brilliant testament to the healing powers of music and a defiant tribute to both the difficulties and the freedoms of growing up, presenting the listener not with despondency and chaos, but a carefully crafted calm after the storm.
"My longstanding gripe is with First Aid Kit's tendency to enter into the territory of cliché when practising their trademark simplicity"
Ruins undoubtedly belongs to the class of album whose gifts only grow with each listen, yet it is quite peculiar in the range between the rather disappointing first listen and the profundity which becomes clear over time. I couldn't help but groan upon reading the title of the opening track, 'Rebel Heart', as it reawakened my longstanding gripe with First Aid Kit's tendency to enter into the territory of cliché when practising their trademark simplicity, which is at best striking and at worst – as in several Ruins tracks – cringe-worthy. Lyrical simplicity here turns to unsatisfying ambiguity ("I don't know what it is that makes me run, / That makes me want to shatter everything that I've done"), and although it is strong musically, the track is utterly overshadowed by the first few bars of the second track, lead single 'It's a Shame'. I question why the album doesn't begin here, with its triumphant combination of forward-marching music and lyrics which acknowledge the need to let go of the past while heart-wrenchingly seeking assurance that "it's okay" to want to hold on to it. Here we witness what the Söderberg sisters do best, where a jarring musical and lyrical juxtaposition mirrors the discomfort and poignant melancholy of growing up.
Musically, few tracks come close to 'It's a Shame', with some sounding like tired repeats of songs from past albums (the opening riff of 'To Live a Life' is almost identical to that of 2012's 'Emmylou') and tracks three to seven blending unsatisfyingly into one. However, where Ruins surpasses the duo's previous albums and EPs is in its unassuming thematic depth. At the beginning of the album, the speaker repeatedly asks to "stay the night" and take refuge from their responsibility to move on in their ex's home, which colours Ruins' final words, "I thought you were home", with a heart-rendering nostalgia, highlighting the journey to independence which almost (but not entirely) excuses the exhausting dramatics of the earlier tracks. What sets Ruins apart is that this journey is structurally reinforced, with the turning-point in the narrative occurring atop the metaphorical mountain found in the title track from which the speaker turns "to look at ruins [she] had left behind". She turns her head from the lost lover behind her to her own self and future, thus setting us up for the all-too-short catharsis of the final two tracks: "I lost you, didn't I? / First I think I lost myself". This switch, however, occurs frustratingly late in the album, and leaves you for its tired mid-section to feel as if you're listening to a friend bang on about a guy who you know has already moved on. I couldn't help but release an exasperated laugh at the beginning of 'Distant Star': "Well, goodbye never seems finished / Just like these songs that I write".
The album's five-minute-long closer 'Nothing has to be true' allows the snow of Ruins to settle into a breath-taking moment of reflection, where the duo write that although they "thought love was enough", this doesn't need to be true, before ascending into a spine-tingling blizzard of letting go (finally). What a shame, then, that the dream-like instrumental which marks the album's climax feels worlds away from many of the album's other tracks, and although Ruins offers some of the best of First Aid Kit to date, its greatest achievement is the closer's promise of better things to come