Besides: five albums for the summer
Columnist Ben Adams tells us about the records he'll have on repeat this summer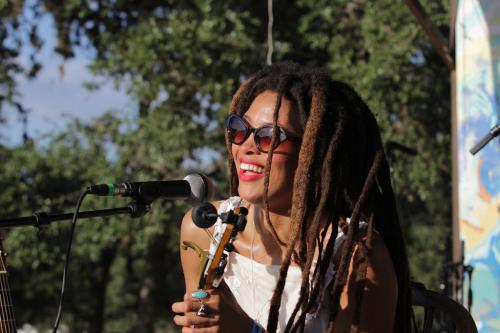 Summer is here and with this in mind, I'm taking a deviation from the usual columns to pick some of my favourite releases of recent years that are perfect for the summer. This is music to wake up to on dusky mornings, to walk back from the club at 3am, to sit with friends in the park on sunny afternoons. But most importantly, it is human music that speaks to our need to love, and to dance, and cry, and to sing.
"music to wake up to on dusky mornings, to walk back from the club at 3am, to sit with friends in the park on sunny afternoons"
Wiley - Godfather
Grime is a genre dominated not by albums but by live performance; sets on pirate radio, clashes, raves like Sidewinder and Eskimo Dance. Where Dizzee Rascal's acclaimed Boy in Da Corner, one of the few classics produced in the genre, painted a bleak picture of life on East London council estates, Godfather stands instead as an exhilarating celebration of the genre from one of its innovators. Across seventeen tracks, Wiley brings together some of the most notable artists from the scene with lyricism at turns both dextrous ("X-ray, make way for my death ray / Nicola Tesla reborn to a next stage") and comical ("Man get weak over gyal like Julius Caesar") over distorted square-wave instrumentals from first-class producers like Preditah that threaten to break your speaker and then collapse your house.
Lucy Dacus - No Burden
No Burden doesn't sound like it was made for anyone else except Lucy Dacus; full of idle thoughts and observations about the tangled and complicated mess of life. Tackling subjects ranging from emotional dependency to childhood innocence, the 21-year old songwriter from Richmond, Virginia, has an assurance and an empathy both in her bluesy and melancholic voice and the uncomplicated style of her lyricism: "you've been falling for so long and you haven't hit anything solid", she muses on the cyclical and tense 'Strange Torpedo'. Drifting with ease from folky simplicity ('Trust') to blues stomp ('Troublemaker Doppelgänger'), Dacus has crafted a mature and exciting debut perfect for summer afternoons.
Valerie June - The Order of Time
On The Order of Time, Valerie June pulls close the diverse strands of the southern black musical tradition into a cohesive whole of spiritual music that showcases the simple power of her lyricism and a unique voice, a soft nasal drawl that explodes into a cry. From explorations of spirituality to bold words of encouragement and thoughts on the difficulties of life, the songs here are bright and melodic, driven by diverse instrumentation and carrying a sense of optimism throughout. As she sings on the opening track: "These are the songs you sing / In the search for the grass that's green".
Donnie Trumpet & The Social Experiment - Surf
I perhaps didn't give Surf enough credit at the time of its release in 2015. Many of us anticipated the Chicago collective to produce an effective follow-up to Chance the Rapper's acclaimed Acid Rap mixtape, and instead what we got was an unusual hybrid of hip-hop and live instrumentation in the vein of jazz and soul, led by an ensemble of musicians and uncredited stars from the world of black music: Chance, Busta Rhymes, Noname, Erykah Badu, Big Sean, J Cole, KYLE. Now, it's hard not to smile when you hear the joyous meditations on life on the opener 'Miracle', the ridiculous combination of horns and handclaps with a Quavo verse on 'Familiar', or the tender ode to Chance's grandma on penultimate track 'Sunday Candy'. This is wondrous music that succeeds in being both celebratory and contemplative.
Four Tet - Morning Evening
Morning Evening is a strange beast: 40 minutes and two tracks, across which the London electronic producer Four Tet, real name Kieran Hebden, expertly weaves together driving kick drums, shuffling percussion, drifting synthesiser notes and extended samples of film music and the Indian playback singer Lata Mangeshkar. The latter of these allow him to pay tribute to his Indian heritage and to pull together a record that feels like the passing of a day: from the rising chords that herald the sunrise to the chaotic garage rhythms symbolic of any good night out. It might be club music but not like you've heard it before, with a sense of thoughtful meditation and a deep awareness for musical tradition