Maximo Park: 'Find out what makes you stand out from the crowd, wherever you're from'
Keir Baker is utterly out-Geordied by the frontman of the Platinum-selling band ahead of their performance at the Cambridge Junction in May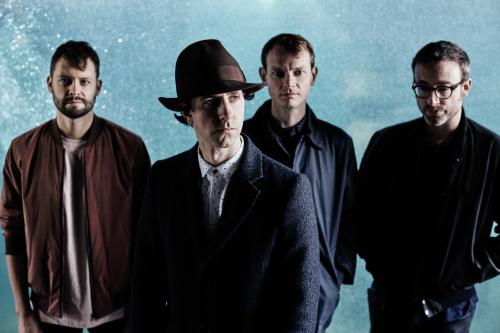 Twelve years ago, Maximo Park's debut album, A Certain Trigger, was catapulting the band into the public conscience. Having secured a Mercury Prize nomination, it would later go Platinum in the UK: the country loved the North-Easterners' lively and high-tempo power pop, characterised by plentiful use of power chords and Paul Smith's Geordie accent.
It is this latter element, still as authentic and broad in their new music as it was back in 2005, that gave Maximo Park something unique. Indeed, having seen my own north-eastern tones savagely eroded away by three years of entrapment down south, it is something of which I am desperately jealous.
"I think a lot of people were surprised by my accent," Smith admits. "But from day one, we decided to be our own band and find our own identity. How else was I going to sing? In a fake Manchester accent? A 'Mockney' accent? Or even the American twang? Many did, and still do!" he continues, before noting he was "more influenced by people like Robert Wyatt who had a clear southern English accent or Arab Strap, where you could hear a Scottish dialect."
Though Cheryl Cole, Sting and the Knopfler brothers (of Dire Straits fame) are by far Newcastle's most famous musical exports, Maximo Park's success (the band has clocked up over 1.5 million sales for their five already-released albums, four of which have reached the UK Top 10) and origins on Tyneside arguably create a case for their inclusion in a hall of fame for Geordie musicians. With this in mind, I wonder whether growing up in the region influenced their music.
"Probably subconsciously, overall," Smith tells me. "Maybe we wouldn't have written a song about the coast [the band's first single, 'The Coast Is Always Changing'] or if I lived in a big city when I was young, there probably wouldn't be songs about transitioning from a small town to Newcastle."
"We want to provide an alternative type of pop that defies cliché and bends the tradition to our own way of thinking"
"In terms of our identity, maybe being from the North-East made us a bit more awkward and isolated, far from the London-centric music industry. It certainly helped us forge our own musical path and allowed us to build up the material that became our first album without any pressure." He pauses. "That's about the only bit of advice I'd proffer: find out what makes you stand out from the crowd, wherever you're from".
And now Maximo Park are back, albeit one member down. Their sixth album, Risk to Exist, is scheduled for release in April and the band are set for their first major tour since 2014. "We've been busy," Smith says by way of explanation, noting the band had enjoyed a little tour to celebrate their 10-year anniversary and pursued other projects, before reuniting to record the new album.
Maximo Park's new single – Risk to Exist – shares the same name as their new album
"The music has evolved a little with each record," Smith tells me. "The new album has some funkier, more soulful influences on it, which I'm not sure we would've allowed in the past! We've moved away from the original sound of the band with more electronic material, like 'Hips & Lips' or 'Brain Cells', but the punk energy that excites us is still there."
"Pop music is what we intend our songs to be," he continues as I enquire about his perception of their genre. "The lyrics need to strike a chord with the listener, the music needs to be catchy and melodic and we have to believe that it can change the listener's mood for approximately three minutes. Having said that, we want to provide an alternative type of pop that defies cliché and bends the tradition to our own way of thinking."
Indeed, that way of thinking is often laid bare in Maximo Park's lyrics, which often carry political messages that perhaps testify to the band's tendency to embrace elements of punk. With the new album continuing in this mould, I wonder whether the political earthquakes of 2016 have changed the band's writing process. Surely, finding inspiration is all the easier?
Smith, however, disagrees. "There may be more to write about in the current day," he admits, but he argues that, "as a lyricist, I don't want the writing to be too obvious or sloganeering." In his view, this means it "can be tricky when you want to say so much, but have to compress it into a line or two, and integrate it with the music." A good political song, Smith continues, "should hint at the complexity of the situation and not dumb-down." After all, he points out, "it still needs to function as a pop song."
"It still feels like there's an urgency and a passion for what we do within the band and within our audience"
And later, as we discuss the recent treatment of celebrities like Gary Lineker and Meryl Streep, who have dared to use their platform to express their political views, Smith points out a further problem presented by today's society for those wanting to use music to put forward political messages. "Bob Dylan," he says by way of an example, "shocked people because he did things differently in a music industry that was still figuring out what pop music was." In contrast, he argues, "it's harder to cut through all the noise these days, and that shock of the 'new' is rare."
We return to Maximo Park. With their upcoming tour hitting the Cambridge Junction on 15th May, Smith is excited about heading down the A1. "The university and the attractive surroundings make it one of the more refined spots on the touring circuit," he explains, before noting that "the audiences can get pretty raucous!"
I express my surprise at this, but he dismisses my (in hindsight, shameful) evocation of the posh, nerdy stereotype of the Cambridge student: "Having attended Newcastle University myself, I'm already used to posh students," he laughs. "As for nerds, well, perhaps we're a band that might appeal to the more thoughtful elements of the music-loving public!"
And, after the tour is done, what is next for Maximo Park?
Smith, after admitting he "didn't foresee us still being a relatively well-known band 12 years on" from their Mercury Prize nomination, is optimistic. "It still feels like there's an urgency and a passion for what we do within the band and within our audience," he tells me.
"That encourages us. Not many of our contemporaries are still standing, so we must be doing something right! I just hope we can continue to make inspiring music and to challenge ourselves, while always looking for those golden moments that a pop song can deliver."
Maximo Park will be visiting the Cambridge Junction at 7pm on Monday 15th May. Tickets cost £22.50 and are available here