Why won't anyone play for The Donald?
Performing for people you hate is a great way to make a political point, says Carl Wikeley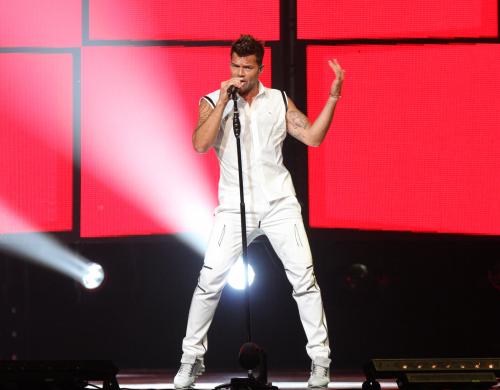 Who would perform at Donald Trump's inauguration? As top musicians from ex-Queen members to Elton John issue biting rebukes, the President-elect might be left with the country stylings of Billy Ray Cyrus, Kid Rock or the frankly repellent Ted Nugent, who recently likened Democrats to his own testicles. Even the 18-year old Swedish teen sensation Zara Larsson recently told the BBC, "I would never do it", prompting worrying questions in the Trump camp including 'who is Zara Larsson?'
Based on how much fun I've had performing for people whose values I despise, pop stars are missing out by refusing an invitation to perform at Trump's party.  But this isn't simply a 'so what, have your fun' attitude; many great artists have imbued their performances with subversive and empowering messages in the face of an audience who they would otherwise go out of their way to avoid.
[Ricky Martin] played the role of the medieval jester, mocking the President while making sure that Bush and his supporters were complicit in it.
In 2001, Ricky Martin was invited to play at President Bush's inauguration. Yes, that's the same Ricky Martin whose performance of 'Livin' La Vida Loca' could not be more camp if it tried. Why was Ricky Martin, who later raised the middle finger in concert when singing Bush's name, performing for a man he would go on to describe as a warmonger? Did he change his mind? No, Martin realised that Bush had won the presidency, and instead of burying his head in the sand decided to inject a massive dose of gay goodness into what would otherwise have been a depressing affair. Martin managed to get George Bush up on stage, dancing with him and generally making a fool of himself. He played the role of the medieval jester, mocking the President while making sure that Bush and his supporters were complicit in it.
Ricky Martin was clearly enjoying himself while mocking Bush, and I won't pretend that this isn't one of the attractions of performing for someone you hate. As a drummer and a student in Cambridge, I've had to play for some pretty unsavoury audiences. Playing music for a room full of suits from investment firms and companies like BP might seem to be selling my soul, but if I can't make a positive change through my music, why not have some fun?
But as a musician, you can do a lot by simply being there. The mere presence of someone who doesn't look like they should be at the party can be disruptive; you needn't be actively protesting in order to make a difference, otherwise I wouldn't suggest performing at Trump's inauguration. There's a school of thought which says that bodies can 'do politics': that something can be achieved simply by engaging with a place or social event. Think of London grime, where the act of going to, attending and engaging with a show achieves something political, even if you don't say anything yourself.
In the same way, I found myself wondering whether simply agreeing to play for an audience you wouldn't talk to at the pub might achieve something politically. Picture the scene: I am performing with my band at the Cambridge Union Society, a debate chamber reserved for the bloated and the privileged. I am walking through a sea of dinner jackets and ball gowns, their wearers consuming absurd volumes of champagne, clad in a vest fit for Justin Timberlake, shorts and a baseball cap. People look either aghast or amused. I am equally pleased with either reaction: looks of contempt mean that I have burst the rich bubble of heady entitlement, while reactions of laughter mean I have brought a little humour to the sad, self-indulgent lives of the well-off. I feel as if I have challenged them, be it consciously or otherwise, and made them just the slightest bit uncomfortable, which is healthy in any situation.
We do not play 'God Save the Queen' by the Sex Pistols, we do not play the Manic Street Preachers' 'Repeat (Stars and Stripes)'. Instead we play, smilingly, to indulge the desires of Cambridge's most elite and privileged. Subversive 'fuck you' songs certainly have their place, but in some situations you're just going to get quietly ushered off-stage and never re-invited. One such situation is the inauguration of President Donald Trump.
I do not expect any pop stars to headline Trump's party and destroy their career by insulting the President. But it's cowardly to refuse the opportunity to show your face in a place where you might make someone else feel uncomfortable. Elton John recently rebuked the assertion from Anthony Scaramucci, a member of the presidential inaugural committee, that the songwriter would be performing at Trump's concert. I can't help but wonder why you would turn down the opportunity to make a whole lot of Republicans feel incredibly uncomfortable by being unashamedly queer and wonderful. Just remember, playing for Donald Trump does not equate to an endorsement: Ricky Martin's performance for President George Bush shows this clearly.
So Zara Larsson, whoever you may be, take it from me that performing in front of an audience you hate isn't just hugely enjoyable. It might just be the greatest political action you take