Why Bob Dylan's Nobel Prize in Literature is good news
Dylan joins another prestigious club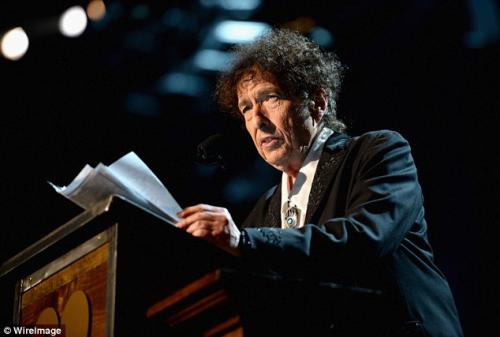 Last Thursday, the world of literature was split into two camps. As word spread that the 2016 Nobel Laureate was not Don DeLillo, not Haruki Murakami, but was in fact Bob Dylan, voices of dissent and approval began to engage in an argument over a fundamental, deceptively easy question: is this literature?
With previous winners including TS Eliot, John Steinbeck and Toni Morrison, Dylan joins an eminent host of American writers who have received the distinction. Sceptics, however, argue that he doesn't belong among these ranks, simply because he is not in the business of literature. Indeed, the native Minnesotan is the first musician among the 113 honourees in the award's history.
But it's too narrow-minded to dismiss Dylan solely on the grounds of medium and genre. Granted, every introduction to literary studies lecture impresses upon the starry-eyed undergraduate that the three major genres of literature are prose, drama and poetry. Then, where do you put Dylan? Advocates of his win came running swiftly, proclaiming Dylan a poet; the 20th-century Bard. But although he was called "the greatest living poet" by Van Morrison decades ago and continues to be labelled in the same vein, this also misses the mark.
Dylan is that somewhat awkwardly branded breed called 'singer/songwriter', and there is no shame in saying it out loud. Literature and music have always been sibling art forms; nothing speaks against a significant intersection between the two. Dylan won the prize "for having created new poetic expressions within the great American song tradition". What, if not evolve material from their national song tradition, did the likes of Wordsworth and Tennyson do in their day? They printed their poetry in books; Dylan presses his songs on vinyl and CD. What they have in common is the immensely innovative treatment of the English language and its cultural heritage.
But it's not just the folk tradition handed down from Woody Guthrie and Lead Belly that gave Dylan his artistic credentials. In his 2004 autobiography Chronicles, he writes of his early interest in literature. Poems by the English Romantics and novels ranging from Dickens to Dostoyevsky fascinated him profoundly. He later befriended beat poet Allen Ginsberg and in an admittedly rather marginal volume of prose poetry entitled Tarantula (1971) even made his own foray into book writing. The 75-year-old certainly didn't win the Nobel Prize by pure association with all things literary, but his legacy is far bigger than that of a mere folk troubadour.
It should be obvious that the clean separation of one from the other is a futile project. Poets such as Leonard Cohen may come along who have a strong affinity for music, and songwriters may exhibit inspired engagement with the printed word, as Suzanne Vega has done in her most recent album.
There are also favourable opinions in the literary establishment. Toni Morrison called the award "an impressive choice", and Salman Rushdie, himself often considered a Nobel contender, declared that "Dylan towers over everyone", concluding that "[t]he frontiers of literature keep widening".
The Nobel Committee, usually perceived as a stuffy institution, has opened its doors, and with Dylan ushers in a people's writer. Not in the sense of an avid interaction with fans on Dylan's part – on the contrary, he is notoriously laconic and avoids publicity. But in the wide-reaching ways in which his work has touched the life of the everyman; listening to Highway 61 Revisited or Blood on the Tracks is arguably less intimidating than the perusal of the collected works of Samuel Beckett.
Those still apprehensive should be comforted, for the awarding of the prize to a songwriter doesn't mean that next year's won't go to a writer of the more conventional kind. If anything, the Nobel Prize has strengthened its significance by demonstrating a progressive, non-prescriptive understanding of literature.
The wonderful richness of Dylan's songbook ranges from readily approachable folk balladry – those songs in which he recognisably carries the torch of the American song tradition – to the puzzling realms of modernist poetry. Nobel Prize or not, Dylan's work is that of one of the greats