In celebration of Kate Waring
The Cambridge composer's legacy lives on at a Hughes Hall concert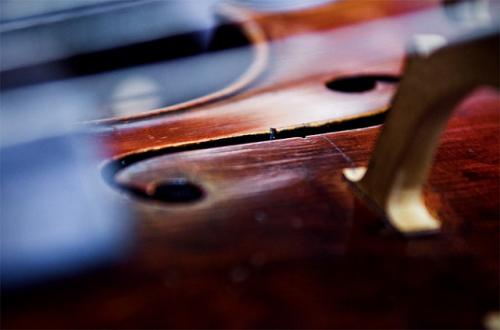 Tucked away in a little cozy corner of Hughes Hall – away from the throngs of Sunday afternoon tourists downtown – was a wonderful concert to celebrate twentieth century composer Dr Katherine Waring. A college not particularly known for its extensive music offerings, the intimate Pavilion Room in Hughes Hall was the perfect setting for this new-music performance.
Dr Waring, who passed away last year from neuroendocrine tumor syndrome at the age of 62, was born in the southern state of Louisiana in the USA and later spent nearly a decade in France and another decade in Germany. In her later years she lived, wrote and taught in Cambridge, where she had a profound impact on the local music community. This is borne out by the support seen on Sunday as the seats were nearly filled for her memorial concert, despite little advertising.
One of the event organizer's, Amy Klohr, a Cambridge voice instructor and Senior Member of Hughes Hall, said today that there were many options and configurations for presenting Dr Waring's work, but the early September timing and small room were ideal. "Many of Kate's works, especially near the end of her life, were of a grand scale … necessitating large spaces and a significant number of props. We have a small space here at Hughes and thought it would be perfect… intimate."
This was evident in the first vocal entry of the afternoon by the superb soprano, Hazel Neighbour. After a beautifully subtle introduction from cello, piano and clarinet, Neighbour began by singing into a straw that was inserted into a cup full of water. She later confessed that this extended technique almost did not happen as she had trouble finding a suitable straw.
When the cup and straw were put down, she quickly burst into the piece and overpowered the room with her majestic vocal prowess and exquisite stage presence. After a few eardrum-rattling moments, the dynamic balance for the chamber group was settled and the stage was set for a pleasant afternoon of contemporary music. That being said, there was always a sense that we were missing something, what with these grand pieces being reduced to a seven-piece chamber group.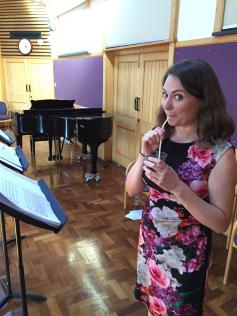 This first selection, Overture and Scenes from Porcelain and Pink (2015), was taken from a chamber opera where Neighbour would normally sit in a bathtub for the majority of the production feigning to be without attire and having a series of mishaps. After listening to the first 15 minutes of the piece, the neophyte twentieth-century music listener may think that Dr Waring had a case of musical attention deficit disorder. Every 32 bars or so we heard a different texture, chordal centre, or dynamic.
To the seasoned listener, however, the mixing of major and minor melodies, the modal borrowing in the chordal structure of the piano accompaniment and the hints of American elements such as the blues scale and pentatonic-based passages were effective.
One distinctive strength of Dr Waring's writing is the treatment of the lower-pitched parts. The cello (expertly executed by Jon Fistein) for instance always had lyrical, idiomatic lines that leant a mystic element to slow passages. The pizzicato and double-stop passages in the opener, as well as in the scenes from Are Women People, were a definite highlight. Likewise, the baritone parts (admirably delivered by ensemble newcomer James Proctor) were sensual and complementary. No doubt then that Dr Waring was influenced by the sounds of her husband who himself is a low-register singer.
After all of these shining moments, Dr Waring brings the music around to what seems to be logical ending points in each movement. She then, more often than not, leaves the audience hanging, ending abruptly or on a dissonant borrowed chord instead of a tonic. This is a function of twentieth-century music, something not uncommon for the modern composer. However, many at the concert felt this kind of musical treatment personified her life – too short, and leaving us asking what was next. The music was a fitting celebration of a wonderful career and composer.