The Cure: An eggy hangover fix
Here to be your saviour on those mornings-after when you can't leave college, let alone your bed, Rhea Gupta presents the quick and easy Indian omelette sandwich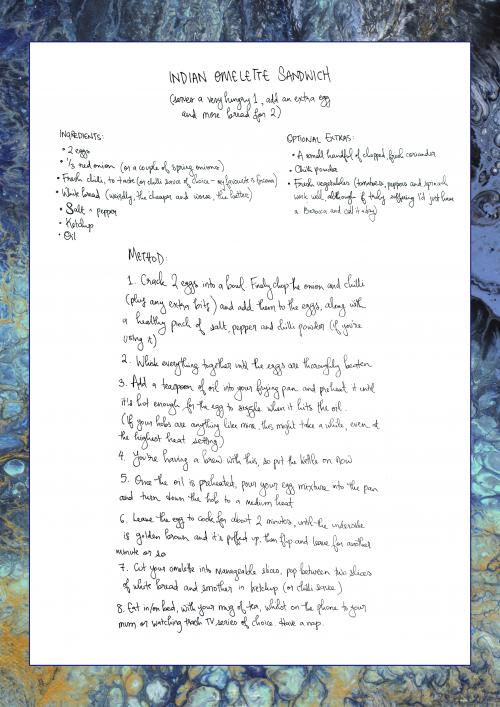 It is hard to deny how powerfully memorable our first few weeks at university are. Between meeting an overwhelming number of people, adjusting to Cambridge's various idiosyncrasies, and settling into a new environment far from home, it is unsurprising that the little things - like what we eat - often slip from our minds.
The exception is, of course, when - in vivid, gruesome detail - we experience our Matriculation dinner in reverse, owing to an evening of college-provided wine and small portion sizes. The next morning is rarely pretty. You stumble out of bed at some point between 10am and 4pm, bleary eyed and haggard, with your brain throbbing in your skull. You re-watch your hideously cringe-y  Snapchat/Instagram story (the first of many) of you and your friends posing in gowns. You continue to repeat this sequence of events at least twice a week until December.
Since we don't live in a utopia where brunch is served in college every day for at least the first month of Michaelmas (a revolutionary idea, really), here are some hangover cure foods to soothe your homesick, party-worn soul.
Indian Omelette Sandwich
(serves a very hungry 1, add an extra egg and more bread for 2)
Ingredients:
2 eggs
1⁄3 red onion (or a couple of spring onions)
Fresh chilli, to taste (or chilli sauce of choice - my favourite is Encona)
White bread (weirdly, the cheaper and 'worse', the better)
Salt and pepper 
Ketchup
Oil
Optional extras:
A small handful of chopped, fresh coriander
Chilli powder
Fresh vegetables (tomatoes, peppers and spinach work well, although if truly suffering I'd just have a Berocca and call it a day)
Method:
1. Crack 2 eggs into a bowl. Finely chop the onion and chilli (plus any extra bits) and add them to the eggs, along with a healthy pinch of salt, pepper and chilli powder (if you're using it)
2. Whisk everything together until the eggs are thoroughly beaten
3. Add a teaspoon of oil into your frying pan and preheat it until it's hot enough for the egg to sizzle when it hits the oil. (If your hobs are anything like mine, this might take a while, even at the highest heat setting)
4. You're having a brew with this, so put the kettle on now
5. Once the oil is preheated, pour your egg mixture into the pan and turn down the hob to a medium heat
6. Leave the egg to cook for about 2 minutes, until the underside is golden brown and it's puffed up, then flip and leave for another minute or so
7. Cut your omelette into manageable slices, pop between two slices of white bread and smother in ketchup (or chilli sauce)
8. Eat in/on bed, with your mug of tea, whilst on the phone to your mum or watching trash TV series of choice. Have a nap.