Stay fresh in the heat: summer food & drinks
Anna Mochar shares her simple summer recipes to stay refreshed and keep your cooking skills up to scratch for Michaelmas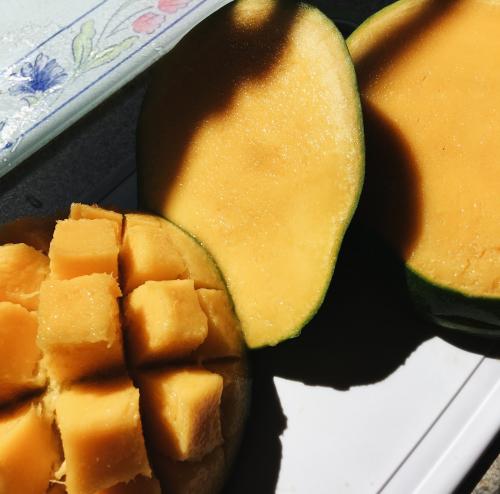 Summer is a season of balmy nights, the smell of fresh-cut grass, and clear skies. This year, England has finally been graced with a summer which matches that description, and the hottest time of the year comes hand in hand with an appetite for light, fruity meals and ice-cold drinks to match the summery vibe.
It can be surprisingly cheap and easy to cook delicious summer meals. It takes only a few ingredients to make many different dishes. Some personal grocery staples – which can definitely be bought on a tight student budget – are couscous, spinach, feta or Greek salad cheese, mushrooms, mango, and chickpeas. These ingredients are the best starting point to making food that leaves you feeling refreshed, rather than overly full, which is especially important in the summer heat. 
Mango and spinach salad with soy, ginger and chilli vinaigrette
This is a beautifully simple recipe, which doesn't require an exact approach. As an avowed fan of cooking by feeling, rather than recipes, this suits me perfectly and is ideal for a relaxed picnic or lunch in the great outdoors.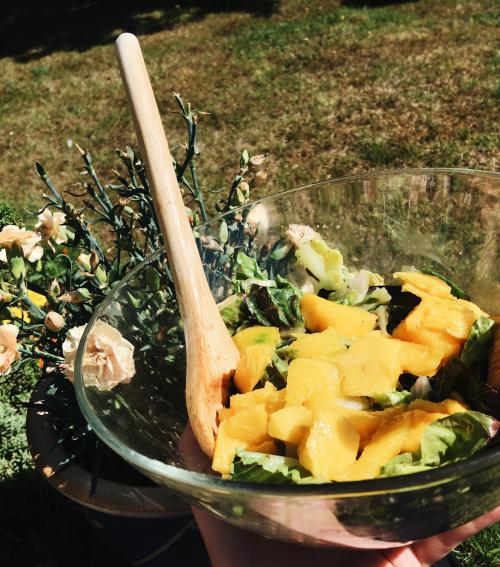 Ingredients:
½ mango
1 handful of spinach
1 little gem lettuce
Aldi's ready-made soy, ginger and chili dressing
A dash of apple cider vinegar
Chop the mango into cubes. Tear up the lettuce and wash with the spinach, then put it into a salad bowl. Add the mango. Mix ¼ of a cup of dressing with a dash of vinegar, then pour over the salad. Mix.
Sweet potato, mango, and chickpea curry with lemony couscous (or rice)
Fruity and spicy - this is a perfect meal to cook with your friends or family. The sweet potato adds a delicious creamy texture to the curry, while the couscous is lighter than rice and ideally suited to hot summer days.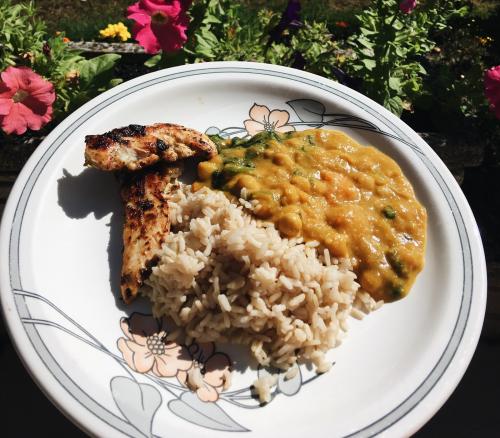 Ingredients:
1 medium-sized onion
3 cloves of garlic
1 sweet potato
½ mango
2 handfuls of spinach
1 can of chickpeas, drained
½ can coconut milk
Pre-mixed medium hot or hot curry powder
½ - 1 cup of couscous
Olive oil
Juice of ½ lemon
Salt and pepper to taste
Microwave sweet potato for about 5 minutes to soften it a little, then chop into cubes. Chop up the onion and garlic, then fry in a little oil. Add two teaspoons of curry powder. Add sweet potato, mango, spinach, coconut milk, and chickpeas, then allow to simmer for 25-30 minutes. Add salt to taste.
For the couscous, cook as much couscous as desired in salted water. Once cooked, season with olive oil, lemon juice, and pepper to taste.
If you like, this curry can also be eaten as a side with fried chicken fillets. Simply rub some green Thai curry paste on chicken fillets, then lightly salt and fry in a little oil.
Tinto de Verano
A classic Spanish summer drink, this is the perfect fruity, light summer cocktail. Similar to Sangria in flavour, this layered cocktail is a lot faster and easier to make, requiring just three ingredients.
Ingredients:
1 can of Fanta lemon
Red wine of choice
Ice
Fill a glass half-full with Fanta lemon, then add ice cubes. Slowly fill the glass with red wine. If poured carefully enough, the cocktail will be layered. This can also be mixed with normal lemonade instead of Fanta.
Gin and Ginger
A twist on the 'gin and mixer' combination, the ginger ale adds an interesting freshness. In combination with the fruity and zesty lime, this is a drink that will take you from the poolside through to evenings chatting on the balcony.
Ingredients:
A single or double shot of gin
Ginger ale
1 wedge of lime
Ice
Mix in a glass, then add lime and ice.