Robinson May Ball: no-frills fun
Anna Hollingsworth didn't solve the murder mystery nor explore new culinary frontiers, but enjoyed the fun without airs and graces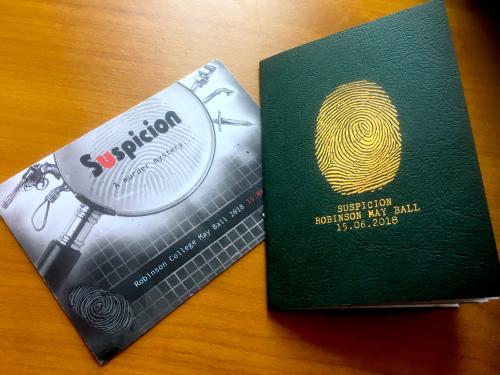 With standard tickets just under £100, Robinson was one of the less pricey balls. The resulting party was a case of you get what you pay for: I went expecting not oysters and bespoke molecular drinks, but rather less class and more fun, and that is exactly what was on offer.
The theme was Suspicion, a murder mystery, which was delightfully refreshing compared to the usual vague magic gardens and barely pronounceable polysyllabic words (Corpus' Phantasmagoria in 2013, I'm looking at you). Murder was dotted around here and there – a finger print on the programme cover, mystery scribbles on the walls, a mug shot height chart – and made up a refreshing storyline for the ball, with guests invited to solve a whodunnit. Maybe it was just my lack of Poirot grey cell prowess, but the presence of a puzzle was a bit too well hidden in the ball, mainly noticeable from the introduction in the programme.
Maybe it was just my lack of Poirot grey cell prowess, but the presence of a puzzle was a bit too well hidden in the ball
The food and drink, on their part, had definitely nothing to do with mystery. For the most part it was a case of going back to the (very) basics rather than any attempt at broadening culinary horizons: drinks-wise, it was vodka and coke, G&Ts, Sex on the Beach, and the rest of the usual suspects in generously sized plastic cups, while the food focused on pizza, burgers, doughballs (after a drunken friend described these as "small testicles covered in diarrhoea", I had to give them a miss, even if I very much appreciated the vegan option in principle), ice cream from Jack's Gelato, and a generous chocolate fountain.
I'm not asking any ball committee to take two fish and five loaves and feed the multitude, but a bit of variety would've been welcome: I love all things doughy, but when you have stalls for meat burgers, veggie burgers, pulled pork burgers, breakfast bacon patties and breakfast veggie patties – oh and toasties thrown in for good measure –, I was getting a bit too much of carb-fuelled repetition. The star of the show for me was therefore the non-burger option: the butternut squash katsu curry (vegans, rejoice!) was perfection for Wagamama aficionados, with rice sticky and curry spicy enough to score full points in the westernised Japanese dish league.
What the ball was lacking in culinary variation, it made up for with its ents that were all no-frills, no airs and graces, actual fun. The human table football continued previous years' theme of taking humans and using them as entertainment (thinking of zorbing a couple of years back here – I'm starting to get a bit of an Ancient Roman theme of doing gladiators and chariots and other, well, high-risk spectator sports), the crazy golf and swingboats brought in a festival vibe, and the bouncy castle bubble served as a place to release your inner child (or, a dark place for dark deeds, as it was inexplicably hidden away in a corner of the garden).
The underground silent disco was a bit of a sweat pit, making me regret not bringing an industrial-sized can of Axe with me, and the DJs could have done with some extra mixing basics: why would you cut the Friends theme tune short and, instead of smoothly rolling into the next upbeat number, have a break, followed by painfully slow starting riffs? But in the end, there was enough 'Mr Brightside' to keep everyone happy (and some guests had clearly prepared to add their own chemistry to the mix, what with bags of white powder making their rounds through nostrils).
Mahalia with her mellow tunes as the headliner was welcome change to so many balls opting for electro beats and dodgy DJs. The real strength, though, lay with the student performers. The acoustic duo Nicola & Jono really owned their love song covers: it says a lot of their appeal that even when at 3:30am I found myself third-wheeling, sharing a table with a couple and feeling that being on Love Island would probably be a less awkward social situation, I stayed and listened to them. Another gem, Daniel Fannelli, had the bar dancing to his jazzy, rocky and poppy covers, even when the venue offered sofas and armchairs as an option.
The ultimate highlight of the ball was what most balls falter at: the last hour before the survivors' photo. Dream ABBA played tribute to, well, ABBA, and turned the guests on their last legs into dancing queens, only 17, and undoubtedly increased the survival rate of the ball considerably (even if stiletto heels stabbing my toes, elbows smashing my belly button piercing into my intestines, and rogue sunglass frames blinding me made me doubt the ball tagline, "a little party never killed anyone"). Whoever dunnit, I salute you for this.