A guide to working in cafés
From budgeting to packing your bag, this is how to prep for a café study session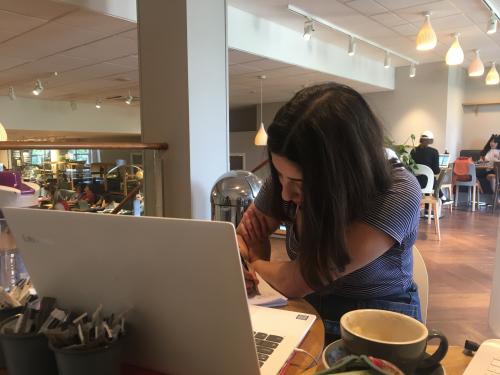 Working in libraries has always been a problem for me. I irritate everyone around me with my incessant fidgeting, humming, or loud sighs of discontentment as I gaze mournfully at yet another subpar essay plan. Coffee shops have subsequently become the staple of my Cambridge degree, and I can normally be found hibernating in Waterstones, though recent sightings have included Indigo, Nero and the Michaelhouse café. If you, like me, are eager to venture out of the library and into the bustling world of lattes, pastries and atmospheric jazz music, here are a few tips and tricks to make your experience as productive and enjoyable as possible.
I irritate everyone around me with my incessant fidgeting, humming, or loud sighs of discontentment
Planning a trip
Firstly, when choosing where to work, always check the time a café closes before you go. There's no point setting up to work after four to realise the place closes at five. When packing, a rookie error is to forget earphones. The baby two tables across may start out cute but chances are at some point it'll be crying its eyes out while you're halfway through reading Augustine. Also, at this time of year, it's smart to take a jumper. Arriving at your café of choice at three, the sun may be shining, but by the time you leave at eight (optimistic I know) the walk back can be significantly cooler.
Managing work
One of the biggest problems with leaving college to work for a few hours is deciding how much work to bring. When working in cafés, limit what you take; it's easier to work effectively if you know you only have two or three things to do. Following on from this, ensuring all devices are charged before you leave saves a huge amount of stress. Though do pack chargers, just in case God decides to reward those times you laughed at your DoS's terrible jokes and blesses you with a coveted table next to a plug socket. If worse comes to worst, always bring something that can be done without the assistance of an electronic device, be that a book or article to read or a sheet of problems to do.
Saving pennies
If you're completely converted to the café lifestyle, limiting your spending keeps it a feasible library alternative. I developed a system that involves a cheaper drink I buy regularly (peppermint tea – up to £2) and a more expensive drink, for when I feel like treating myself (soy chai latte – up to £3.50). You're effectively buying yourself a few hours at a table, and you don't have to pay maximum price for it every time you go, it all adds up! Also, fundamental to café studying are loyalty cards. I have a countless number of these lurking in my purse and even though I can tangibly feel the impatience of the barista as I sift through them to find the right one, nothing beats the feeling of smug satisfaction as you take the first sip of your free coffee. A final money saving tip: eat before leaving. It's easier to resist that exorbitantly priced slice of carrot cake, or the bagel that costs half of your tuition when you've filled up on pasta for lunch.
While not for everyone, studying in cafés is definitely something everyone should try, at least once. The social buzz is so far removed from the heavy silence of the library that you'd be forgiven for thinking you were simply enjoying some light reading rather than revising for exams. Besides, the physical act of leaving college places a healthy distance between living space and working space. So venture out, and see what new work spaces you can discover.