Scammer Caroline Calloway forged her Cambridge application to fulfil her 'purpose' in this world
Returning to visit the University she scammed her way into, the influencer and writer is eager to meet the Caroline Calloways of the future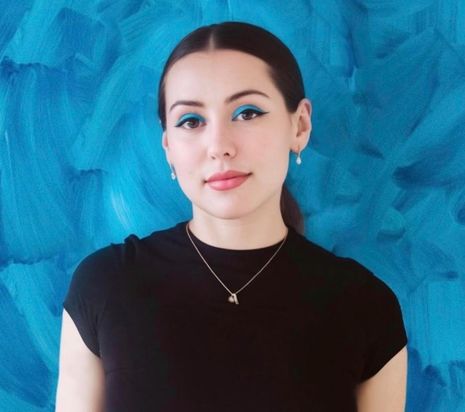 "Have we been scammed by the scammer?" we whisper to each other. Writer and influencer Caroline Calloway has failed to answer our last three calls, and we're questioning if we'll ever get a response. Having scammed her way into Cambridge, failed to complete her $100,000 book deal, and rumoured to be an infamously unreliable friend - maybe this wasn't the most trustworthy person to organise an interview with.
A text rings through: "I'm so sorry, but I'm still at the passport place [...] could we push this back two hours?" Now both possessed by guilty consciousness, a few hours later we eventually make contact with Caroline (a self-confessed "New York ten - but a Cambridge six!") in New Orleans, desperately hiding from the sound of jazz musicians that apparently pervade the city. Despite this, she couldn't be in a better mood. "Maybe you're just catching me at a very hopeful moment," she admits. "Tomorrow I'll be getting on my next plane to Cambridge. I'll be seeing old friends, old lovers, I'll be back in a city that inspires me. I'm definitely feeling very light, airy, and hopeful."
"My purpose in this world was to make books - to make memoirs about Oxbridge"
As she returns to her Alma Mater, Caroline is eager to discover the soon-to-be influencers and creators of Cambridge (the future Caroline Calloways) before her Union talk, repeatedly urging them to sign up for her champagne reception. But what drew a 'Gatsby'-esque figure like Caroline to Cambridge in the first place? She does not seem like the kind of woman easily locked up in a library. Renowned for "rose-wash[ing]" Cambridge (in her own made-up words), she acknowledges that although she has moved on from the way her Instagram romanticised the city in 2014, she was ultimately drawn here for the "magic" of it all. However, she remains self-conscious in this admission, fearing that people might interpret her speaking of "magic" as "gauche" and "unappealing" in a way they wouldn't for others.
Magic aside, Caroline confesses to another more personal drive behind her application - and no, it wasn't the infamous claim that she could no longer live with an NYU email address. To lie on one's application as Caroline did, forging her Ancient Greek grade from D+ to A-, you have to really truly believe that you deserve a spot at Cambridge above all else. She informs us that she "really believe[s] - and it's okay if you don't agree with me because I understand that this is a CRAZY belief" that her "purpose in this world was to make books - to make memoirs, about Oxbridge, and New York, and suicide and addiction and castles and sadness." This being her destiny (as she imagines it) she simply sees lying on her application as a means in which to "fulfil that purpose and that I'm fulfilling it now."
"It is so much more likely that I took the spot of a white, male future banker who doesn't want to make art about mental illness and help people"
And yet, however impressed you might be at this manifestation, it's difficult to ignore the moral implication that she stole the place from someone much more deserving. Confronting Caroline with this potential guilt, she shifts the conversation to an unexpected angle. "Cambridge has such a - not only a racism problem, but a sexism problem." She asserts that "statistically speaking, it is so much more likely that I took the spot of a white, male future banker who doesn't want to make art about mental illness and help people, who only wants to further his own wealth."
But having charged $65 for her recent book, Scammer, couldn't one argue the same about Caroline? As we press her about the price she insists it's "funny" how people "often assign so many motives to me and so rarely is it ever just me being a competent business woman." She explains to us that in order to get a self-published book taken up by a traditional printer (as is her end-goal) you need to make sure you're creating a book that wouldn't be in direct competition with the publisher's version. Because "why would any publisher pick up a book that people can already get."
Cost aside, titling a book Scammer, cannot be without its controversies. We wondered what Scammer means to her: was it a middle-finger, an inside-joke, a reclamation? Does she see herself as the notorious scammer everybody makes her out to be? When we ask her this last question there is a predictably long pause. She treads carefully as she referrs back to her decision to (very rightly) not discuss her adderall addiction on Instagram in 2014. These moments remind us not to be entirely swept away by her effortless charm. Deftly switching between tragedy (her father's hoarding, suicide, addiction, mental illness) and self-reverance (Washington Post calling her book a "masterpiece", pioneering the vulnerability of modern social media) as a deferral, she seems extremely conscious of the Caroline she portrays. There is also a tendency to suggest the only reason she has been treated in the way she has is because she exists "in a young female body, especially one that is white" and "thin," explaining how she oxymoronically sees her "pretty privilege" as bringing its own disadvantages to her life.
"There's no point trying to keep my reputation clean"
Veering us back towards her success as a business woman, she explains that she ultimately called the book Scammer because the "smartest branding strategy" would be to use a word people are already searching and associating with her anyway. She says, "in five years from now I really hope people hear my name and Scammer and think of my successful first book and not the creativity workshops. And I think we're already seeing that happen."
She may not have been a scammer then, but she certainly sees herself as one now: she admits "the scammiest things I've ever done" were after "I went viral for Scammer." Entering what some (us) might call her 'Reputation' era, she thought "I didn't scam anyone and they called me this - there's no point trying to keep my reputation clean. Course I won't pay rent for a year, of course I'll be messy with people's orders. Like fuck this." On the topic of her previous "scams" such as her Fyre Fest-esque "creativity workshops," she hesitantly says that she "really stand[s] by them. I think I made a niche event for a niche online community and a bunch of people who were never going to buy a ticket in the first place didn't like them." And as for the failed book she never got published, (the one that allegedly left her ex-best-friend and ghostwriter Natalie without income too), although she admits the way she left the deal was "graceless," she "stand[s] by" her decision to get into it in the first place, using the cash to get herself through uni. However, as she also points out: "if it was a scam it was a very bad one," as she was the one left to pay back the whole $100,000 advance.
"I stand by my decision to get into that book deal"
Scammer or not, it seems nothing can stop the influencer-turned-memoirist; though she probably wouldn't agree with that term. For Caroline, "memoirs don't really plan the character of themselves and then grow into that person, that's a new word that hasn't been invented yet - but it's always been what I wanted." She approaches her 'memoirs' backwards - first desiring to write them before she had done anything worth memorialising, instead choosing to live the life that she wants to write. She feels that despite her "dark" interior world, her calling to write comes from a purpose to "go be around the most beautiful beauty and intertwine the two in books until I die."
When asked if she's doing all of this for fame or purely for the plot of her pre-meditated memoirs, Caroline goes uncharacteristically sombre. "Part of it is truly for the plot," she asserts, "performance art is not the right word, but there is some element of going out there and living stories that are stranger than fiction." Despite this, she is absolutely serious, rebuffing claims that she is some "Kardashian-obsessed Instafamous Influencer" or that she has some "compulsive, shallow desire for fame for fame's sake." For Caroline, fame is just a by-product of her process. "If you really believe in the quality of your prose, and you want your prose to reach as many people as possible, fame is part of the bundle, you know?" As she points out, "if I was in a male body and I said I wanted to be a famous writer, people would listen to the writer part of that phrase."
So what next for Caroline? Though she admits that even if "nothing interesting" ever happens to her again she'd "still have enough plot" to write "all the books I need to write before I die," she's showing no intention of slowing down. In fact, she's already working on the follow-up to Scammer, planning for there to be a "trilogy" of her memoirs in the future. As we ask her advice for the future Caroline Calloways of Cambridge, she insists they're going to have to come to the Union reception to find out. She laughs, saying she may still impart advice at the afterparty, but "I may be blackout drunk! No promises!".
Varsity is the independent newspaper for the University of Cambridge, established in its current form in 1947. In order to maintain our editorial independence, our print newspaper and news website receives no funding from the University of Cambridge or its constituent Colleges.
We are therefore almost entirely reliant on advertising for funding and we expect to have a tough few months and years ahead.
In spite of this situation, we are going to look at inventive ways to look at serving our readership with digital content and of course in print too!
Therefore we are asking our readers, if they wish, to make a donation from as little as £1, to help with our running costs. Many thanks, we hope you can help!
Sponsored Links
Partner Links