Desperately Seeking Sasuke: or, Why Naruto is Actually Great
Ellie Etches reflects on finally settling down to watch one of the most popular animes of all-time.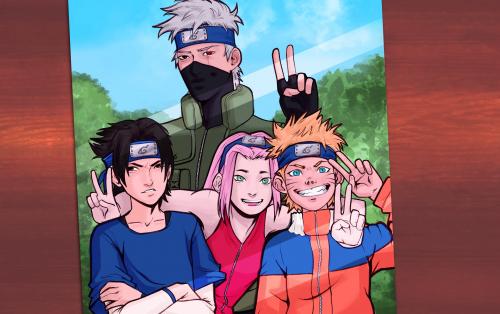 If someone without much experience of watching anime tried to cobble together a vague idea of how one would appear, they might come close to Naruto. You could make a lethal drinking game out of the stock shōnen tropes this series utilises. A shot for every orphaned main character; one when someone's hair or breasts defy the laws of physics; another when an attack is loudly announced before being unleashed... You'd be under the table after one 20-minute episode.
I was first introduced to Naruto in manga form as a teenager. I didn't know much about the series, but was attracted to the first volume, standing out from the shelves of my local comic book shop in hi-vis orange. Masashi Kishimoto's gorgeous cover art conjured so many questions. Who made this tiny yellow-haired child so angry? Is the boilersuit-whiskers-combo plot relevant or has he dressed up as convict Bugs Bunny for Halloween?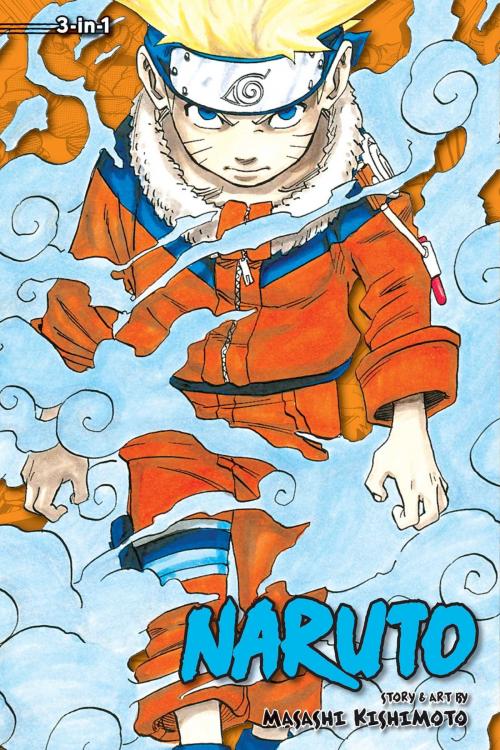 The general storyline, I'd discover, follows Naruto Uzumaki and his classmates, ninja-in-training from the hidden village of Konohagakure. Naruto is infectiously enthusiastic and loveably inept. He'd be the worst ninja of all if he didn't have a trick up his sleeve, or, rather, a monstrous, folkloric fox spirit sealed inside his body.
Now the whiskers make sense.
The wider world of Naruto can be gloomy and war-torn, but the early installments favour Konoha's high-saturation rural idyll. A lot of the plot focuses on the hilarious antics that ensue when you endow school-age children with supernatural ninjutsu. The fact that Naruto's target demographic is pre-teen boys does sometimes come through in a bad way: compelling female characters are often severely underdeveloped, and a lot of the humour is crass and creepily sexual (one of Naruto's techniques is literally called the "harem jutsu"). But, for the most part, early Naruto gives us "boys being boys" in the purest sense: the franchise can touch upon serious themes without taking its characters or itself too seriously. Perhaps this is what inspired me, over the summer, to tackle the monumental task of watching all 720 episodes of the anime adaptation.
Over the course of this endeavor I've come to realize that to approach Naruto merely as indulgent escapism is to do it an injustice. I've had a stronger emotional response to it than more mature, gritty anime, and I believe it is down to the central philosophy that runs through the show — treated both with earnest and with nuance.
"The "Will of Fire" is Konoha's central tenet: it is the belief in the village as a family unit."
The "Will of Fire" is Konoha's central tenet: it is the belief in the village as a family unit; that the hopes of the previous generation live on through the next, and is what drives ninja to protect what they hold dear. The sensei system is a clear manifestation of this: Naruto and his peers form three-man squads under the instruction of older shinobi who become parental figures. Might Guy (yes, that's really his name) is the superlative, who will so often proclaim his ardent appreciation for his protégées that it becomes a recurring gag, but each sensei expresses their pride in their juniors in their own way. Naruto's own mentor, Kakashi, is less overt, but the show will take every opportunity to squeeze in a poignant shot of the same group photo that graces the home of every member of Team 7.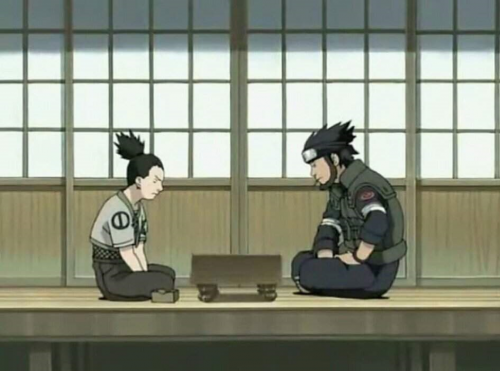 The series rarely approaches grief head-on, but the constant reiteration of the ties that bind the villagers is utilised to maximum impact when the viewer is confronted with a character death. Each is affecting in its own way, but, for me, the death of sensei Asuma Sarutobi will always hit hardest, because of his relationship with his sharp-witted yet debilitatingly apathetic student, Shikamaru (my underrated personal favourite). Asuma introduced Shikamaru to shogi, the Japanese version of chess that proves the perfect tool to nurture this prodigious young tactician. When Asuma is killed in battle, the show cuts back to one of their matches, the smoke coiling languidly from his characteristic cigarette as he explains a recent revelation on Konoha's founding philosophy. In the allegory of the chessboard, the ninja are the knights; but the king-piece is not, as he used to believe, the village leader. Asuma fights, and dies, to protect the next generation.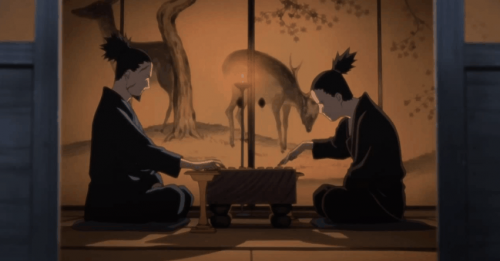 A whole episode is devoted to Shikamaru coping with the loss, and this surprisingly sensitive portrayal of masculine emotion is one of the most affecting scenes I've witnessed in animation. Shikamaru and his father play a game of shogi in a striking visual parallel to his time spent with Asuma. The scene brims with quiet tension: the hum of insects, the flicker of candlelight, the "click" of the game pieces, and the elder Nara's emotionally stilted attempts at consoling his son… it all culminates in an explosive outburst, as Shikamaru's pent-up grief, rage and guilt finally erupts. His father leaves him to weep amidst the scattered tiles of the upended chess board: "Let out all your sadness, fears and anger, and everything else… I'll pick up your pieces."
The familial likeness between father and son is such that one could be the mirror image of the other, if not for the elder's scarred face. It is easy to forget that even in the grittier, aged-up Naruto: Shippuden, these characters are still children. The stoic, battle-hardened figure of Shikamaru's father is a reflection of his own future.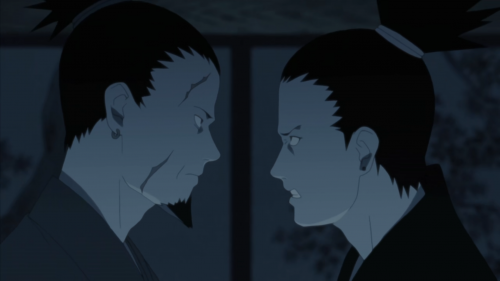 While familial ties bind Konoha together, Naruto also explores what happens when these threads tangle, snag, and splinter. This is the crux of the arc of Naruto's best friend and rival, Sasuke. Throughout the series, Sasuke wears the emblem of his clan, wiped out in a mass slaughter enacted by his own brother. Sasuke's drive for revenge leads him to seek power at any cost, ultimately betraying the village to train under Naruto's answer to Lord Voldemort.
The most compelling villains are never evil for evil's sake, and with Sasuke we see the devastating consequences of familial duty pushed to the extreme, the village philosophy warped under the weight of massacre. Sasuke sacrifices everything for a cause he is too young to understand.
"The most compelling villains are never evil for evil's sake, and with Sasuke we see the devastating consequences of familial duty pushed to the extreme."
Naruto is so deeply affected by Sasuke's fall that it becomes his sole mission to pull him back from the precipice. Naruto never once loses hope in his friend's redemption: they are perfect foils, both orphaned and ostracised from a community that prioritises ancestral ties: Naruto shunned by the villagers for his terrifying power, Sasuke self-isolated by a crippling sense of duty. Most minor plotlines become phantom fulfilments of Naruto's ultimate goal. They follow the general pattern of Naruto finding an angsty, dark-haired teenager with a traumatic past and a terrifying power, and setting them on the path to good.
While wider political conflicts deepen, and the foes become all the more insurmountable, Sasuke's redemption remains at the epicenter, the agent for the development of Naruto's power: "I don't care who I have to fight…" he says, characteristically overzealous. "If he rips my arms off, I'll kick him to death. If he rips my legs off, I'll bite him to death..."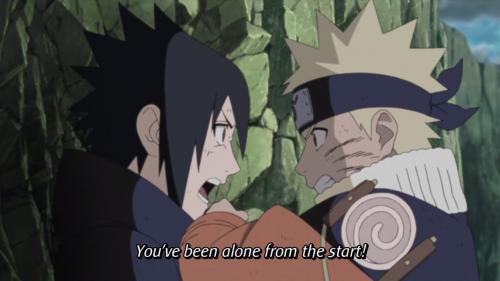 "Even if I'm torn to shreds... I will find a way to take Sasuke back!"
This is Naruto's own personal rendering of the Will of Fire. Naruto will seek Sasuke to the corners of the earth because of their time together as trainees; because of their unshakable bond. You'd struggle to find such a devoted depiction of male friendship in Western media (but that's a conversation for another article). Naruto's core message is a simple yet comforting one: a future with the people you love is worth fighting for.
Varsity is the independent newspaper for the University of Cambridge, established in its current form in 1947. In order to maintain our editorial independence, our print newspaper and news website receives no funding from the University of Cambridge or its constituent Colleges.
We are therefore almost entirely reliant on advertising for funding and we expect to have a tough few months and years ahead.
In spite of this situation, we are going to look at inventive ways to look at serving our readership with digital content and of course in print too!
Therefore we are asking our readers, if they wish, to make a donation from as little as £1, to help with our running costs. Many thanks, we hope you can help!