The invisibility of the black teen on film
As we approach a new decade, Film & TV Editor Gerline Ndombasi takes a look back at the development of the coming-of-age genre during the 2010s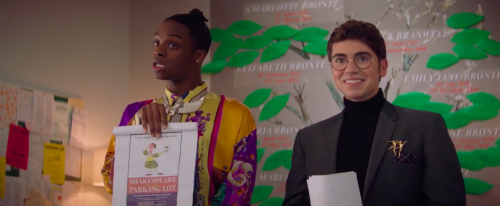 With the current rise of the NCCU (Noah Centineo Cinematic Universe) on Netflix and the increasing complexity and authenticity behind the characterisation of female leads, this decade has seen the coming-of-age genre continue to solidify its position as a noteworthy film category. Audience and critics alike were captivated by Barry Jenkins' Moonlight (2016) akin to Greta Gerwig's directorial debut, Lady Bird (2017). The enchantment of bildungsroman films lies in the ability of these stories to transport us back to that age of vulnerability and sudden change but equally, be reassuring for those of us still experiencing it. However, the verisimilitude of these teen films cannot be upheld if black teens remain invisible on-screen. Contrary to Hollywood's belief, the white adolescent experience is not universal.
 Guess what Booksmart, Paper Towns (2015), American Honey (2016) and Me, Earl and the Dying Girl (2015) have in common? There's only a single black teen in a starring role
The coming-of-age films released thus far this year have already foregrounded the invisibility of the black teen. The precision in Bo Burnham's depiction of Generation Z in Eighth Grade left in me awe. The recurring quip from the infamous LeBron James Vine in the background echoed my own secondary school experience, forcing me to reminisce buried memories of the jovial atmosphere of my morning registration.
Yet, it was the lead's, thirteen-year old Kayla, opening monologue that cemented Burnham's brilliance. Kayla awkwardly remarking, 'I lot of people like call me quiet or shy or whatever. But I'm not quiet [...] It's not that I'm scared to talk, it's just that I don't want to,' for her YouTube video on self-confidence articulated what I never could. I was left completely distraught five minutes into the film. However, in spite of Burnham's skill in capturing the nuances of the life of an anxious teen amidst the Digital Age, there was still a massive disconnect in my ability to fully resonate with the hopes and dreams of a white teenager in a white suburban town. But that is exactly what most coming-of-age films depict, just a continuous stream of teen films romanticising the mundanity of white suburban life.
This formulaic recipe is even evident in Olivia Wilde's Booksmart where academic overachievers, Amy and Molly, embrace a wild night of stereotypical teenage hedonism before graduating. Though I admire the presence of new or lesser-known actors in a cast, the lack of diversity was really to be expected at this point. I was disheartened to see how the film set-up Eduardo Franco and Nico Hiraga's characters, Theo and Tanner, to act as juvenile foils to Molly's headstrong nature, remaining in the background for the larger part of the film. Austin Crute's acting skills were truly wasted in the film with Wilde positioning Alan as an almost forgettable role. But guess what Booksmart, Paper Towns (2015), American Honey (2016) and Me, Earl and the Dying Girl (2015) have in common? There's only a single black teen in a starring role — arguably, tokenistic at most.
However, even when black teens are featured in coming-of-age films, they must face some form of hardship as if the presence of struggle — whether it be racism, financial pressures or poverty — is synonymous with blackness. The black community is not a homogenous group and there is no disparity in blackness between each individual's circumstance. With making black teens more visible on the silver screen, there comes the task of deconstructing the narrow, preconceived notions of blackness. This will enable us to freely depict black teens as being capable of leading normal lives beyond the tragedies that Hollywood always grounds us in.
Beyond the ocean of white-centric coming-of-age films, there exists a number of teen films that feature a cast dominated by black actors, from the Kenyan film Rafiki (2018) to French film Girlhood (2014) as well as Dope (2015), Pariah (2011) and Jinn (2018). Nevertheless, the limited theatrical releases of most of these films speaks volumes of the lack of confidence studios hold for the profitability of black-centred films. Thus, even as the film industry continues to diversify the genre, my greatest hope is that film studios and distribution companies hold greater faith in consumer demand for black coming-of-age films and adopt larger marketing campaigns to promote them.
As much as we all revelled in the phenomenal critical success of Moonlight — having garnered the award for Best Supporting Actor, Best Adapted Screenplay and becoming the first LGBTQ film to win Best Picture at the 89th Academy Awards — I, alongside many others, hope the film's triumph was not merely an anomaly in film history, but will help catalyse a wave of coming-of-age films that centre a range of young black voices. As we approach a new decade, the promise of black leads in of coming-of-age films remains alive as a new generation of filmmakers take reign of the industry with the slow deterioration of gate-keeping. But if Hollywood won't do it, give me a couple of years to make it happen.