Black Panther review: 'All hail the Marvel cinematic revolution'
Entertained and moved by a superhero movie, of all things, Lillian Crawford has little but praise for Marvel's latest outing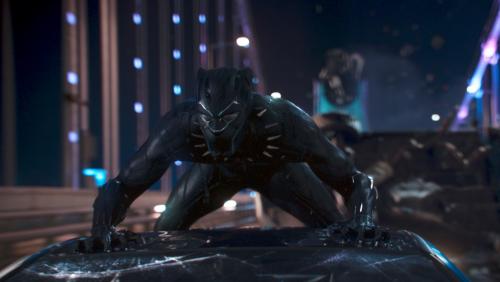 Marvel is hardly known for its progressive filmmaking and cinematic representation. The casting of Tilda Swinton as the Ancient One in Doctor Strange was met with cries of 'whitewashing', and last year's Guardians of the Galaxy Vol. 2 boasted a quietly gay protagonist – hardly the stuff that dreams are made of. Alas, the tide turns, and the murmur of African drums can be heard in the shadows. A revolution is coming, and, as the trailer proclaimed, it will most certainly be live.
From the expositionary and sandy outset of Black Panther, Ludwig Göransson's score strikes up a pulsating rhythm with startling immediacy, the tribal sounds beating away the grandiose sludge churned out by Alan Silvestri or Michael Giacchino. Accompanied by a simple yet rousing brass fanfare, T'Challa is re-proclaimed our hero, now given 134-minutes of breathing space after the nauseating whirlwind of Civil War. Baaba Maal's vocals bring out something new from the exhausted superhero premise, creating something truly special.
"Imbued with a tremendous conviviality too seldom perfected"
But what is this arising from the depths of the orchestral pit? Electronic vibes pervade the air, and Göransson downplays the joyous chanting for synthesised throbbing. All great heroes need an equally malignant villain, and Michael B. Jordan seethes with a thirst for revenge that hangs on his every word. The influence of America is here, the manifestation of a conflict between racial cultures, made all the more prescient by Kendrick Lamar's additional songs. It is a war in which neither side can win, a villain so worthy of empathy that the conclusion is one necessarily conciliatory. Harmony rules the day, and it is mostly thanks to power of Göransson's music.
Black Panther is most successful when calling on past memories, contorting them to cast aside the moralistic binaries so often created. No one is flawless, and while T'Challa will come to judge his father for his mistakes, it is his own that drive the poignancy of this message. Scenes taking place in the ancestral plain do this most effectively, the connection with heritage as important as that inherent to Pixar's Coco. While seemingly worlds apart, both films borrow from foreign cultures to impart a powerful lesson so often lost on Western civilisation. It is Marvel's way of telling us to think on and look sharp.
Trailer for Black PantherYOUTUBE
Ryan Coogler has not wasted a shot in bringing these ideas to life, drawing breath-taking scenery from both urban and rural settings. While Wakanda's sunsets and agricultural landscape will undoubtedly drop one's jaw, so too do the sleek city streets and neon lights, the black and purple mise-en-scène crafting some of the most remarkable visuals. The action comes in fits and bursts, often against an exquisite backdrop that makes these scenes more palatable for audience members who typically find violence a strain on the genre. Indeed, with its individual sense of undeniably human melancholic wonder, Black Panther transcends its predecessors in both cinematographic and narrative prowess.
One scene does stand out above all else, however, a South Korean casino brawl reminiscent of Skyfall's Macau set piece. It showcases all of the film's highlights – a brooding sense of dread wrapped in delicate glamour far more impressive than the Canto Bight sequence in Star Wars: The Last Jedi. Chadwick Boseman proves he would make for a magnificent 007, with Lupita Nyong'o and Danai Gurira as the fiercest Bond girls ever seen. Back at Q Branch, Letitia Wright has a blast as T'Challa's sister, Shuri, delivering Marvel's characteristically silly humour alongside Martin Freeman's even funnier American accent. It hits all the right places and is imbued with a tremendous conviviality too seldom perfected.
The cast's ability to drive the Black Panther uprising is consistently moving, one which draws as heavily from culture as it does from politics. The message is there, a threat delivered by a spluttering Andy Serkis that remains prevalent to the bitter end. Taking on arms deals and international collaboration in its wake, Coogler casts his claws wide, and just about rakes it in. It will be a shame to see it all heaped back into the wider universe again in Infinity War, but for now cinemagoers may revel in its unique majesty; after all, synthesis proved to be its making. All hail the Marvel cinematic revolution – long may it reign