Bryan Cranston: 'art is imperfect'
Lillian Crawford sits down with Bryan Cranston to talk plays, misogyny, and animated dogs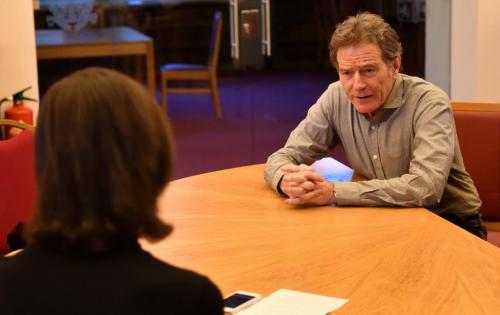 A prospective law enforcement officer turned actor, Bryan Cranston's life sounds like the narrative of one of his dramas. Only rising to prominence in his forties as Hal in Malcolm in the Middle, much of it was spent out of the spotlight. "No one ever tells you how to handle 'celebrity'", he says, although today one cannot enter an entertainment retailer without seeing caricatures of his face emblazoning doormats, mugs, and t-shirts. His Union talk clearly a part of a hectic schedule, I manage to squeeze in a couple more questions before he is hurried out of sight.
"As long as we artists move people to some emotion, whatever that is, then I take that as a victory"
Cranston is not unaware of his talents, and while he puts a lot of his fame down to Vince Gilligan's phenomenal series Breaking Bad, he knows the part he played in cementing its success. He is currently leading a sold-out production of Network at the National Theatre, and now claims that he wants to turn to writing for the stage himself. "I love all aspects of storytelling, and I like to challenge myself" he confidently asserts. He tells me that he cares little for the quality of his piece provided it gives him a chance to find out his skills in the field. Rather than seeing it as "a stepping stone to something else", it is about seeking opportunity and learning from the experience.
Such an ethic might be applied to the Weinstein Effect currently tearing down the more corrupt aspects of Hollywood, which Cranston seems entirely optimistic about. "I think it's wonderful," he reveals, a sense of earnestness in his voice. It is apposite to raise the subject, visiting Cambridge on a day when many students wore black in solidarity with the Time's Up campaign. "Sometimes you can't have a breakthrough without going through a breakdown" – perhaps Cranston's sermon goes beyond the film industry to a lesson for all of society, to bring about a new age of "mutual respect".
Indeed, Cranston appears to always have his mind on the bigger picture. Inquiring after his role as Chief in Wes Anderson's upcoming animation Isle of Dogs, he stated that "what's so great about it is that it's imperfect – art is imperfect, and it's not absolute." Those looking forward to the film might find this a slightly ambiguous statement, Anderson being celebrated for his exquisite production design and dialogue. Cranston revealed that the actors were given pages of script as they went along without ever receiving a complete story. He said that Anderson was even keen to take his own notes on-board as the film was being made. It seems that when it premieres at the Berlin Film Festival, that glorious ensemble cast will be as uninformed as the rest of Anderson's fans.
Convinced of aesthetic subjectivity, Cranston's sanguinity is rather infectious. His belief that "everyone is correct" would probably render film criticism pointless if it were true, but he still admits that the best art will inspire debate. Reflecting on the release of Trumbo, he found that playing the blacklisted screenwriter was worth it for the seed he planted into conversation. "As long as we artists move people to some emotion, whatever that is, then I take that as a victory." Given the cheers at the end of his talk from a packed Union building, it would seem that Cranston is a man who knows what he is talking about