Coco review: 'a humdrum affair'
Slighly underwhelmed by Pixar's latest venture into our heartstrings, Hugh Oxlade balances emotional weight with entertainment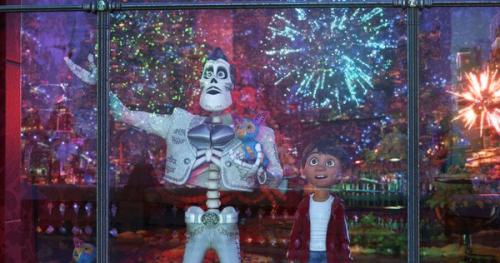 Miguel, the single-dimpled protagonist of Pixar's latest vindication of the law of diminishing returns, is an appealing sort. He does not have all that much in the way of distinguishing characteristics, but he is peppy, earnest, and crucially is not forced to spend the film receiving a series of trite life lessons. One understands completely his obsession with the Mexican Elvis Presley-type Ernesto de la Cruz, and the destruction of his beloved guitar at the hands of his disapproving grandmother is consequently a distressing moment.
"Its relationship with the Día de Muertos rather resembles a fetish"
For all Miguel's strengths as a character, the film in which he finds himself is sadly, for the most part, a humdrum affair. The comedy, barring one half-decent gag about a dentist, is decidedly uninspired. Jokes involving, for instance, skeletons' want of noses, and the existence of a substantial bureaucracy in the Land of the Dead, are passed over quickly, suggesting a lack of conviction on the part of the filmmakers. The tiddlers in the auditorium were certainly held rapt, but the dearth of giggles was noticeable.
The film's noble intentions as a positive presentation of Mexican culture undoubtedly inhibit the entertainment. The film is unsure, for example, whether an encounter with Frida Kahlo should be respectful or satirical. In the end, naturally, it manages to be neither. Kahlo comes off as an impenetrably pretentious egotist, yet her papaya and cactus performance piece is not absurd enough to generate even the slightest snigger. Some might find themselves caught up in the film's anthropological angle; however, its relationship with the Día de Muertos rather resembles a fetish.
The plot lurches from manufactured crisis to manufactured crisis, the strain put on the simple 'can he make it to Ernesto de la Cruz by sunrise?' premise resulting in several tiresomely needless scenes. The failure of the villain simply to rip into pieces a crucial item proved a source of immense frustration.
Talent contests, meanwhile, do not behove Pixar; often, Coco seems dispiritingly bog-standard, reeling out ideas encountered time and again in the works of lesser animation studios. The little heralded Chinese-American production Rock Dog, for instance, also focussed on a talented guitarist electing to pursue his dream in spite of his family's ban on music per se. The alebrijes, or spirit creatures, to be found in the Land of the Dead, moreover, are less enchanting than the bioluminescent rabbits from Smurfs: The Lost Village.
There is assuredly little joy to be had in Coco, but as a weepie, it functions well. The melancholic musical numbers are simple ditties, but powerful ones, powerfully performed by the film's cast. Pangs are in plentiful supply towards the film's conclusion, and the viewer should be prepared for jolts and twinges. If Coco were half as exciting or amusing as it is affecting, it would be a formidable proposition. As it is, it is a mundane movie with a half-decent main character who is occasionally capable of stirring one's heart, in between the bits with the slobbery dog