Mudbound review: 'a revolving door of topics'
Taking an opportunity to reflect on streaming films more generally, Miles Ricketts considers the merits of this American Odyssey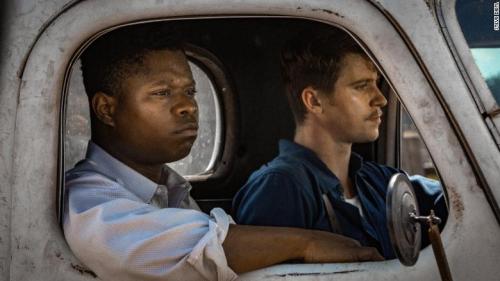 Mudbound is heavy. Racism. Sexism. Poverty. War. America. If we link the worthy issues on display here to the Oscars' passion for worthy films, it is not difficult to see why Mudbound is being touted as 'the one' – the streaming picture that will finally receive some attention from the Academy.
"There is no better film to ease streaming into the Academy"
Two years ago, Netflix's Beasts of No Nation was entirely ignored, with some minor outrage over the snub of Idris Elba for Best Supporting Actor. At the time, it was collated within the #oscarssowhite lobby, but it really betrayed a deep-seated scorn, a holding-at-arm's-length of streaming. The prospect of films that circumvent the standard screening process is naturally threatening to certain parts of the movie industry, with cinema chain boycotts an inevitable response.
But the boos and jeers that greeted Okja at its Cannes premiere when the Netflix logo appeared on screen were quite surprising. Here was Netflix playing the game, and they were unjustly punished. The subsequent praise for Okja marks the Cannes fiasco as a potential turning point, where those in the industry may be re-examining why they are indeed so hostile to a new medium. Admittedly, last year's Best Actor and Best Original Screenplay success Manchester by the Sea was distributed by Amazon Studios, but it did not directly challenge the 'magic of the pictures' in the way that Netflix has.
There is no better film than Mudbound to ease streaming into the Academy. It boasts a big-name cast and is based on a successful novel; but best and most importantly of all, it is an outstanding effort. The saga of Mudbound interweaves the tales of two families in rural Mississippi: one white and one black. The former is headed by unfeeling aspiring farmer Henry McAllan (Jason Clarke) who drags his compliant wife Laura (Carey Mulligan), young children, and wildly racist father (Jonathan Banks) away from Memphis to start a new life living off the land.
Trailer for MudboundYOUTUBE
They maintain a varying relationship with a family of black workers on the farm, abusing the services of Hap Jackson (Rob Morgan) but treating his wife Florence (Mary J. Blige) with some degree more respect as a maid. Their stories are intercut with the experiences of Henry's younger brother Jamie (Garrett Hedlund) and Hap and Florence's son Ronsel (Jason Mitchell) who both serve in the Second World War, as an air captain and tank sergeant respectively.
The struggles of Jamie and Ronsel are perhaps given the most time here, but there is a multitude of other plotlines running simultaneously. It is this wealth of story that makes Mudbound so engaging, and yet also gives it its primary flaw. Director Dee Rees (her first major film after Pariah and Bessie) proves a deft hand at constructing smooth shifts in the narrative, that provide the illusion of a Roots-level saga occurring within the space of a few years.
Within a two-hour runtime, this means that Carey Mulligan's Laura is explored in underwhelming depth (her passive kindness to the Jacksons is also irritating), while Jason Clarke begins to merely stomp around and push things over. But it is refreshing that rather than wallow in grief, self-pity, and yes, mud, we have a revolving door of topics from religion to adultery to keep us entertained.
The most effective aspect of Mudbound is the return home of Jamie and Ronsel, who form a bond over their shared experience of war overseas. Hedlund is startlingly good in balancing subtlety and delirium in his portrayal of Jamie's PTSD, while Jason Mitchell is equally arresting. Ronsel has come home to an intimidating racial climate markedly different to the one he has witnessed fighting in Europe, and spends most of his time wandering through dusty fields with a look of vacancy, only coming to life when reminiscing with Jamie.
If nothing else, it is the cast that should catch the Academy's eye. Already collectively securing awards before the ceremonies of the Gotham Independent and Independent Spirit Awards, there seems to be a concrete acknowledgement of its excellence. Come Oscars nomination time, Mudbound wholly deserves to be recognised, whether it is flying the flag for streaming or not