Bake Off Week Two: baking games
Following a heated second week in the iconic tent, Anna Hollingsworth finds a newfound love for biscuity treats, albeit with a smattering of calamitous cookies along the way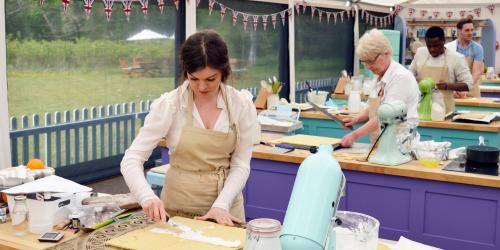 Biscuits never have quite the same oumph effect as cake for me: they're like the dry and poor cousin of cake with its multi-layered personalities and moist looks. But Paul and Prue's biscuit antics have the bakers crumbling under pressure in Biscuit Week – and they even manage to get a biscuit-doubter like me wanting to bite into their cookies.
The signature challenge calls for 24 sandwich biscuits, which should obviously be absolutely identical and hit the perfect filling-to-biscuit ratio between oozy and lacking in lubrication. The resulting batches of bliss have me trying to catch any dripping or crumbs from the other side of the screen, and not least because they make my gyp room efforts look as flat as pancakes in comparison.
"If we're to believe Sophie's fortune-telling skills, Paul and Prue 'will mostly poo candyfloss.' Enough said."
While my culinary creativity peaks at subbing apricot jam for raspberry in a sponge, Yan's peanut butter and banana biscuits are inspired by her wife's post-Zumba snack, Flo's gin jam and vanilla filling draws on the cocktail parties she throws with her gals (not your standard Bake Off grandparent), and Sophie's limoncino flavour is a throwback to her teaching army personnel to ski in Italy (as one does). At least Chris restores some of my faith in my baking, because he seems to be the only one with trust in his whisky and orange filling, barking out "Beautiful, isn't it?" to the judges. Paul's face tells a story of a very different idea of aesthetics.
While the signature falls into the standard Bake Off canon, the technical and showstopper reach for a pie in the sky. The fortune cookies turn out to be a very unfortunate choice of technical challenge for most bakers – the judges spitting out Chris's raw Cornish pasty lookalikes says it all. On the redeeming side of things, they fare better with writing the fortunes for their attempted cookies, and that says a lot about the quality of the crack in the bakes. If we're to believe Sophie's fortune-telling skills, Paul and Prue "will mostly poo candyfloss." Enough said.
Following last week's illusion cakes, the biscuity showstopper continues Channel 4's emerging passion for bakes that don't look like, well, bakes. I guess on the Bake Off both having your cake and eating it comes as an industry standard, as the bakers are asked to produce playable and edible board games. Flo's Operation a.k.a. Pick My Bones game sounds like it may border on the adult category of, ahem, edible goods. Nevertheless, the biscuit bones turn out very pickable indeed, while Kate brings an obscure ancient 'grains of paradise' spice to the table, which turns out to be less-than-heavenly in the finished product.
What remains a mystery to me is how Chris is left struggling with making a rough, flat map of the UK while architect Steven puts together a chess board complete with a full set of individually-decorated 3D pieces. I definitely know whose cookie I'd rather roll my biscuity die on.
It's another remarkably crumble-free episode from the Channel 4 Bake Off tent. But with cakes disguised as champagne bottles and biscuits doubling as Snakes and Ladders, I can't help but feel suspicious about everyday items around the house – what about "dear Supervisor, my dog ate my essay because the paper turned out to be a biscuit"? Here's to seeing whether I can tell the loaves from the baking utensils in next week's bread episode