Review: A pirate's life for 'Salazar's Revenge'
With some terrific moments and bouts of dreariness, Lillian Crawford is conflicted over the latest instalment in the immensely popular swashbuckling franchise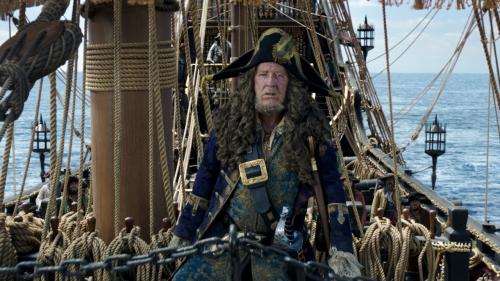 Pirates of the Caribbean has split critical opinion since it first burst into life with Curse of the Black Pearl. Attempting to capture the thrill of the high seas that Disney fans had experienced for years on its namesake ride, a terrific cast, witty screenplay, and an eye-watering budget brought a visual spectacle to ensnare the senses. Its 2006 sequel, Dead Man's Chest doubled that energy, with Bill Nighy cementing Davy Jones as a villainous icon against a breath-taking backdrop of visual effects that were nothing short of kraken (sorry). The third, At World's End, is often dismissed as overlong, running over 2 hours 40 minutes, although Tom Hollander's Lord Cutler Beckett made it an epic conclusion to one of the most enjoyable trilogies of the 21st century.
"The most watchable qualities of the fifth adventure rely exclusively on its grander set-pieces. And by Calypso does it pack them in!"
Salazar's Revenge never reaches these heights. With Joachim Rønning and Espen Sandberg at the helm, this ship never quite sets its course. When it eventually reaches land, its narrative is forced, a conclusion wrapped up in a smeary heartbeat that suggests CGI has deteriorated since the earlier films. While it never falls to the same depths as the fourth film, On Stranger Tides, which lacked direction altogether, the film feels as erratic as Jack's compass. Considering the hilarity of its predecessors, the most watchable qualities of the fifth adventure rely exclusively on its grander set-pieces.
And by Calypso does it pack them in! From a staggering robbery of an actual bank to Salazar's cannibalistic ship, it is a film of moments that, while far between, render this a film of tremendous fun. Aided by the welcome return of Geoffrey Rush's Captain Barbossa and the Black Pearl's crew of misfits, newbies Brenton Thwaites and Kaya Scodelario are never as insufferable onscreen as Orlando Bloom and Keira Knightley were in the original films. While the marketing campaign boasted the return of the unlikely pair, expect a cameo reminiscent of Mark Hamill's appearance at the end of The Force Awakens, similarly teasing the adventures to come.
There are weaker links in the ensemble, and while Javier Bardem is never bad, he is hardly memorable as the titular Salazar. With inexplicably floaty computer-generated hair, his character never does much, a crippled ghost who can barely speak. It is unfortunate his life-long quest to kill Jack Sparrow is unsuccessful, for Johnny Depp is hardly on form this time round. His captain, by now one of the most recognisable characters of the cinematic universe, is degraded to pathetic self-parody, slurring his lines and prancing about without getting any laughs. More than worthy of a Razzie for Worst Performance, one cannot help but feel the Jack impersonators in Disney World could have done a better job.
Nevertheless, there are plenty of the franchise's greatest treasures to be found, especially in the familiar themes of Klaus Badelt's original ground-breaking soundtrack. Unlike Hans Zimmer, Geoff Zanelli has not brought anything new to this, but it is pleasing to hear the music unchanged. It almost tricks one into believing the thrills of the originals might be back