Review: British filmmakers at 'Their Finest'
Laura Shen finds Lone Schefig's latest a brilliant piece of forward-thinking, feminist media in this often-hilarious tale of propaganda.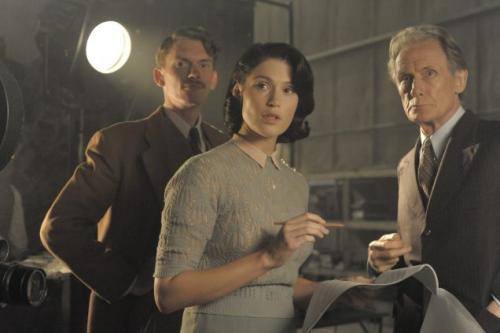 In London during WWII, Catrin Cole is hired as a screenwriter for the Ministry of Information. She faces a variety of challenges including, but not limited to, condescending men, pressures to write for unknown audiences, and difficult actors. A funny yet deeply moving film, Their Finest presents a group of people finding joy during a time of immense strife while succinctly critiquing the film industry.
"In a time of turmoil and tragedy, Catrin and co. drum up an impressive will to live. They laugh, love, and learn, despite bombs crashing down all around them."
Casually throwing around some poignant metacommentary, Their Finest curates a film within a film. The feature cleverly underlines the superficiality of matinee idols, creating a comic tenor from a faded star while ironically launching a new idol. And that's only one of the many stereotypes shrewdly tackled by this picture. The tragic artist, the jaded writer, and the overbearing government are all brilliantly woven together by the quick-witted and original Catrin into a heartfelt script.
Though the film is light, the plot gives the feature a darker implication – every piece of media we see contains some form of propaganda behind the scenes. For Their Finest, that propaganda is not hidden away, but boldly displayed. The clear unyielding feminist focus is compounded by the film's subtle, yet firm, reminder that this piece of work has a message.
Often films with a feminist angle can feel forced or fake, pushing the audience away. Their Finest has skilfully evaded the political push-back while delivering a much-needed communique by setting the film in a time when gender discrimination was pretty much accepted. Though all the issues Catrin faces are unfortunately still relevant, when painted by a 1940s brush the misogyny seems to be so unacceptable it is even humorous – adding a light note to a heavy political topic. Comparing women to dogs, writing 'feminine' humour, and filling problematic romantic roles with women are all accurately commented on by sharp-witted Catrin. She fends off casual degrading remarks with wit and dignity while being compassionate and kind to those in need, revealing an enthralling character with whom one can't help but identify.
The most captivating part about Their Finest is not the politics or the insights about filmmaking, but rather its grand commentary on life. In a time of turmoil and tragedy, Catrin and co. drum up an impressive will to live. They laugh, love, and learn, despite bombs crashing down all around them. We the audience are swept up in their blissful life but abruptly reminded of the war when the sky goes dark, the music feels ominous, and a cloud of smoke obscures the screen. The tragedies that befall them never stop the living from living. Soon enough, the sun will shine and the smoke will clear, and Catrin will be there.
Their Finest presents a hilarious and heartwarming insight into the film industry. Whether old or young, man or woman, anyone would be inspired by the captivating Catrin Cole