Paris, ca va? (IV)
Emily Fitzell ponders a revolutionary way of crossing the Seine
Perhaps you have already caught sight of the Parisian Photoshop wonder making headlines this week. If not, I recommend putting me to one side, just for a minute, and getting yourself up to speed (hint: try googling 'Paris Trampoline bridge'). Though it somewhat pains me to say it, words alone – on this rare occasion – will not suffice.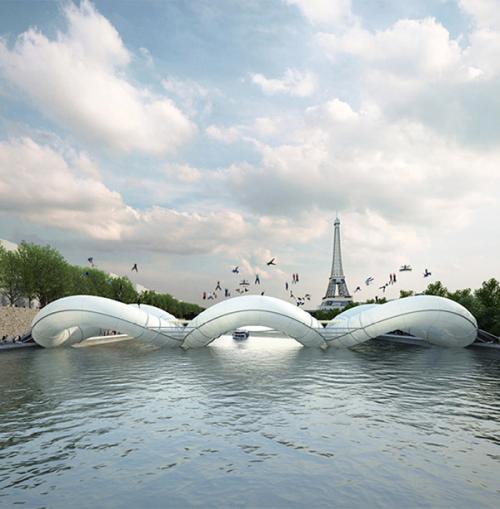 Had a look? You can see what I mean. This somewhat ridiculous, yet revolutionary design (the work of Parisian architecture firm AZC) was created in response to a recent competition launched to conceptualise a new walkway across the Seine. Buoyant in both its physicality and character, the playful, eco-friendly proposal offers a series of 3 large inflatable trampolines sure to put a spring in the step of any passer-by. And before your inner Brit cries "health-and-safety!" and reaches for the smelling salts, hypothetical provisions have apparently been made against potential nose-dives and daring dismounts. To think that our Millennium Bridge wasn't even allowed a wobble.
On the down side, there are no plans as of yet for the actual construction of the bridge, and such a radical concept may very well remain just that. France does, after all, struggle with an international reputation as a nation allergic to change. The outlandish nature of this particular design has brought
the question of Paris' openness to architectural innovation into the public consciousness; there is a real fear that the growing number of protests against new building commissions signals the strengthening of a social attitude that threatens to turn Paris into a living ville- musée.
However, we need only look at the architects' muse to counter such ideas. The Seine, holding a well-earned spot on the UNESCO list of world heritage sites, acts as the main artery of Paris' architectural vista; and the bridges which currently punctuate its length, from its oldest, Pont Neuf, to the radically modern steel-arch Viaduct d'Austerliz, tell a story not of architectural stagnation, but of a Paris which is constantly changing and reinventing.
In Paris, bridges serve as more than just practical objects, and more than aesthetic ones at that. They are destinations in their own right; vantage points from which to pause, converse, sketch, photograph or merely to observe. In the flâneur's city where the café is not just for eating, the bridge, most certainly, is not just for crossing. It'd be nice to think that there is a place in this city for the "fun and frivolous" trampoline bridge. It might look like something off of Super Mario, but compared to the metro? I'll be with you in no time.