The 12:43 to Swansea: a train of thought
Columnist Gwenno Robinson brings us with her on the journey home from Cambridge, as she grapples with how her Welsh identity has changed in the time she spent away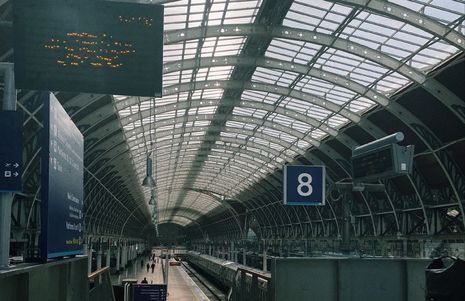 Thank God. I step off the platform and onto the train just as the doors close behind me. Time management was never my forte.
Welcome aboard this Great Western Railway train to Swansea. We'll be calling at Reading, Swindon, Bristol Parkway…
I rush to my seat and let out a sigh of relief.
Two weeks into term, I'm on my way home. Glandular fever and an impending mock exam enough to make me pack my bags, for a few days at least.
I grab my notebook and scribble down a plan for my journey home: "finish Hobbes, flick-through POL2, look over Marx".
It's ambitious for sure. I must have scrawled hundreds of these little lists during my time in Cambridge, illegible to anyone's eyes but my own. But there's something different about this one. It's not written in Welsh.
As hard as it is to admit, I've had more and more of these moments lately; catching myself thinking, talking to myself, dreaming, even, in a language that used to be foreign to me.
"I lived my life almost entirely in Welsh, apart from the few words exchanged at the Tesco checkout"
I gaze out of the window as we chug out of London, my face pressed against the glass. I can tell who on the carriage will stay on past the border. I can't see them, but I can hear them. The warming sound of a Welsh accent rings proud in Carriage C.
My gaze falls to my scribbled notes. I never used to think in English. Much to my new friends' surprise, I lived my life almost entirely in Welsh, apart from the few words exchanged at the Tesco checkout. For the best part of lockdown, I don't think I spoke a word of it. I had no reason to.
It's estimated that only 0.01% of the world's population speak Welsh. Its survival over 1500 years is remarkable, living cheek by jowl with English, the serial killer of minority languages.
I learnt much of my English through reading. Seeing words, rather than hearing them. All too often in supervisions, I attempt to read aloud words I've never spoken before. I pronounce them phonetically, the Welsh way, much to my supervision partners' amusement.
The next station is, Newport.
I'd do anything for a sandwich. My dubious tube navigation left me with no time for lunch. Finally, the trolley rolls through.
They're out of sandwiches.
"We always run out by the time we get to Wales," jokes the woman holding the trolley.
"The depth of my relationships through my mamiaith felt unattainable in English"
"Like all things," muttered the man opposite me. I try not to laugh. He has a point.
I settle for crisps.
I always thought I preferred myself in Welsh. My personality funnier, chattier, sharper. English took that frustrating millisecond longer to move from word to word. The ease by which I flowed in my mother tongue, my mamiaith, was unmatched.
The sleek-suited professionals are long gone by the time we get to Bridgend. From then on, things get livelier. A group of young men crowd into the carriage. Beer cans at the ready. Wind Street, Swansea calling their names.
As funny as it sounds, I didn't used to think I'd be able to get along with someone in English; not properly anyway. I always felt there was an ocean between us that I couldn't quite bridge in my second language. The depth of my relationships through my mamiaith felt unattainable in English.
In truth, my English-speaking self didn't feel like my true self. It felt foreign, forced even. English had always been reserved to the formalities of filling in forms and speaking on the phone. I vowed to myself that I'd never be able to marry someone who didn't speak Welsh.
"Tickets please love".
My head jerks up from the window ledge where it had been resting. Behind me, I can hear someone phoning home, telling an expecting partner, they'll be home within the hour.
In Cambridge, I find myself phoning home every day, religiously. It's not because I'm homesick. I don't usually have anything interesting to say, either.
"Yet it's bittersweet to phone home, to slip back into my mother tongue only to feel it slipping away from me"
Speaking my mamiaith is a comfort that reaches me hundreds of miles away from my mamwlad. It has a reassuring quality that can reach me however far I go.
Dad likens it to slipping into a warm bed. I think I know what he means.
Yet it's bittersweet to phone home, to slip back into my mother tongue only to feel it slipping away from me. I live in fear of the cloud that descends on my mind when I reach for a word that is just out of my grasp.
There's that familiar millisecond of a delay. It's unnoticeable to anyone else, but it's a pause long enough for me to hear it, but worse, to feel it.
I can smell Port Talbot before I see it. The acrid smokiness fills my nostrils.
"We are approaching Port Talbot Parkway".
Seven young men, let out a cheer. A part of me feels the same.
It dawns on me that I will only ever know my Cambridge friends through English. They will never know my 'Welsh' self, the personality that I once favoured.
It's sometimes hard to choose to be here, rather than in Wales, living a life in the language I treasure the most.
Yet, my friends now know of a language they once barely realised existed. My friends now know what mysterious alphabet Pembroke College's staircases follows. They know why I stop to marvel at staircase Ch, Ll, Dd, Ff… but even better, they know how they sound.
For 8 weeks at a time, "Gwenno… it's Welsh", turns to be the default answer for when anyone asks my name.
We have arrived at Swansea, where this train is terminating.
I step off the train and onto the platform.
Dylan Thomas's "lovely, ugly town".
Welsh soil, firm under my feet.
Varsity is the independent newspaper for the University of Cambridge, established in its current form in 1947. In order to maintain our editorial independence, our print newspaper and news website receives no funding from the University of Cambridge or its constituent Colleges.
We are therefore almost entirely reliant on advertising for funding and we expect to have a tough few months and years ahead.
In spite of this situation, we are going to look at inventive ways to look at serving our readership with digital content and of course in print too!
Therefore we are asking our readers, if they wish, to make a donation from as little as £1, to help with our running costs. Many thanks, we hope you can help!
Sponsored Links
Partner Links