From La Paz, with love
Flora Bowen reflects on the 'first week of term' of her year abroad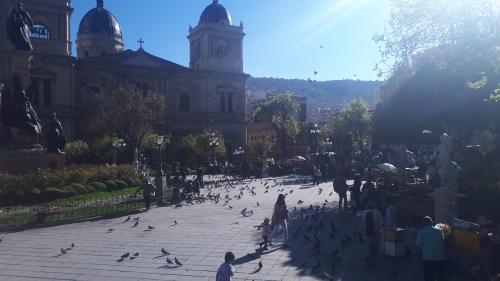 It was all going so well: I'd started a blog, travelled solo through Chile and Bolivia, and finally settled happily in La Paz. "I'm a Year Abroad success story!" I thought. I'm destined for the eternal espresso sip, the polyglot life: I don't need friends, family, security – all my heart desires is vino by the litre and cultural experiences by the hour.
And then everyone had the audacity to move back to Cambridge, and ruined my life. Suddenly the college group chats are thriving. Suddenly the college powers that be are emailing. Suddenly I start eyeing Skyscanner routes home. The Union informs me that Edward Snowden, Bill Gates, and Judge Judy are making appearances this term; there is great excitement over a new ketchup dispenser in Clare Buttery. Even an email from our Head Porter stating that the front gate is still broken brings a tear to my eye. If only I were back in Cambridge, dolloping on condiments in the tranquillity of collegiate companionship.
To have the adventure is valuable beyond measure
The past two years have been a glorious period of friendship, and it's these relationships I miss the most: from hysterical gyp conversations at 3 a.m. to ADC trips and Cindies outings, my social life in Cambridge was rich and full of joy and provided a constant source of pleasure. When applying to Cambridge I had dreamt of such experiences; the people I then met soared beyond any adolescent fantasy in their humour, their company, their loyalty.
In the lead-up to my third year, the daily routines of library and buttery felt tainted by the looming Year Abroad. My excitement to explore South America and France brought lingering melancholy, as I knew I would have to put the life I was currently living on hold. As a student, I am hideously over-excited by everything in the Bubble. I love writing essays, I find supervisions exhilarating, and I've been involved in so many activities: student journalism, Footlights Smokers, the Union, the College JCR, student theatre, and much more. And of course, those eternal, glittering nights of Cindies, formals, and May Balls. Removing myself from Cambridge felt like undergoing an amputation.
People worry, fall out, lead imperfect lives
Of course, I know that such sentimental FOMO is a paranoid idealisation of my life at the university. Should I drop in at a whim, my friends would probably have to excuse themselves five minutes later to go work in the library. A supervisor would note 'not quite' in red ink on an essay, and I'd sober up pretty quickly. My beloved college wife would be in three plays and writing five essays at once, and the group chats would be full of friends cancelling evening plans to read for the next day's supervision. To top it off, I'd likely find myself stuck next to the socially awkward faculty member at formal hall. Meanwhile, those friends I miss so much might be gazing at the (currently impeccable) Instagram feeds of fellow MML-ers, sleep deprived and overworked, wishing they were anywhere else other than the world of iDiscover.
Remembering this reality helped me to reason a little more with myself, and to enjoy my life again in an unknown country. To lose the familiarity of Cambridge is deeply painful in these first few months of my new adventure, but to have the adventure is valuable beyond measure. The separation is a premature preparation for the adult world that lies beyond, where everyone will disperse and begin those long-awaited lives. What I feel now is a creeping precursor of such uncertainty: that the formal will at last come to an end; that the final supervision will take place; that the tight intimacies formed over the Van of Life and UL too will disband.
Watching Michaelmas Term start again – as it has done, again and again, for centuries – is like writing a story, creating and recreating the wonderful tale of Cambridge, whose characters work and play the old-established role of a Cambridge student in rapturous academic paradise. Real life is not like that, neither in Cambridge nor outside of it. People worry, fall out, lead imperfect lives. Existing now in this real world has brought me to both the fantasy construction of this golden creation, and to the realisation that it does not, cannot exist.
How do you get over FOMO, then? You can't. The grass is always greener, as the useful cliché goes. Life is textured and euphoria can be fleeting. Greedily now I look forward to joining in the best parts of term as I go between continent and country, but I will endeavour to ignore the news that trickles through and resist the idea of perfection belonging to any one place.