Cambridge's Christian roots: a difficult legacy?
From the perspective of his Jewish faith, Samuel Isaac reflects on Cambridge's Christian roots and what they bring to university life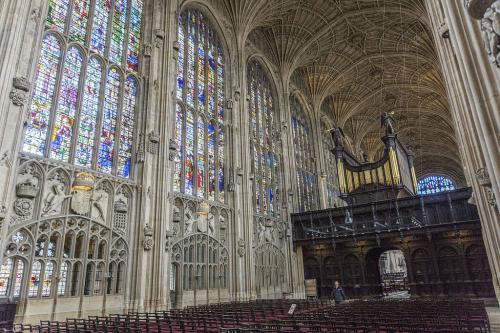 Christmas is probably my favourite time of year. It's something about the harsh dark evenings glowing with festive lights, and the much sung-about 'Christmas cheer' filling the air. As Mariah Carey's hits, the slurs of The Pogues and Bublé occupy the radio for another year, I just can't get enough. All this is somewhat more bizarre considering I'm one of the few people in the country who doesn't actually celebrate on 25th December. My own religious beliefs dictate that I swap tinsel for tefillin and instead light a menorah for Chanukah, a celebration of the Jews' victory over the Seleucid Greeks.
"Besides awe at the decorations, I was also met with a feeling of otherness"
My arrival in Cambridge last year brought with it lots of new experiences, not least formals and bops. New people and real responsibility was certainly overwhelming, but perhaps most surprising was my introduction to an institutionalised Christianity that pervaded all areas of university life. I'd grown up attending Jewish primary and secondary schools where my faith was the default. Time was taken off for the major festivals and prayer services were sung, or at least mumbled, in Hebrew. The first few weeks of Michaelmas, therefore, required another readjustment, as chapel now became the place of service in college and I had an introductory meeting with the friendly Christian chaplain – a far cry from my school's Rabbi.
It was in this context that I had my first real encounter with Christmas. Until now, this time of year was characterised more by reruns of Love Actually and Home Alone, and maybe some exciting new flavours of coffee at Starbucks. With Bridgemas came carollers, emails about services in college and a Christmas dinner excitedly organised on my staircase. Besides awe at the decorations, I was also met with a feeling of otherness; a realisation that the culture and faith of the University was not my own.
Perhaps this was a certain naïveté on my part. Although religious myself, my experience of growing up in London was of a profoundly secular society, and so I assumed that would be the way of university also. I never expected matriculation in the chapel, or graduation ending with my degree offered 'in the name of the Father and of the Son and of the Holy Spirit': my undergraduate career followed alongside by the tenets of the Christian faith.
It is fair to say, I believe, that there is a sense of difference felt by those who haven't grown up with the C of E as their church of choice. This isn't to say that I haven't been welcomed or accepted in college. Indeed, the opposite is true and I'm eternally grateful for the efforts of Sidney Sussex to fully support me and my coreligionists in any way they can. But perhaps the ability to order kosher food at the Christmas formal doesn't detract from the fact that it is Christmas we're celebrating, and it begins with grace to the Christian God.
With this, you might expect a rallying call to arms for the secularisation of the university, the permanent closure of the chapels and an order to open formals with a 'You may be seated' in place of Latin. But I could never call for such things. Despite not being my faith, I believe that there is a real value to placing religion at the centre of an institution, declaring that even at moments of pride and celebration, we should still take a moment to think of something bigger.
In Jewish law, it's written that a monarch must carry around a copy of the Torah to remind them that they too have something above them. The declaration of the Trinity at graduation can't relate to everyone in the same way, but for me it stands as a reminder that there is something greater than us that unifies us, a useful reminder at a moment where we might only feel intense pride at our own ability. For a leading university like Cambridge, I believe this only becomes more crucial as it grows in success.
Some might call for a multi-religious or pluralist service to aid inclusivity, but I fear that with this we might be trying to substitute religious experience with an experience of religions. For Cambridge to truly be 'religious', it needs to subscribe to the creed of a single religion, a belief that will impact all facets of the institution, a faith that underpins its essence. It's right that this should reflect the most popular faith among those studying here, and so it's logical in my mind that it's Christianity.
The value of faith for the University, bringing with it ritual and reverence, I would concede, far outweighs my own occasional feelings of otherness. My awareness that elsewhere there are places where it's Judaism that presides over religious institutions, where my faith is the majority, also reassures me somewhat.
Christmas might not be for me, and the chapel might not be my place of worship. But the chaplains, the choirs and the carollers should keep on going, looking upwards, bowed in humility before that which we can never know, from Chanukah through the New Year