Breaking the bubble and building bridges: stories from student volunteers
What is it like taking university out of Cambridge? Eight students share their experiences of volunteering with local organisations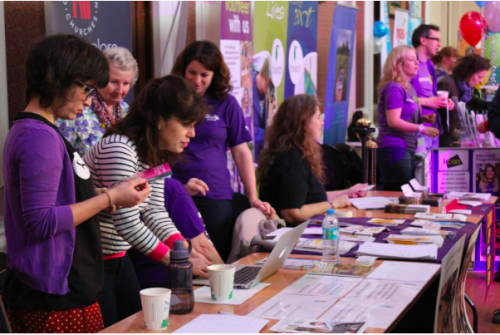 Niamh Buckingham, Jimmy's
Whenever I felt that I was stressed about work or had become too wrapped up in myself, I escaped the Cambridge bubble and spent an evening interacting with real people in the real world. This meant that when I returned to college, I was more motivated to work and also had a much better grasp on perspective, finding studying here not as bad as we like to complain.
It is all too easy to get caught up in yourself and forget to check your privilege and have consideration for the real world. Cambridge city, like most of the UK, suffers from great inequality. Volunteering with people you wouldn't normally come into contact with, is not only important for service users, but also for students to be more in touch with the real world and to understand the struggles other people face. These people deserve to be listened to and afforded dignity, as much as ourselves.
"Volunteering at Jimmy's night shelter has confirmed my desire to work in the public and third sector in the future"
Volunteering at Jimmy's night shelter has confirmed my desire to work in the public and third sector in the future. Seeing first-hand the need communities have for volunteering to help those facing enormous challenges, as well as the positive and far-reaching impact you can have, has encouraged me to work in a meaningful career rather than face the pressure to follow the money.
Jennifer Guan, Cambridge Hub
In social anthropology, we often look at studies in economic and social inequality. However it's one thing to be reading about them in a book, and entirely another to meet the people who are affected and also those who are actively tackling these issues.
At Cambridge you can often feel that your worth is judged by academic criteria outside of your control. Just in terms of mental well-being, volunteering can allow you to see just how much you can offer the world and all the ways you can do so.
I've always been intent on pursuing a career that was orientated towards social change. Volunteering has allowed me to see the various ways that I can engage in this with my work that I wouldn't have known otherwise.
Michael Croghan, Student Community Action
I felt that through my studies, life had become very confined, dividing my time between working in college and the architecture studio. For me, volunteering in schools felt like an opportunity to break away from that rigidity and to be able to spend time with people well outside of the Cambridge bubble.
Cambridge can be a very insular place for students, both in terms of the pressure to focus solely upon academic life but also the extremely defined social groups you end up spending your time with. I felt that this restrictive way of living the city wasn't beneficial, so by volunteering I felt that I was able to get past the strict town/gown barrier.
I like to think that architects should be very socially minded people so I suppose volunteering runs in parallel with my career goals. At the very least it shows a sense of awareness that extends beyond life in college or the faculty and being able to help out at a community level
Gerard Martin, British Red Cross
Volunteering in First Aid and Emergency Response for the Red Cross allows me to make the most out the few hours of spare time I have when not under the classic Cambridge stress. Taking the time out to volunteer can be slightly tricky but it is completely worth it. It is also nice, as a Medic, to have a sense of actually helping people instead of being trapped in lectures all day.
I think volunteering is a great chance to do something slightly different to the usual daily routine. Cambridge terms are so short and we can spend eight weeks stressing about our work and getting caught up in the bubble that we forget the world that exists outside the confines of the University. Volunteering has allowed me to meet and become great friends with the people who live in Cambridge all year round.
I think my work with the Red Cross here in Cambridge has helped shape where I want to go with Medicine, and it has made me think about taking time out to do some work internationally with the Red Cross in the future.
Cat Somerville, Jimmy's
Volunteering is a great break from academic work, as it puts my worries into perspective. Working with children in particular helps me take my mind of things, and it is always really rewarding to see that you can have an impact on other people's lives. Most voluntary work is very hands-on, and this makes a nice change from the library.
Cambridge is such a bubble, and it's easy to forget that there is more to life than your studies. There are so many amazing projects you can get involved with, and it is a great way to meet people you wouldn't normally come across. Social action of all kinds is crucial to breaking down the town/gown divide, to help students learn more about social issues, but also to provide community services which are reliant on volunteers.
I'm interested in training to be a social worker after I graduate, and my voluntary work has played a big part in this decision.
Herman Lam, Schools Plus
Being in the Cambridge bubble, it is far too easy to lose sight of the wider world out there. Volunteering in local schools helps me put things in perspectives. I did a paper on British social and economic history since 1880 last year, and working in local schools gives me a real sense and idea of how social policy changes affect children and their teachers, and the challenges schools face as a whole.
"Cambridge students like myself are well-placed to be a role model for these young people, help them grow and build aspirations in them"
Disadvantaged pupils in Cambridge do worse than almost anywhere else in the country, and yet at their doorstep is arguably the best university in the world. Something just does not add up. Cambridge students like myself are well-placed to be a role model for these young people, help them grow and build aspirations in them. I am now considering a career in education.
Natalie Weller, Girlguiding
Sometimes I feel so overwhelmed by work that I think I don't have the time to go to Brownies that week. But actually spending time away from the Cambridge bubble, especially in exam term, has been very beneficial. After two hours of playing games and making crafts with the children, I would feel refreshed and it would remind me that normal life does exist beyond the walls of my college.I have volunteered with Girlguiding since I was 14 so for me it was a natural progression to carry on when I started university. I think volunteering is so important as it gives me the opportunity to empower young girls to become their best and help their community, and to give back the time and effort that volunteers have given me. I think it's quite sad that most of us move to Cambridge for three years, but we have very little or no interaction with the local community. Volunteering is not just one-sided: the more you put in, the more you will gain too.
In the future I am hoping to train to become a GP, so volunteering has helped me to develop my confidence in communicating with children. And volunteering looks great on your CV and certainly helped me when applying for clinical school.
Tom Hodson, Student Community Action
For me, studying has always been more limited by motivation than by time constraints, so spending an hour or two volunteering a week has only ever been a good thing. It's really relaxing to mentally allocate that time to something other than my course.
Through Student Community Action, I spend time with disadvantaged children one-on-one. It makes a big difference for them but I also think there's something important about building those links between students in Cambridge and the wider community around us.
Volunteering one-to-one can take you out of your comfort zone at times, it's puts you in situations that you wouldn't find yourself in otherwise. Learning how to make the best of those moments is a skill well worth having.
Volunteer for Cambridge, a marketplace of volunteering opportunities around Cambridge area, will be on at the Guildhall, Saturday 21st October. Details of the event are here. https://www.facebook.com/events/282539405483263/