Four friends and 64 pubs: how we did the ultimate Cambridge crawl
What happens when four Cambridge engineers decide to visit every single pub within a one and a half mile radius of Clare Colony?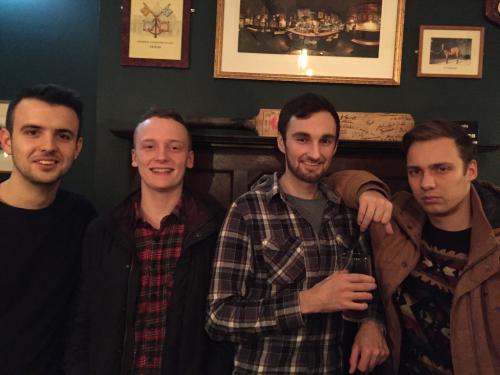 We were young second years with a dream of finding the perfect pub and instead found ourselves...
Well, not quite, but over the past two and a half years me (Lew) and three of my housemates (Lou, Jack and Dave) visited and reviewed all 64 pubs within a 1.5 mile radius of Clare Colony. What started as an attempt to make sure we socialised as a group when we were so busy with all the societies we were involved with evolved into a much more epic saga. This is our story.
The journey started on 25th January 2015 with the Pickerel Inn, a short walk from Clare Colony.  As well as wanting to broaden our 'ale horizons', being engineers we were keen to generate data, so the idea was that at each pub we were to each choose a different pint, and one of us had to make a friend in each pub, tell them about what we were doing and get them to take a photo of us. 
By pub 25 we gave up on the photos and instead I decided to write more about our conversations and Dave's search for true love (more on that later). Rating each pub out of 10 also means that we can claim to have the most updated (if not the most thorough) ranking of the central Cambridge pubs.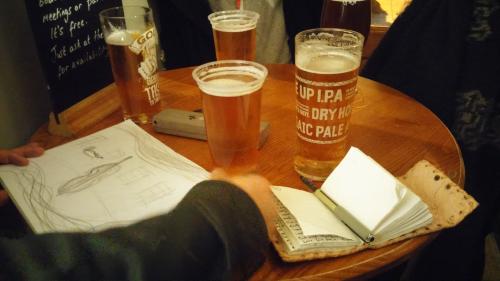 We didn't venture far at first, picking off nine of the easy nearby pubs that we knew quite well. Our favourite pub of our second year was the Fort St George, situated by the river with a great selection of ales – a hard one to beat on a summer's day. In fact, we didn't really come across any bad pubs during that time, though I think the worst experience had to be the Bathhouse – "I'd forgotten how they play really loud awful music in here. 'Wiggle, Wiggle' is now playing – how awful. 6.5/10".
We finished our second year with a slightly better visit to Spoons post-exams. To give you a taste of the fine punditry I was up to then: "Ok, so I'm pretty smashed, v loud music is playing and Rowan is dancing weirdly… Drinks are cheap and Spoons is Spoons. Gonna be a good night. 7/10". All in all it was a decent start but we had much more pubbing to do!
Third year began with The Baron of Beef, pub number 10, which we were pleasantly surprised by, and gave an 8.5/10 for its friendly bar staff and modern decor. Soon we found ourselves in mid-Lent 2016 at the start of another crawl at The Carpenter's Arms when Dave made his first appearance, offering a European addition to our pub evenings. We didn't really like the pub (7/10) but we did enjoy the new addition to our pub team ("Dave chatted about his new job, he's smug as f***"). Commenting on Dave's life would become a common occurrence throughout the next 40 or so trips. 
With Dave in tow, we reviewed some classic places: The Eagle (8.5/10), The Anchor (8/10),The Free Press (8.5/10), The Mill (8.5/10) and the Castle Inn (8.5/10) all being worth a visit. Our favourite was The Flying Pig (9/10), a quirky candlelit place near the station, with posters and ale bottles lining the walls. A hidden gem in our opinion.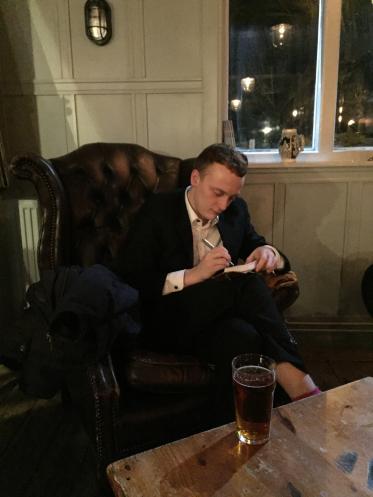 However, third year still saw a dismal lack of effort as we only managed to reach pub 28. We were so drastically behind schedule it meant that 4th year would involve a hefty 36 pubs. I'll be honest in saying that I did not think we could complete the challenge before we graduated, but a new academic year brought with it a new found sense of urgency.
What better way to start our fourth and final year than with the pub where we (I) came up with the idea  – the Maypole (8/10) – and it was here we decided, in order to meet our deadline, we had to turn pretty much every socialising opportunity into an 'official' pub visit and that is exactly what we did.
With this new sense of purpose, we began to breeze through the pubs. Top trips included the Old Bicycle Shop (9/10) with a fantastic selection of drinks, and the Old Spring (9.5/10) with a roaring fireplace and homely feel. We asked some big questions in the Live and Let Live pub (8/10) ("Are we a divided nation? Will our children have genders? Who will be the first of us to have a child?") and some equally important question in the White Swan (7/10,"Is it Melinda or Meliana Trump? Wouldn't it be nice if they lit the stove in here?"). The Mitre (8.5/10) was a highlight: we had a huge turnout, and I charitably bought everyone drinks (I don't normally do that but that was a particularly good day). 
Our pub conversations at this time primarily consisted of ill-informed comments on the current political landscape, be that Donald Trump, Brexit negotiations or the election. However, as all of us bar Dave were in relationships, my fourth year pub reviews mainly record that Dave was single and ready to mingle and desperately in need of a paleo lover to meet his paleo needs – "Should Dave move to London for the better Tinder scene?".
Demonstrating our Cambridge University lateral thinking prowess, the fourth year also featured the biggest pub crawl in this saga to make up for lost time. Accurately recording the quality of a pub after six pints is a challenge, so I insightfully took half a loaf of Hovis Tasty Wholemeal bread with me to help keep up the quality of the reviews. This was not the case for Dave, who decided to draw each pub on his sketch pad, each one getting progressively more abstract (read: worse). This may also have been due to the fact that on the way to pub 5 he walked into a lamppost while finishing off a drawing.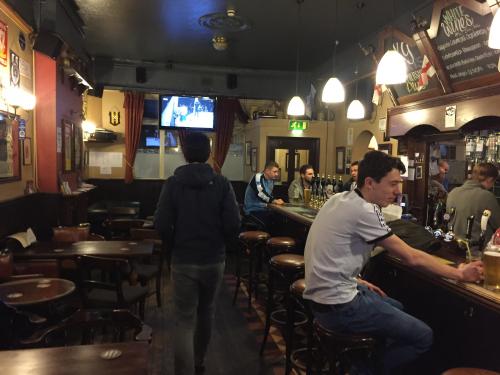 I feel I also have to mention the worst pub we encountered that year: The Dobblers' Inn. I think it was no accident that we came across it just before the best pub (a test from the pub gods?). You probably don't want to make the effort to go to this one unless you're a fan of terrible drinks, live MMA and gambling machines. 
In contrast, the Geldart, the best pub of the journey (9.5/10), had an amazing selection of ales, a roaring open fire and a candlelit room with modern-rustic decoration and a great atmosphere. The food is also fantastic (trust us, we all took our families on graduation day).
We finished off the last three pubs with everyone who had ever joined us on any 'official' pub trip. This started at the Granta (8/10), where it was revealed that Dave had finally found true love (Bumble, not Tinder, if you're looking), moved on to the Panton Arms (which we loved, 9/10) and then finally the Emperor (7.5/10). Although the night didn't go without drama (some excellent negotiation tactics from Jack were needed to get inside the Emperor before closing) and suddenly our work over the last two and a half years was done. 864 days, 64 pints and over £300 spent since we began – but every bit of it worthwhile.
If there is anything we learnt during this journey, it was that making time for your friends and the things you enjoy at Cambridge is incredibly important. I think the rhyme I wrote at the end of the 64th and final review sums up our experience perfectly:
"Many beers and many cheers and a fantastic way to end four years"
However you choose to make time for your friends, one thing we all think you should do is tick off our top 10 pubs before you graduate!
Our top 10 pubs:
1. The Geldart (9.3)
2. The Old Spring (8.9)
3. The Architect (8.8)
4. Kingston Arms (8.7)
5. The Petersfield (8.7)
6. The Mill (8.7)
7. Flying Pig (8.5)
8. The Old Bicycle Shop (8.5)
9. The Six Bells (8.4)
10. The Fort St. George (8.3)