May Ball Review: Downing
Peter Chappell comments on how Downing College May Ball was able to provide the perfect in-between for everyone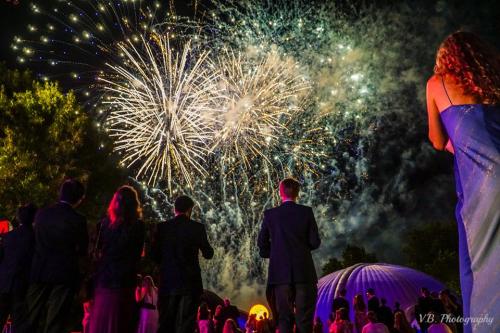 May Balls are about moments. It's what people are really asking when they say, 'How was Magdalene?' or 'What was John's like?' You can then reply saying, 'Oh my god, so there was this lightshow' or 'Mate, there was this incredible Killers covers band'. These can be good and bad; Robinson May Ball might always be remembered for the Beyoncé tribute blacking up. Downing had spectacular moments in abundance, all placed in the college's truly unique setting.
After a fairly lengthy queue (this was mainly our fault - we live two minutes walk away, there is no excuse for joining it at 7.45pm) we were greeted by a flute of Prosecco, and walked through the new library gardens. A nice touch was the programmes – clear and attractively colourful, they set the tone for the evening which was well organised and fastidiously imagined. This is a vital component of the May Ball experience; we weren't given a programme at King's Affair and come 3am I had given up trying to find out when and where things were on.
The weather helped; the evening sun shone warmly on Downing's Paddock as we rushed to the food first. The classics of Aromi, Mac 'n' Cheese, and Downing favourite Nanna Mexico were all there and the queues were fine. What's the point of churros if you have to wait two hours for them? We thought the main area was slightly quiet to begin with, and then we realised everyone was at the second stage belting out lyrics to Dark Sass, a Downing band playing their last ever gig. The band's cover of 'Moonlight' had the whole tent dancing – a perfect way to start the night.
"You genuinely felt as if you were in a icy planetary outpost as you were served delicious cocktails"
The variety and selection of drinks is something which really stands out in mine and my friends' memories of the night. The main bar was in an impressive space dome in the centre of the ball, which not only meant easy access, but wonderfully suited the 'Museum After Dark' theme. You genuinely felt as if you were in a icy planetary outpost as you were served delicious cocktails made with nitrous oxide, emitting a curious steam at every sip. Downing cleverly provided simple alternatives in contrast to this classy moment by having chilled beer and cider cans in buckets near the food stalls. This meant you could grab a beverage with your burger without having to join yet anther queue.
After gorging ourselves on what the food and drink team had laid on, some of our party regretted their gluttony on the rides. We were twisted upside down and around and then up and down again – it was terrifying in the best way possible. Other entertainments went down very well; Scouting for Girls (despite playing one too many covers) were well enjoyed, and I personally discovered an unexpected love for Becky Hill, who approached the event with enthusiasm (which can't be easy when the crowd is a load of drunk students in black tie). The fireworks were astonishingly good, and were well timed to continue the momentum of the evening.
There were some slight disappointments, and I hesitate to say them because other May Ball reviewers are so gushing about other (lesser) events. To my memory, breakfast never really happened, or it was not served in sufficient quantity to meet demand. Maybe this is because I was in the Howard Theatre at this point watching The Impronauts (who were superb in this unique space) that I missed it. But it was a shame when breakfast is often such a special moment at May Balls.
Perhaps the stand out element of the Ball was the way the Committee balanced the genuinely fun parts of the ball experience (headliners, entertainments, the theme) and the 'classy' aspects (food and drink, the reception, ice sculptures). This meant that unlike at some events, such as King's or Clare, you never felt you were at a glorified house party, but the night never felt stuffy, a vibe which at Magdalene, for example, could fall prey to. Just a shame we have to wait another two years for one of the most popular events of May Week!