Virtuous, innocent – and sexually harassed
Maya de Silva Wijeyeratne describes her experiences of school girl sexual harassment in Sri Lanka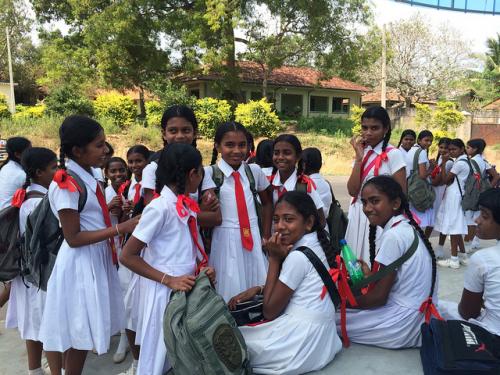 At first glance the page seems innocuous. The viewer scrolls through multiple images of school girls laughing, dancing, or simply caught in a pensive mood. Most of them are in the unmistakable white girls' school uniform, giving the page the appearance of a school's Facebook page. This couldn't be further from the truth.
These images are most likely taken from an unwary individual's profile, or their friend's profile or a public album – high security settings won't always protect you – and uploaded onto Facebook. There is nothing wrong with them: nothing indecent, or inappropriate, just ordinary pictures capturing moments of school life. Taken in isolation, there seems to be nothing which would make the sharing of such pictures amount to sexual harassment. However, the comments tell another story. Most of them are crude, graphic and filled with obscenities. There can be hundreds of such comments. Such pages exist for the sole purpose of objectifying and sexualising school girls.
I went to school in Sri Lanka, and as any student there will affirm, there is a serious problem in terms of sexual harassment. The advent of social media has made sexual harassment more widespread. It is easy for perpetrators to hide behind anonymous submissions. At the same time the multitude of such comments is seen as validating their opinions.
"Wearing that uniform I often felt uncomfortable while travelling – I never became used to the fact that people would peer into the vehicle I was in."
Although the rise of online harassment has made news recently, this does not mean that other forms of sexual harassment are non-existent. School girls (and females in general) walking on the road or using public transport are often cat-called or leered at. My uniform was sleeveless: this was considered to be an invitation for open gawping (a sleeveless uniform?! How scandalous). I can walk around Cambridge in a short, sleeveless dress, and no one will bat an eye, but wearing that uniform I often felt uncomfortable while travelling – I never became used to the fact that people would peer into the vehicle I was in. Then again, I shouldn't have had to.
I am aware that I am lucky. I had the privilege of being at a school where there was no sexual harassment (it was also single-sex), but many others are not as fortunate. The transition from school to college, hard enough as it already is, is made much harder by the practice of harassing female students based on their attire. Of course, not everyone engages in this, but those who do create an environment where female students are uncomfortable and limited in their choices of clothing.
Any form of objectification should be condemned, but the increasingly prevalent focus on school girls is odd given that our culture associates them with virtue and innocence (although this is decreasing). I remember studying traditional poems in school which emphasised their innocence, often drawing on the imagery of white flowers. Perhaps the sense of power that perpetrators feel when preying on such seemingly vulnerable children and young adults is one of the factors that makes harassment so common.
There are steps being taken to address this problem. When a page such as the above is discovered, it is shared in order to create awareness and encourage others to report it. However, a persistent challenge is that Facebook often refuses to take such pages down since the content does not infringe the standards set out by Facebook. The site's administrators do not realise that it is the discussion revolving around the images rather than the images themselves which are the problem. Even if the comments were to be translated there is often no direct comparison as it is the general gist of the comment that makes it offensive. This has resulted in pages continuing to exist despite multiple complaints.
Online forums and spaces have been set up to enable girls to receive advice and there are informative programmes held in schools. These are held at girls' schools, but more importantly, also at boys' schools and co-ed schools. This is vital if we are to change the mindset of school children and encourage a healthy respect for each other. There is still a long way to go if the overall mindset of the population is to change but I am hopeful that, over time, the impact of such awareness programmes will be felt.
Although such harassment is criminally punishable, it is very rarely reported. This is due to a toxic combination of stigma attaching to the victim, social isolation, and lack of knowledge on what steps to take. It will take time to overcome these barriers but the lack of knowledge is the factor that can be addressed most rapidly. Social media is a double-edged blade: aside from providing a platform for harassment, it is proving helpful as a means of creating awareness on avenues of receiving help. The mainstream media is also being used to advertise hotline numbers, and women are encouraged to report such harassment to the police. Law enforcement is improving. A national policy on preventing child abuse and looking after children who are victims of abuse is in the process of being formulated, and when implemented, will help significantly in improving the cohesiveness and effectiveness of steps taken.
Sexual harassment is not limited to a specific region, age group or gender. It can happen to anyone, at any time, and regardless of which school they go to and where they are. This is what makes it so vital that it is addressed. It is terrifying that sexual harassment is on the rise, and that many do not see it as a 'real' problem. The culture of victim shaming and making light of it makes the problem worse. However, the fact that ordinary pictures are used for online sexual harassment is a worrying indication that this problem is deep-rooted and far-reaching: and a call to act now