The rough sleepers of Cambridge
Rox Middleton interviews homeless people from around the town to hear their life stories
Jay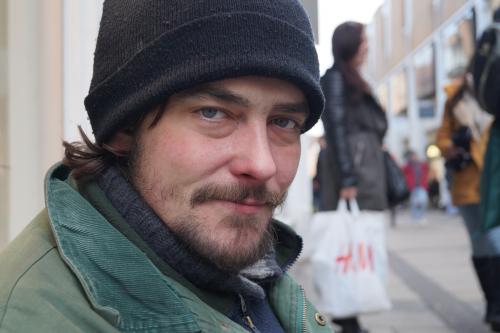 "It's often addiction problems, family problems, girlfriend's had enough, family's had enough, mental health problems, splitting up relationships, losing a job, those are all catalysts, but when it all happens at once it all goes bang; it can be really hard to deal with all that," Jay explains to me. "I've been classed as homeless for a long time now, but for much of that I was sofa-surfing, and I haven't felt homeless at those times". The last two years have been much harder, though: Jay last lived in a hostel in Oxford, before he started living on the streets. He moved to London, and from there to Newmarket, then by Bury St. Edmunds to Cambridge, where he has been for nine months. "Cambridge's homelessness provision is much better than some places," he says, "there are towns where they don't even have a day centre, at least here there is Wintercomfort, although that's only open 'til two, that could be improved in the future". Wintercomfort is a charity that provides a hot breakfast for free to anyone sleeping rough and a base where rough-sleepers can wash, pick up second-hand clothes and sleeping bags, use the address and the internet – and also be put in touch with support workers. For Jay, it's essential: "there isn't much else, there are some churches that have meals on different days you can go to". What would be really good, Jay points out, is a direct-access hostel, somewhere you can turn up and get a bed that night.
Jay is on a waiting list to be moved into a hostel. His aim is to get into accommodation in the next six months, and after that to stay somewhere long enough to start to piece things back together, to go to college perhaps. The last time he was in a hostel he was able to study: he's passionate about history, and reads a lot of books about history, and while staying in the hostel in Oxford he took a couple of courses. "You can't carry on when you're on the street, even when you're technically homeless you can study if you have a hostel, but on the street you can only read. I'd like to go to talks here, it's on the to-do list, but when you're on the street you do tend to take each day as it comes."
You've got to understand that there are people more vulnerable than you, although we're all in the same shit situation
For now the wait continues for a place in a hostel: "some people get priority, people with serious mental health problems, women, and I think that's right because some people are more vulnerable. I've known people who've been attacked. You've got to understand that there are people more vulnerable than you, although we're all in the same shit situation in this period of life, but I'd always give up a place to someone more vulnerable."
Gabi
Gabi* doesn't have a home because she tried to burn down her flat when she was feeling suicidal. She is in touch with mental health workers who are helping her take medication. Much of the support she has received she doesn't think has helped very much, but she just hopes her health will get better. For now, she's still dealing with huge mental health problems, and she doesn't have a home; she's sleeping in a garage belonging to some friends.
Gabi's plan for the future is to take a course in computing. She already has some of the relevant skills and wants to bring her level up so that she can get a job working with computers. She's fluent in four languages, and has worked in Cambridge during the 16 years she's lived here.
"The thing is, you've got to help people no matter what their situation", she says, " if people are homeless, they need a house and a job, it doesn't matter what their circumstances were to get them there".
*Gabi's real name is protected.
Peter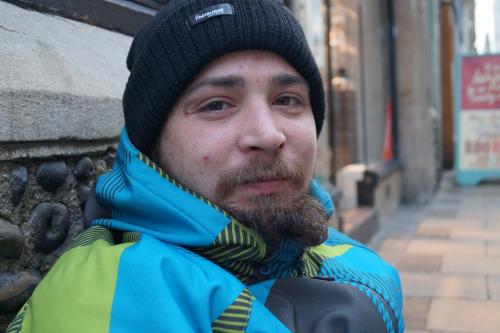 Peter is overcoming alcoholism, bit by bit, on his own. He's not drunk, and he's working hard to keep it that way. Peter is Slovakian, and he started drinking years ago, after his father died. For a while he was dependent, but with medical help he was able to stop. His sister had recently moved to Cambridge and told him he should come over because she'd found him a job. He had a television, a computer, a PlayStation, it was all going right. "When I was working in Cambridge that was okay, although I didn't really leave Cambridge. The best job I had in the UK was working on farms, a team of us would travel all over England in a van. We had tents and we'd camp at the farm, get up every morning at seven, and pick all the last of the vegetables from the fields. It was a great job, we travelled all over the place, and the other guys were from all over, some English, some Czech. It wasn't a hard job, but it wasn't a job for old people." Then disaster struck. Peter heard that his good friend had died in a motorcycle accident in Slovakia.
"I thought I would drink just one day, then one became two, and three and more – alcohol is a very bad thing." Unable to get up in time to work, Peter lost his job. Although he had savings, he had run through them in a few months. Initially he was able to stay at Jimmies, because he had worked enough in the UK to claim housing benefit, but after that he no longer qualified as he no longer had a job. Peter was admitted to hospital at some point because he just stopped drinking, and the physical dependency induced a seizure. The doctor told him he would have to stop drinking gradually, little by little. Nowadays, you can't tell that Peter drinks: he has to have a bit to drink in the morning when he feels too bad, but he doesn't drink spirits.
He wants very much to stop drinking. When he manages that, he says he won't have any trouble finding a job, because he wants to work, and is frustrated by a day spent on the streets, trying to collect enough money to buy the food and drink he needs to keep himself out of hospital. If he has spare money or food, he gives it away. At night, though, it's other people that are the problem. Drunk people piss and vomit in the place where he sleeps, and then, to add insult to injury, he's been accused of doing it, and then there are "some crazy people, some drug addicts, people who come and wake you up at 5am and then you can't get back to sleep."
If I went back, I don't have a family, I don't have a house, I would die on the streets
Peter's pitch is on Market St. He likes hot chocolate "like a kid", he jokes, and says the best students can do is just to be friendly. "I don't need anything, just a home. In England, in January at night it is -4 degrees, it is really cold, but back home in Slovakia it is -30. If I went back, I don't have a family, I don't have a house, I would die on the streets".
If you would like to help, Streetaid, Jimmies and Wintercomfort are all charities you may want to consider giving money or donating to