The Burtonisation of fashion: style lessons from Tim Burton
Fashion Columnist, Sarah Abbas, unpicks the mysterious hysteria of Burton's signature style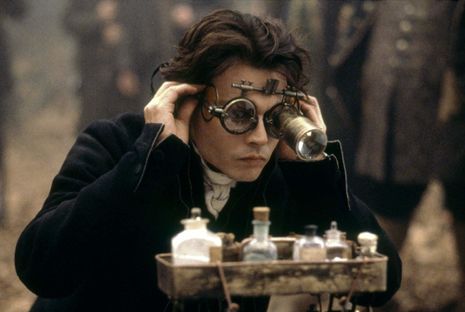 The chime of Danny Elfman, the camera panning over Johnny Depp and the feeling you have just entered a stylised dream. You know what you are watching. Tim Burton strikes again. Inspired by German expressionism and his experience growing up in suburban California, Burton's films are full of contrast between hyperreal suburbia and a darker fantasy world. Once criticised for being too dark and twisted, Burton's work from the late 20th century is considered to be revolutionary. On the surface, they're grotesque retellings of loved stories, but if you look a little deeper, you see tortured heroes trying to find their place in an unknown world. The universal experience of feeling alienated at one point or another allows a wide range of audiences to see themselves in Burton's character, providing comfort and translating the beauty existing in haunting themes. Other than his use of long shadows and odd angles, the costume design of his films allows him to achieve a unique 'Burtonesque' charm. Alongside Colleen Atwood, Burton achieves an integrated look with his vision, serving both the narrative and the style of his films.
Edward Scissorhands
"For Edward Scissorhands - and outsiders alike - conformity is never the answer"
The haunting yet sweet picture of snow being formed from Johnny Depp's Frankenstein-monster-esque Edward Scissorhands ice carving as an angelic-looking Winona Ryder dances is one of my earliest memories of the 1990 unconventional romance film. The stark contrast between the prim pastel 1950s clothing and the all-black-all-leather gothic suit worn by Edward Scissorhands is a visual guide to how different and isolated he is from the rest of the community. In an attempt to conform to his surroundings, Edward Scissorhands sports a white shirt with black work pants and suspenders. Restrained in these clothes, he can not help but tear himself out of them from sheer discomfort. For Edward Scissorhands - and outsiders alike - conformity is never the answer. Ditch the college puffer and inject your personality into your outfits. Contrasting to Depp's punk-rock look, Winona Ryder, portraying Kim, is dressed in soft tones and vintage silhouettes, and seems to be somewhere in the middle of both extremes of basic suburbia and grotesque fantasy. Perhaps in a category of her own, her costume design makes her appear as a mythical angel.
Alice in Wonderland
"Burton's stories, often feeling like veiled autobiographies, use costume design to achieve a style distinct to Burton"
In 2010, Burton retold the beloved 1951 Alice in Wonderland and was met with descriptions such as 'generic and underwhelming' by many critics. I for one reflected on his darker turn on the fairytale and was taken aback by the stunning visuals. Recognised by the academy, the costume design received an Oscar and understandably so. We begin the picture with the classic blue Alice dress, a silhouette inspired by Christian Dior's 1947 collection. As Alice falls down the rabbit hole, entering a strange world, her dress undergoes a significant transformation as she shrinks and grows. We can describe the alteration of the dress as a 'Burton-isation'. Black trim, stripes and contrasting colours are added to achieve the familiar gothic style of much of his work. Paired with the sharp cheekbones, big eyes, chalky complexion and dark undereye circles, these characters are distinct to Burton. Microtrends on TikTok have appeared with people romanticising this almost ill-looking-Victorian-child aesthetic leading to a wave of people dressing as if they stepped right out of a disaturated dream world.
Not only was Alice's reimagined look significant, but the Mad Hatter (also portrayed by Johnny Depp) was given a new image. Atwood worked alongside Depp to achieve her designs and described Depp's character to be like 'a mood ring. His emotions are very close to the surface'. With a variety of textures and colours, white lace against tweed and details such as thimbles and thread, the chaos of Hatter's look reflects his inner turmoil. The creativity of Hatter's design, with perhaps a mismatch of pieces, can inspire us to think out of the box. Too often, I am caught in my favourite velvet flares with an oversized crewneck. There is a familiarity with wearing a uniform-like outfit. The ease, the comfort. However, stepping out of my comfort zone when picking outfits has helped me to evolve my personal style and find pieces that reflect my own character.
Sleepy Hollow
Yet another film starring Johnny Depp, Sleepy Hollow is a fusion of horror, fantasy and romance. Set in 1799, Atwood researched this costume design through paintings and books while steering away from being too particular about historical accuracy. Depp's character, Ichabod, strictly has a monochromatic palette, complementing the desaturated nature of the film. However, despite the lack of colour, the texture in his costumes are striking. Christina Ricci's character, Katrina, sports a number of dresses. Her dresses evolve from being soft and light-coloured, to the finale where she wears her staple black and white pinstriped dress. The detailed embroidery on her dresses makes me yearn for the craftsmanship that seems to be lost with this age of fast fashion and trend cycles.
As much as Burton's concepts are intriguing and costume designs are extravagant, he is not immune to valid criticisms about his artistic choices. For the amount he has commented on how different and isolated he felt in his adolescence, it is surprising that he continues to fail to be inclusive with his casting choices. In the dozens of movies he has created, his casts have been almost all white. Whether this choice is intentional or not, there is no denying that there has been a sort of exclusivity of the 'Burtonesque' aesthetic, where people of colour don't seem to fit the bill. Burton has made some comments in the past about his lack of inclusivity when casting and they did not impress. Remarking on The Brady Bunch and the introduction of people of colour into the show, he mentioned feeling like it was just a case of forced diversity. However, diversity is only forced if you assume white to be the default. Hopefully, we will see Burton take up some of the advice surrounding his controversy and prevent giving the same feelings of isolation and exclusion that he experienced to the next generation of people of colour watching his films.
Burton's stories, often feeling like veiled autobiographies, use costume design to achieve a style distinct to Burton. This 'Burtonesque' magnetism that was hugely prevalent in the late 80s through the 90s has been greatly toned down with his newer work such as Miss Peregrine's Home for Peculiar Children but, looking forward to his release of The Addams Family spinoff show, Wednesday, I, alongside many others, hope to see a revival of the gothic, desaturated style of Tim Burton.
Varsity is the independent newspaper for the University of Cambridge, established in its current form in 1947. In order to maintain our editorial independence, our print newspaper and news website receives no funding from the University of Cambridge or its constituent Colleges.
We are therefore almost entirely reliant on advertising for funding and we expect to have a tough few months and years ahead.
In spite of this situation, we are going to look at inventive ways to look at serving our readership with digital content and of course in print too!
Therefore we are asking our readers, if they wish, to make a donation from as little as £1, to help with our running costs. Many thanks, we hope you can help!