Rewriting the rules of fashion: CUCFS x Jess Semple
In the run-up to their 2020 show, Gabriel Humphreys looks at the latest shoot from the Cambridge University Charity Fashion Show, as they collaborate with designer Jess Semple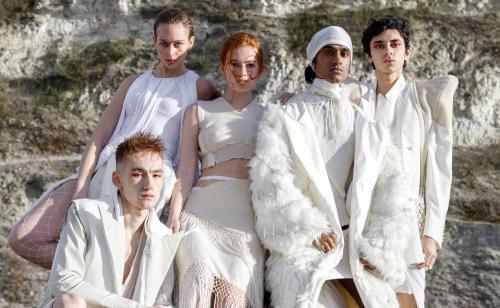 There's just over a week to go now until what is arguably Cambridge's biggest and most prestigious fashion event of the year - the Cambridge University Charity Fashion Show. Bringing together student creatives and models and with professional or recently graduated designers, CUCFS is an ambitious but valuable venture, broaching a significant industry gap between passive interest and active creation.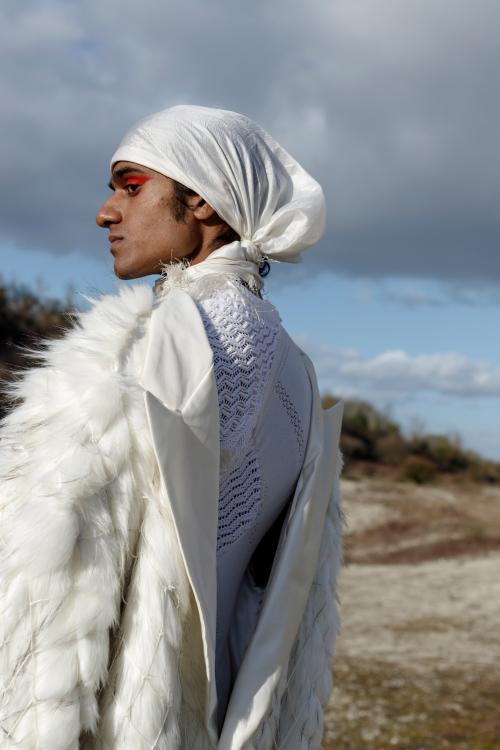 Their latest shoot is with recent Liverpool John Moore University graduate Jess Semple, whose designs graced the catwalk at Graduate fashion week before being shot for CUCFS by Tanya Kalbachova in the raw, exposed terrain of the Cherry Hinton chalk pits.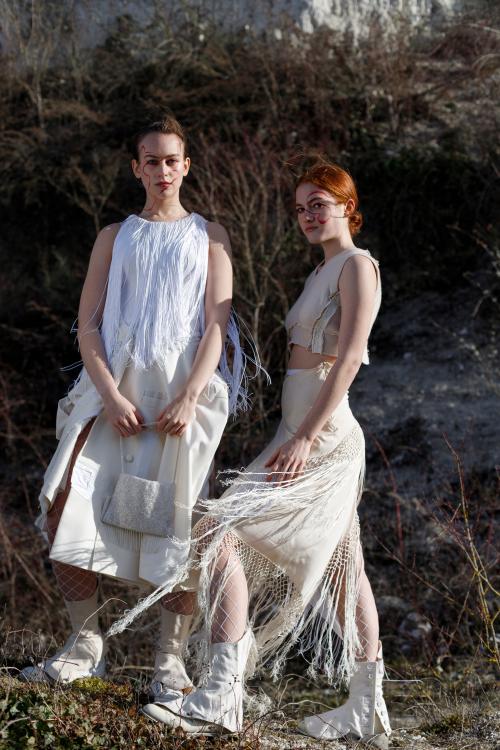 Semple's design work takes inspiration from the already made, the secondhand, and this collection, Off Grid, is no exception. This focus on a creative reusing and recycling allows her to reappropriate already beautifully designed garments into a franken-couture of pieces that exist in a tense relationship with much modern design work. They are somehow fragile, transcending any single unifying aesthetic, yet never fail to be arresting.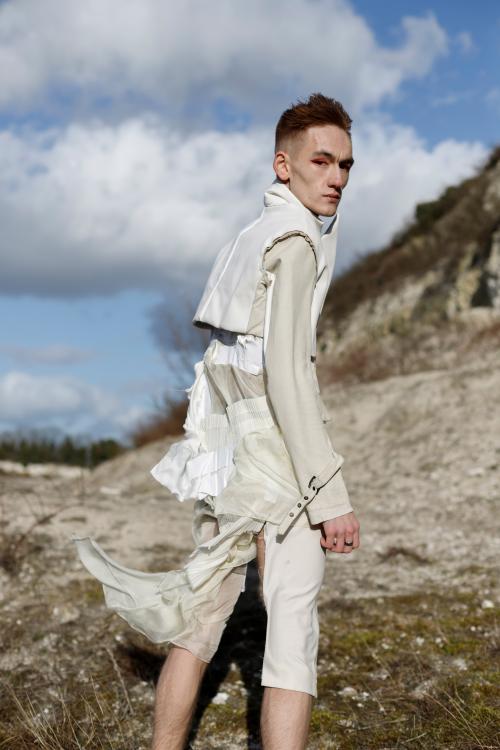 Off Grid was specifically conceived to challenge the norms and 'rules' of fashion, and to demonstrate a renunciation of the need to follow trends. White and off-white tones are used to resist classification, and to generate what Semple refers to as a 'purity of thought'. It is a fitting image for an industry gripped ever tighter by the preoccupations of consumerism and commercialism, and which sometimes feels like it has lost a grip on its roots, as an art of craftsmanship.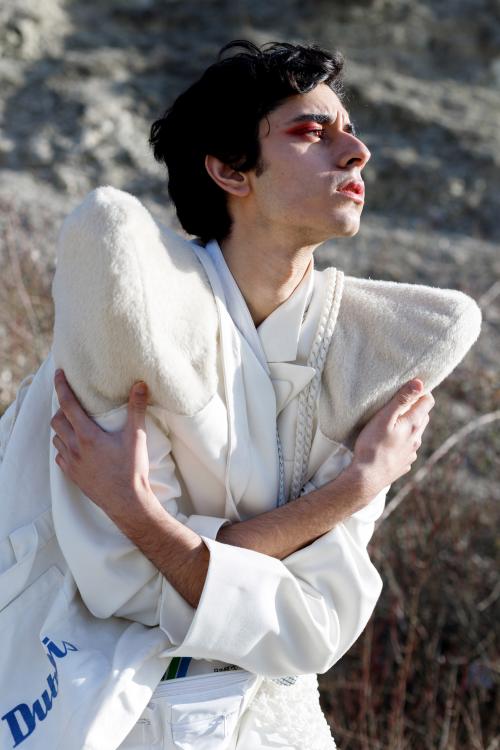 The pale pieces are a blank canvas: they seem too to echo the very patterns used to stitch and design garments. These are clothes both deconstructed and reconstructed, and perhaps provide a template for how we should view the output of creative processes that also have huge resource-consuming consequences: not as one temporary, disposable product, but a reusable resource in and of themselves.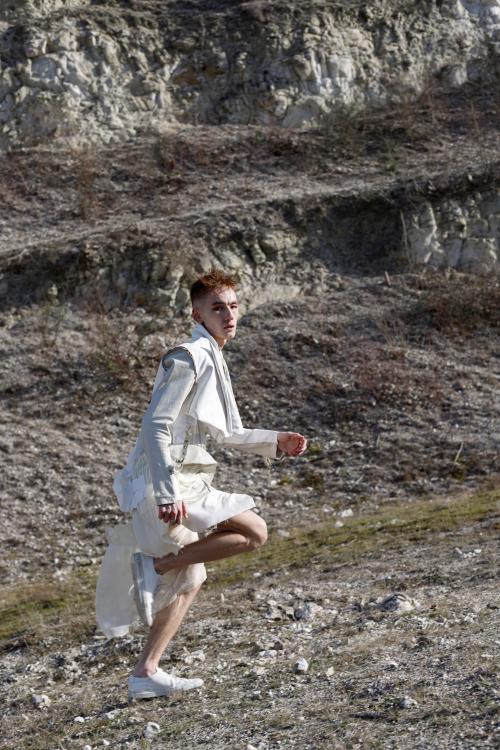 CUCFS elevates these designs to their seemingly logical conclusion - there is a starkness and something of the dystopian. The chalk pit setting has hints of the industrial, they are, after all, former chalk quarries, and their present overgrown nature seems to throw both the clothes and models into a post-humanity realm where nature is mocking our overzealous consumption by reclaiming its industrialised spaces.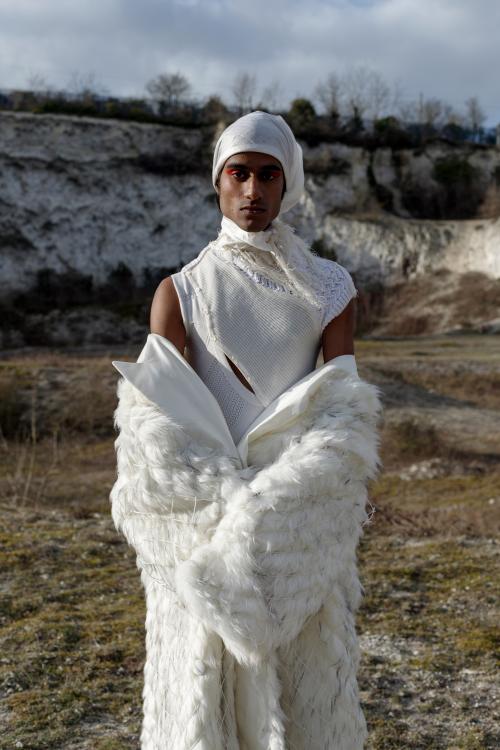 This year's show took as its theme Flux, an ode not only to the ever-changing nature of fashion and the industry, but also the need for change, and twinned with a focus of sustainability and sustainable designers their collaboration for Semple's collection seems a perfect coalescence.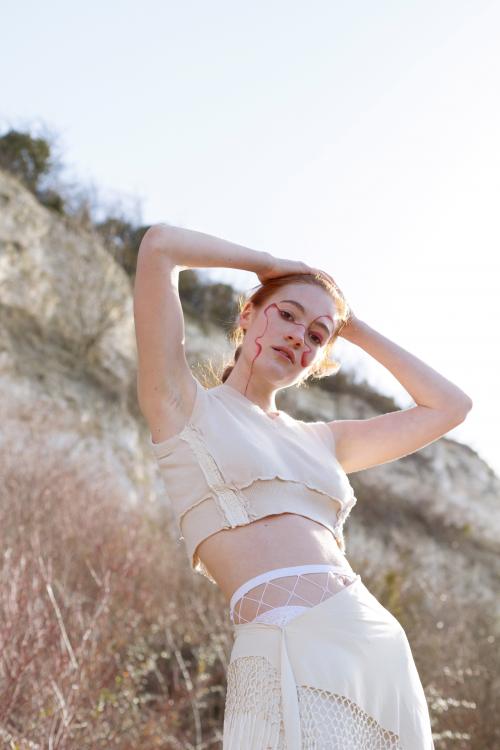 Kalbachova's shots maintain the dynamism of Semple's modular, often multi-layered designs, while also imbuing them with an undeniably majestic quality. The transfixing and intense stare of the models down the barrel of the camera is another subversion of traditional fashion imagery. It is not the seductive or alluring gaze of enticement - It is an issuing of a challenge to the observer that matches the whole ethos of the collection, to uproot preconceptions and examine our own role in the fight for sustainability in fashion.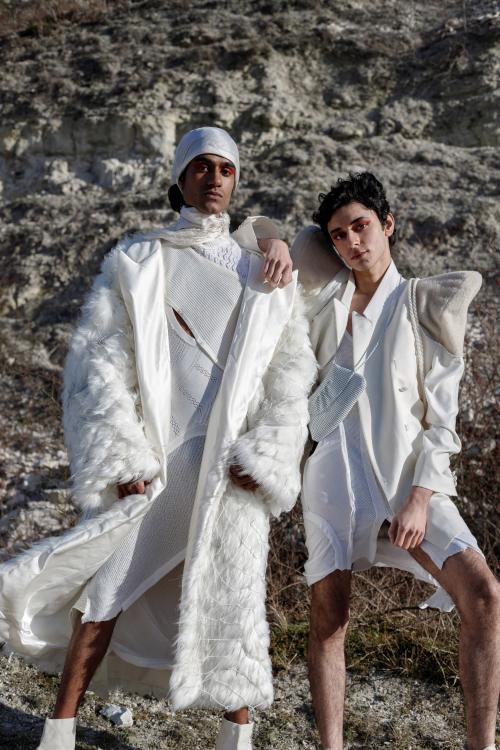 This shoot, and this collection more broadly, gesture to the utilisation of fashion as an art form, a method of not just pure representation, but also of critique. This is an essentially Gen Z behaviour - more and more young designers are seeking to explore the social and political through their work, using fashion as an artistic lens through which to challenge the problematics of the very industry it partakes in, and how we can reorder it from within.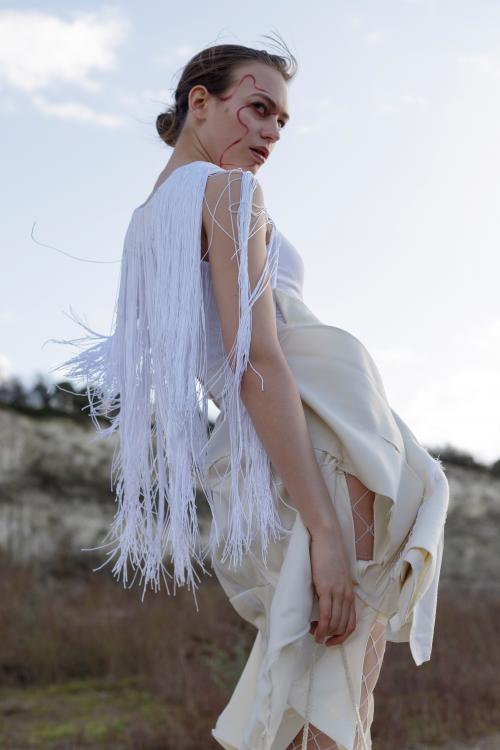 In Semple's own words, "if something beautiful already exists why would you not rework it and reuse it to recreate something entirely new."