Vulture's holiday menswear wishlist
With term over and the holiday season already upon us, Gabriel Humphreys takes us through some of his top picks to put on your gift list.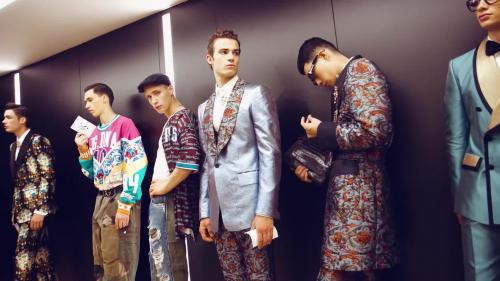 Term is over. The sun sets 3:30pm. It feels like you haven't slept in eight whole weeks. But, thankfully, 'tis the season of retail therapy, so fix yourself up with some sartorial ensembles to see you through the cold weather and beyond, as we prepare to ride into the new year! 
Roadman realness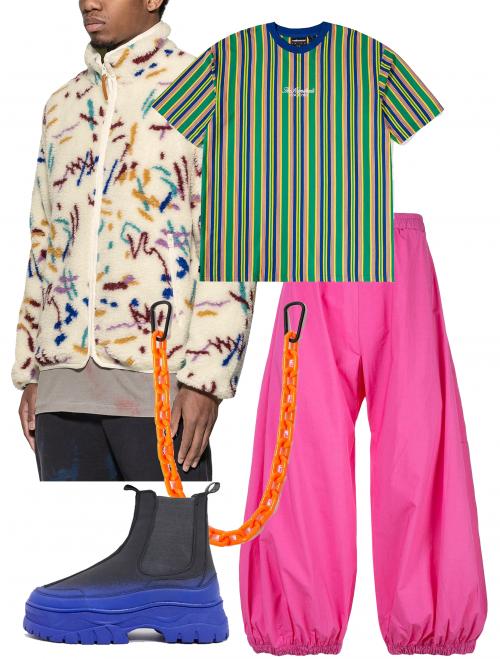 In spite of my flippant description, this really is a dependable outfit for all those inevitable Christmas nights out and even looking forward to the big but inescapably disappointing New Year's Eve. If there's an outfit you want to find yourself passed out in at the start of a new decade, it's this one. Don't be afraid of neons - they're still enjoying an enduring burst of popularity after featuring in the wardrobe and makeup offerings of the SS 2020 runways, and there seems no better way to style them right now than in a slightly clashing maximalist assault on the senses. They can also add a real striking pop of colour to burst through the bitter winter nights, and give maximum impression with a pleasantly minimal level of effort. Layering is really the key to a reliable winter night out outfit - pair chunky boots with baggy trousers and fitted tops to bring some tight contrast to a silhouette that otherwise could edge into the mundane. 
Sweater weather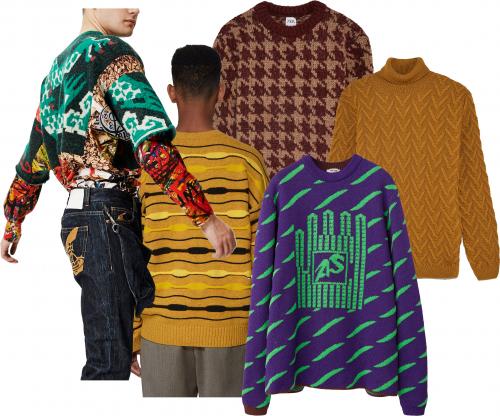 The long, cold nights aren't going to be shifting any time soon, and will have you reaching desperately for your knitwear well into January. Statement jumpers, big knit energy as some have dared to dub it, seem to be claiming their cultural moment - on everyone from James Bond to Robert Pattinson's protagonist of the pseudo-noir The Lighthouse. Jumpers can be a perfect versatile outerwear for chilly British winters - transforming from the laid-back tot he sophisticated with just a bit of dressing up. So cast aside that moth-eaten monstrocity your grandma made you ten years ago (sorry), and tap into the niche, knitted zeitgeist with a sweater more reminiscent of the 60s - all yellowy earth tones chunky textures and roll necks. Or push the boat out, go the full post-refurb, 1968 living room aesthetic with some horizontal stripes, or a bit more of the avant garde with a layered, collaged, punked-up version. 
Winter weekender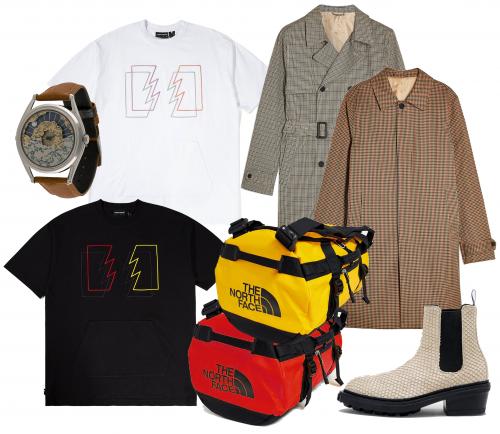 The Christmas vacation always promises to be a break from a hectic Michaelmas, but it can often feel like you're running around the place trying to see every last friend and relative before we lurch into a new year. Packing light and looking good needn't be impossible to achieve at the same time - light and adaptable coats are a great option, allowing you not to feel weighed down, but still protected from the inclement weather. A classic check over a plain t-shirt is a simple fix that combines formal and informal, making you look at ease no matter how hideously late for your train you are. Speaking of time, a good watch can never go amiss when travelling, and always makes a great gift. Shoes and luggage can be great opportunities to bring some colour and texture to top off your look, a vibrant primary colour streak to distract from the ever-stylish eye bags you may or may not also be sporting.
Slick 70s chic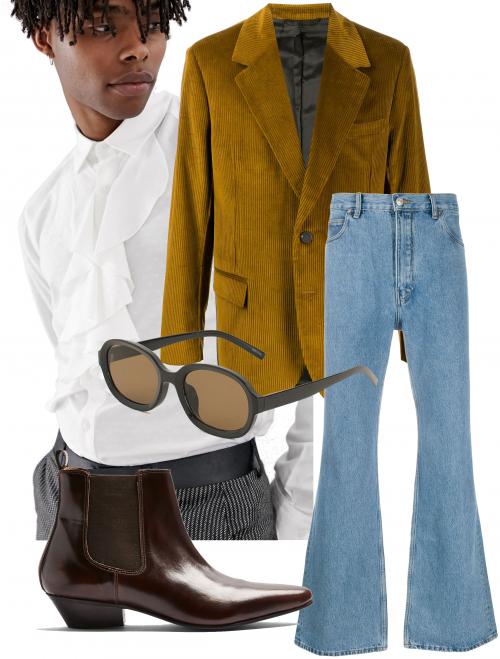 Spring/Summer 2020 collections were dominated overwhelmingly by 70s styles, from subtly styled details to full-on ensembles. This sensitivity has percolated into every level of fashion, culminating in a return to the much-maligned but much-underrated flared jeans. Alongside bell-bottom denim, velvet or corduroy in mustard contrasts beautifully. Grab a shirt with a bit of flair to hold its own, a 60s-esque ruffle, pussybow or even a hint of sheer fabric for a flavour Ludovic de Saint Sernin. And to finish it all off, boots that even (a toned down) Ziggy Stardust would be proud of. The 70s feels, as style inspirations go, a messy and unkempt one, but this could easily be a refined, dressed-up outfit for the impending Christmas parties and family reunions.
Print mania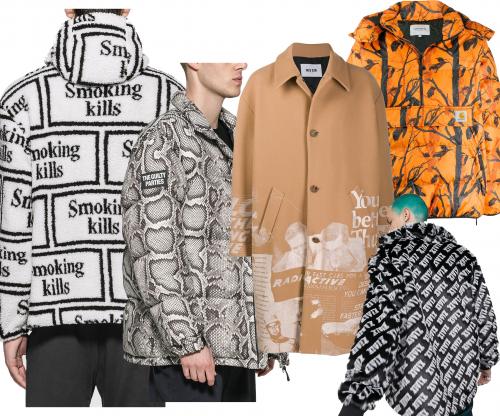 Designers have been displaying stunning patterns and prints with relish - whether it's Kim Jones ode to 19th Century British pottery at Dior, or psychedelia and extreme animal print at MSGM. So forget your standard camel coat and embrace the current preoccupation to finish off an outfit with a pleasingly maximalist flourish, or even launch a political protest - never forget Melania and that coat. Mix the current penchant for prints in bright colours for a bolder look, or fall back on the perennially tasteful monochrome for a coat that will go well with anything. My personal favourite at the moment is a twist on a classic - one button-front coat from MSGM, plastered with magazine columns and images in painterly handcrafted style.
Renaissancecore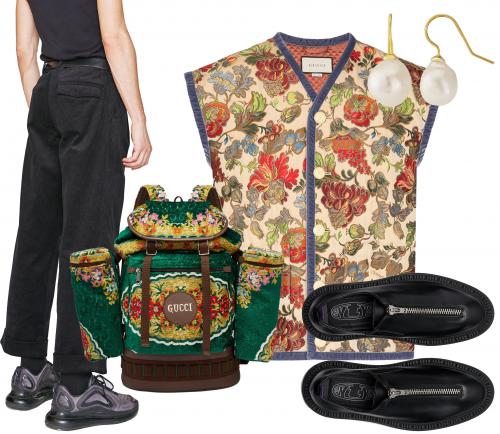 While the 70s has enjoyed some exposure on the catwalk, another time period has been a  more subtle aesthetic influence this year. 'Renaissancecore' as it has been dubbed by fashion blog ManRepeller, has seen womenswear necklines take a distinctly square turn, sleeves puff into the top-heavy leg-of-mutton style, and models sport enough pearls to make Elizabeth I jealous. This trend has bled into menswear too - social media swooned over Harry Styles flaunting a single pearl earring at the Met Gala in a very Sir Walter Raleigh moment. This is an acknowledgement of a new type of sartorially sexy, with Gucci (unsurprisingly) leading the charge.
Ivy League intellectual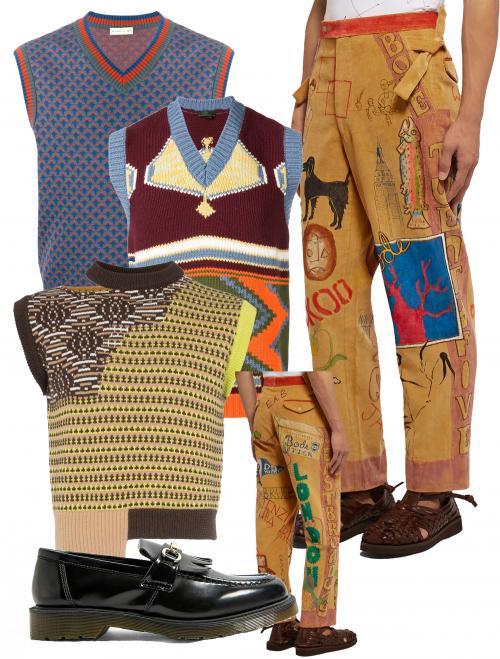 If you want to get prepared for next term, or at least look the part, then this is the one for you. A little bit 50s Harvard student, a little bit off-duty artist. And yes, love them or loathe them - sweater vests are back in fashion, for the first time in a long time, even making Vogue's list of the most unexpected celebrity trends of the year. There is nothing out there quite like these hand-painted cords from Bode, but their individuality comes with a hefty price tag, so if you can't beg a generous relative to get them for you for Christmas, then the Gen Z staple that is Lucy & Yak have an impressive collection of unisex corduroy dungarees that would also work for this kind of look. And, in spite of cynical reports to the contrary, these Doc Marten loafers are a perfect easy option for everywhere from the library to dinner out. 
Sweatpants, but make it fashion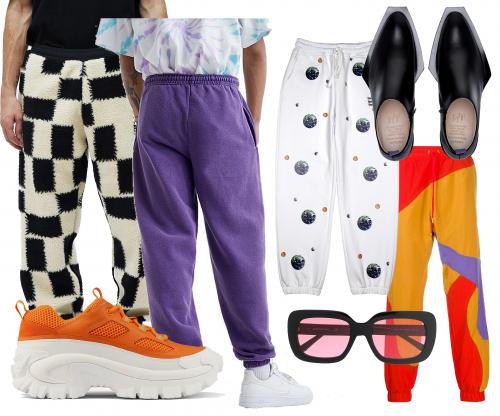 There is no denying that sometimes you just want to pull on some sweatpants to face the freezing cold (and quite possibly your entire extended family) - bold colours and designs combine ease with style, the perfect combination for looking good without compromising on comfort. Accessorise with chunky trainers to break through even the roughest winter weather and tap into the prevailing utility wear craze, or grab a more formal pair to dress them up a bit and create some gorgeous contrast. And don't even try and tell me that you won't be hungover at least once this vacation, so grab some ever so stylish tinted sunglasses to remind your nearest and dearest that right now isn't the moment to play All I Want For Christmas at 50 decibels.