Strike Style: "if you're feeling cynical, get down here"
At the picket lines again, Anna Ward and Emrys Travis talk to striking workers and supporters about the strikes, and about their fashion choices.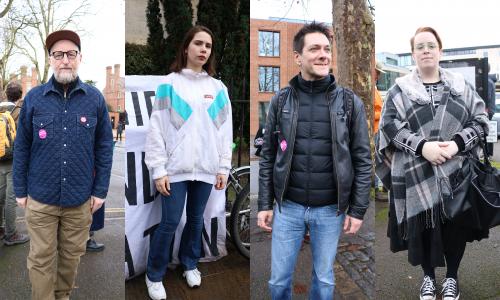 As the UCU staff strikes continue, photographer Anna Ward and accompanying enthusiast of both protest and street style, Emrys Travis, bring us their second installment of fashion from the direct from the picket lines. Strike solidarity is the new black!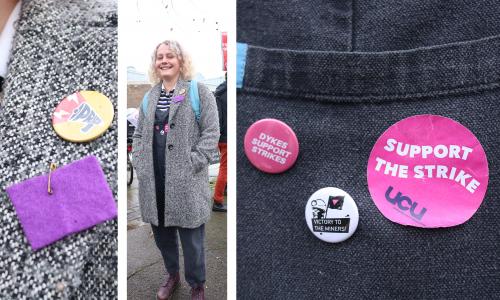 Marisa, an HSPS student, is repping the DIY aesthetic on the Sidgwick site picket with Lucy & Yak dungarees, purple Dr Martens boots, and a collection of pin badges. She describes her aesthetic inspiration as "comfort… and trying to look gay." Her Pride badge, modelled on the 2014 movie poster, is from Etsy; her Dykes On Strike badge was homemade at the CUSU Women's Campaign start of term social; and her vintage-style Victory To The Miners badge is from LGSM at London Pride in 2015. She encourages fellow students to get involved: "It's important - and enjoyable!"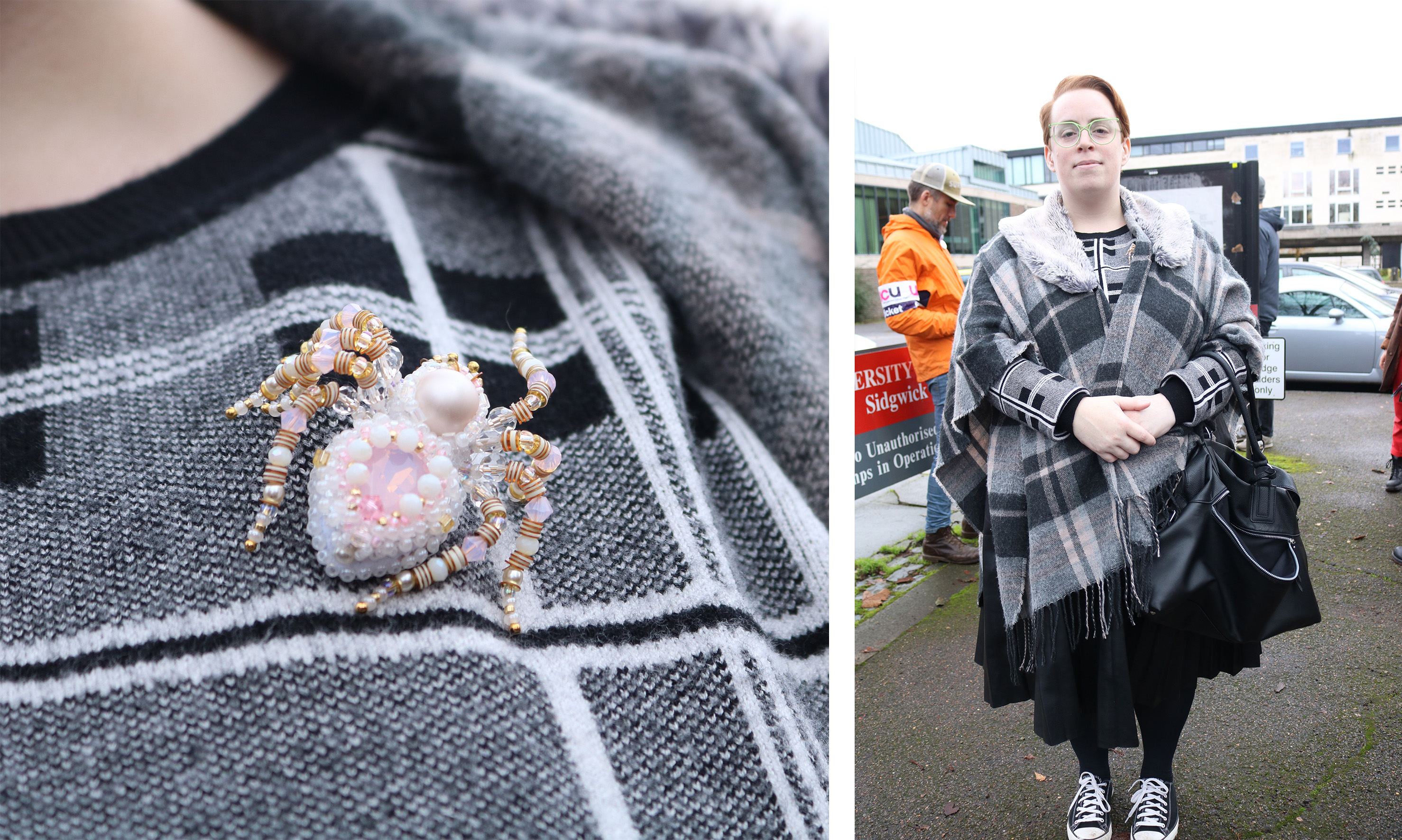 Lex, a teacher from Cambridge, stumbled across the picket line on their way to meet a friend ("I stopped my taxi - you don't cross a picket line!"). They say their style inspiration was "what was clean," which we think understates the finesse of this  monochrome coordination of plaid prints and mixed textures. Lex's gorgeous spider brooch - "named Cecil, after Elizabeth I's advisor" - is by a Russian designer and was purchased on Etsy. They reassure students that "at your age, I didn't understand what striking was about," but encourage them to "think about what will happen to you as a student if conditions continue as they are - it's not themselves that these staff are striking for, it's your university, it's you, it's your future."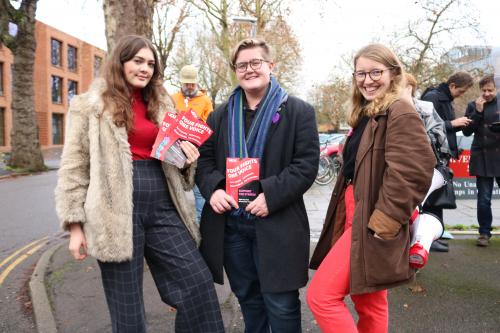 We spied not one, not two, but three CUSU sabbatical officers on the Sidgwick picket on Wednesday morning! Stella, sporting red Monki jeans handed down to her during the 2018 strikes, says her inspiration was drawn from the mini megaphones she's accessorising with ("can't wait to lead some chants at the rally!"). Ali dressed for cold weather, in a classic coat his parents bought him on his 18th birthday. Lily-Rose mirrors the trend for red ("keep that fire burning") in her earrings, top, and the trim of her standout Bronx trainers, which she says are "pretty durable, good for striking conditions." Their message for students is to "go out and talk to some of the lecturers on the picket lines - we're all here for the same thing, it's all of our higher education system that's in crisis, and the staff out here are lovely and will offer a chat and a cup of tea."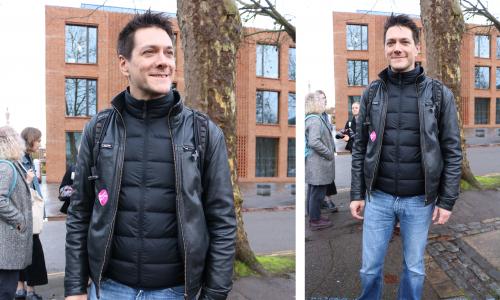 Clément, a Mathematics professor, is a regular feature of the picket line in his understated yet sharp leather jacket (très français!). He wants to thank students for their solidarity, and says student support has helped striking staff a lot in the first few days of the strike. "I know that tuition fees has created an extremely stressful and pressured situation," he says, "but get organised - it is possible to reverse what's happened in England. Other countries have done it. We need to bring back education as a public good."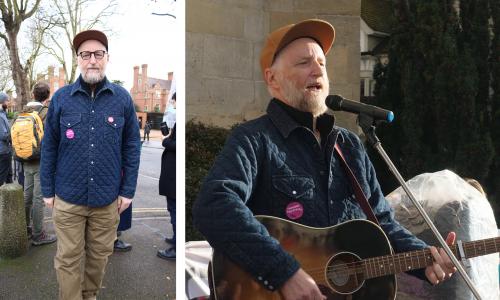 Solidarity forever! Musical icon of protest movements Billy Bragg joined striking staff on Wednesday, and was all too happy to tell us about his picket-ready ensemble. This is the second time his premium label Levi's jacket, bought in New York, has seen a picket line: "I wore it in Boston, Massachusetts supporting striking hotel staff." Like Noah from our first instalment, he's a fan of US workwear outfitters Carhartt, sporting a hat and hoody from the brand. His practical trousers have a leg pocket for his glasses, "so you don't stab yourself in the nuts when you sit down!". His message: "We live in very cynical times… you look at your Twitter feed, it makes you want to give up, stay in bed. The only real antidote to cynicism is activism. That's why I'm here today, that's why you're here today. So if you're feeling cynical, get down here, because cynicism is the enemy of all of us who want to make the world a better place."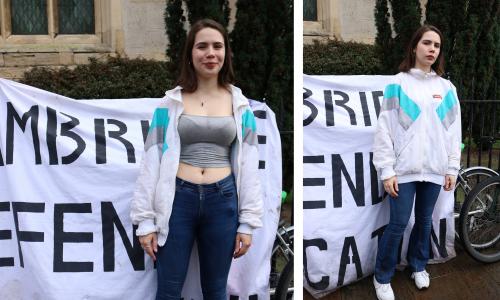 After Billy's rousing performance, we run into Evie, an undergraduate in History and French, sporting a striking (yes we'll keep making this pun) vintage 80s sports jacket which "I pretty much wear to every activist event I go to." Evie's here "to support striking staff, to champion the rights of the workers at this university, and to ensure better welfare for the students of the future." She's an adamant opponent of skinny jeans - "bootcuts and flares are much more flattering!". Her message is "to the family friend who told me off for wearing revealing clothes in a photo with a UCU strike banner - here's my bra, I'm stripping off for the striking workers. Suck it." Free the workers AND the nipple!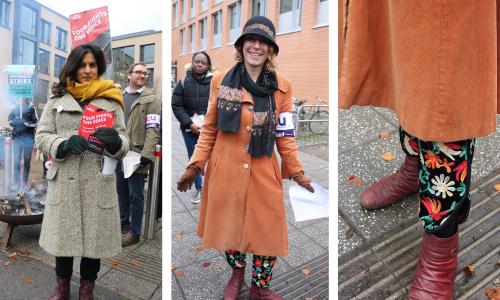 The pickets at the other side of Sidgwick site have had a serious upgrade with an actual wood-burning brazier, and are visited on Thursday morning by staff and students from the Music faculty who have organised a sort of jazz-band-cum-flying-picket, rousing the crowd with jazzy renditions of 'Solidarity Forever' and 'There is Power in a Union.' The cosy vibe is mirrored in Natasha and Holly's autumnal ensembles. Natasha, a lecturer in Spanish, can't strike herself as a college employee, but is here in solidarity, and she wants to thank students for getting involved too: "student support is really overwhelming in Cambridge, and we're really grateful to have you here on the pickets with us." Holly, a lecturer in Gender Studies at POLIS, says she's here for "equal pay, pensions… and the music, obviously." "I think the strike has been an opportunity for students to develop even more as independent scholars," she says, "and they've risen to that challenge - they've supported us, and they've taken their own learning into their own hands." Holly has taken the opportunity to wear clothes she says she wouldn't normally wear to work, although we don't see why not - those gorgeous embroidered trousers would brighten up any lecture hall.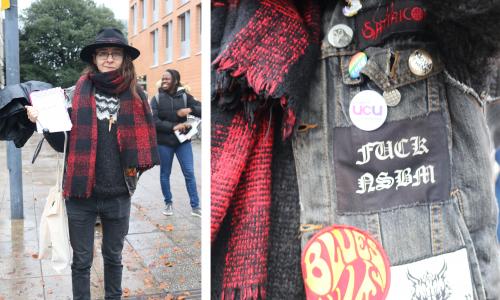 Alongside them by the fire is Katie, a PhD student in ASNAC. "I'm very aware of how badly casualisation and the fall in real wages is affecting everyone," they say - "people I know are having to string together multiple part-time jobs across multiple universities just to get by, having to move country, move city - it's really damaging a lot of people." Katie says their aesthetic inspiration today was "heavy metal, and trying to keep warm!" They pick up their collection of patches from metal shows and festivals and from their mates' bands. Their message to students? "Stand in solidarity whenever you can, and hopefully some good will come of this!"
For more information on the 2019 Staff Strikes, check out our Varsity explains here.
Or see all our coverage of the 2019 Staff Strikes here.