Modest fashion and dressing unapologetically
For her penultimate column, Sophie Weinmann talks to second year student Nusrath Tapadar about her personal style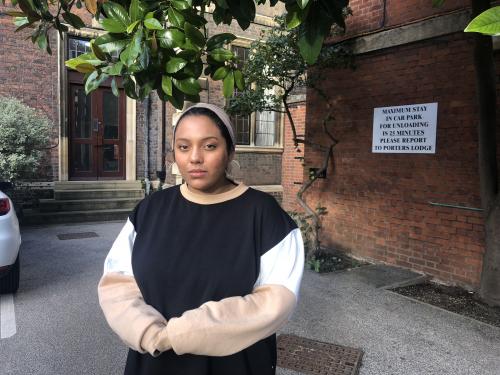 My penultimate college visit and chat with Nusrath Tapadar, a second year English student at St. Catharines, provided a welcome distraction from piling up essay deadlines and rainy afternoons. Subscribing to a "controlled chaos" approach to fashion, Nusrath notes that she likes everything she wears to be rather sleek and polished, while also incorporating trends she likes such as rips or rough edges.
"As a Muslim, I think fashion is a complicated thing because there are so many cultural and theological discussions around women and modesty. So my views on religion have hugely influenced what I wear", remarks Nusrath. Style has always been a way to express herself and feel empowered by what she wears. Putting on what a friend termed her "femme fatale dress" and strutting her stuff on a day that she's not feeling that great is her failsafe way to feel more powerful and self-confident.
"choosing to wear a hijab whilst living in a Western country affects absolutely everything"
Nusrath goes on to discuss what modest fashion means to her and how fashion bloggers such as dinatokio and Habiba da Silva have been like online big sisters for her when it comes to things like working out which earrings will be visible under her hijab, or finding new ways to tie it.
"It's always more difficult to find [modest] things because you'll have to think about whether a dress is full-sleeve or a skirt is too short. But I also think the rules are different when you're a hijabi in that you can throw together more things and pass it off as fashionable. There are certain hijabi bloggers who I think are amazing  like Dina Tokio or Habiba da Silva, who is quite curvy as well and has a very similar body type to me. I've only just recently figured out what works for me and what I'm happy with so it's really nice to go someone like Habiba da Silva and find inspiration there. I usually wouldn't shop at high street brands that are very much geared towards a rather monolithic body type but then I'll sometimes see a Zara dress on Habiba da Silva's Instagram and realise I can go there as well."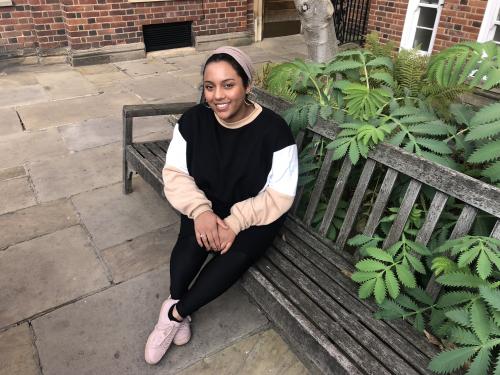 Reflecting on the differences between her experience with fashion in Cambridge and at home in London, Nusrath notes that she feels like the rules are "a bit less hard and fast" in Cambridge. "Where I'm from in London, there's a huge Muslim community so it's a little bit harder to get away with things", she opines. The skin-tight dress she is wearing today for example, she tells me, wouldn't necessarily be considered modest and might not be as accepted at home. Nusrath goes on to tell me about the way in which her choices regarding fashion are also always about something more than just her personal taste.
"Without wanting to make it too political, I think being a Muslim woman and choosing to wear a hijab whilst living in a Western country oviously has its implications. It affects so much more than my internal state of being, because it will change the way people look at me when I walk into a bar, or go to a job interview and it affects absolutely everything. I think wearing a hijab and attempting to be fashionable at the same time is always going to be a bit of a contentious thing, especially when you come from a very tight-knit Muslim community. Unless you're incredibly lucky and live in a utopian, liberal, and completely non-judgmental society, choosing to wear a hijab while choosing to wear what you want is always going to be an inherently charged thing."
As our chat draws to a close, I ask Nusrath about her favorite fashion moment and she shares the story behind her outfit to last year's Jesus May Ball with me.
"I wore my mum's Sari that she had worn to my auntie's wedding when I was around two years old. Tying a Sari is hard and keeping it on is a whole other story, so that in itself felt so good. But also I think it shows the biggest thing that's changed since coming here has been becoming more unapologetic with my style and beginning to really, really enjoy the ability to stand out. At the May Ball, I saw one other girl in a Sari and I didn't know her, but I saw her from the other side of the court and we shared a smile. That was such a nice experience. I felt like I was wearing my culture, and it's never felt more empowering."