In conversation with the marvelous Mrs Zakowska
Jessica Phillips sat down with Emmy award-winning costume designer, Donna Zakowska, to talk about working on The Marvelous Mrs. Maisel and her experience in the industry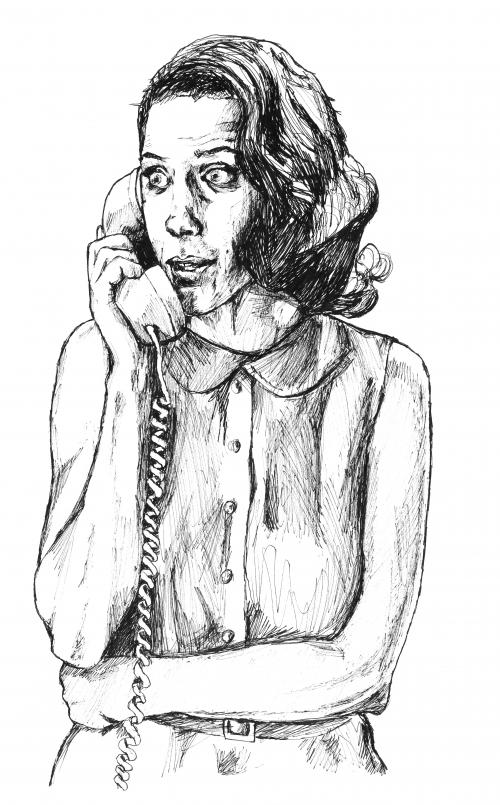 "Clothing really is the highest form of expression" exclaims Zakowska passionately, welcoming me into her apartment. She is dressed in wide black trousers and a long crisp black shirt, with layers of muted-tone necklaces. Her curly hair is pinned half-up-half-down, and she gives off an eclectic but refined 'Helena Bonham-Carter'-esque air. "Excuse my all-black outfit today – it's the New Yorker in me coming out!" We take our seats and begin to discuss her educational background.
"I don't sew because I'm too much of a perfectionist"
As an art school graduate who specialized in painting, Zakowska went on to further her studies of fine art at the Bozar and Columbia University. She finished her academic training at the Yale Graduate School of Design in a very theatre-focused program; it was this that would kick-start her career. She soon began working on Woody Allen films and in the Big Apple Circus, where she remained for 9 years.
Despite now being predominantly known for her television work, Zakowska has always maintained an interest in theatre and tries to do at least two theatre productions a year. "For film and TV costume designers, it is important to understand how clothing works in theatre – [how it] really moves". She explains how invaluable her time with the Big Apple Circus was in helping her to understand rigging and working around physical acts.
Inspired by her current star, she compliments Rachel Brosnahan – who plays the titular character in The Marvelous Mrs. Maisel – on her ability to work with clothing. This is something she attributes to Brosnahan's background as a trained theatre actress and dancer, before transitioning into film. Zakowska sees this as how Brosnahan is able to approach complicated jewellery and accessories in a versatile way, as tools rather than obstacles.
Throughout our time together, Zakowska places huge emphasis on her technical and academic background as a painter, as well as her background in dance, describing costume design as the perfect combination of her two main interests – colour and movement. It surprised me to learn that she does not actually sew herself, despite fully understanding garment construction and draping. "I don't sew because I'm too much of a perfectionist". An unusual comment for someone who is so well-renowned for her excellence in her craft. Yet her reasoning perhaps resonates with the experiences of students striving towards often unattainable standards of excellence. 
"I think you have to live [as] the character a little bit, and that's the interesting thing about costume design"
Working on a period piece requires a vast background of knowledge – Zakowska spends much of her time studying print magazines and copies of French Vogue from the 1950s. She believes that this was the unequivocal height of creation for many of the big fashion houses we still love today, such as Dior and Balenciaga.
"It was fun to take those couture lines and water them down a bit to become believable". This is just what Zakowska did in The Marvelous Mrs. Maisel, bringing the colour, shapes and boundary-pushing fashion of the '50s to a light in which they had never been seen before, epitomised in the iconic image of Mrs. Maisel in the blue nightgown and pink coat. "Amy [Sherman-Palladino, creator of the show] and I agreed that we never wanted this character to be depressed, and we were going to let her assert herself through her clothes."
We move onto a discussion of the challenges of the industry: a big challenge is that hand-made nature of Mrs. Maisel's wardrobe. "Doing that in television a time frame  means my assistants and I are out of our minds every week trying to keep that level of design, finding fabrics and coordinating." With fabrics coming in from England, trying to connect with seamstresses in Italy, and arrive safely in time for shooting in New York City, it is understandably frenetic. Despite her clear expertise in costume design, television series are a collaborative work and we discuss how she encounters issues sometimes with directors fearing the balance between naturalism and stylization. She explains enthusiastically how Sherman-Palladino gave her freedom for stylization in Mrs. Maisel, something audiences over the world are grateful for: it remains one of the most aesthetically-pleasing shows on air.
As far as advice to any budding costume designers goes, she tells me, "I think you have to live [as] the character a little bit, and that's the interesting thing about costume design. You have to think what you would wear or do if you were [this character...]. In your mind, become these characters, and really sense who they are." It leaves me reflecting on the way in which the clothes we wear in our everyday lives have the same impact as costumes in the fictional worlds within which Zakowska works. What do the clothes we put on our bodies tell the world about us? How do they shape and reflect our own characters?