Dresses and trainers: make the modern style staple your own
Jump right into the coolest trend of the summer: day dresses and trashed trainers. Vivienne Hopley-Jones guides you on how to rock the hottest (and simplest) look this season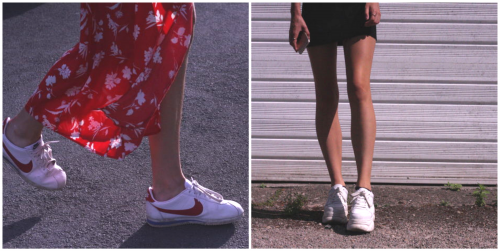 Probably the best styling tip I've picked up along my travels in the world of fashion is that of balance. One of the key principles of design, balance is a concept as applicable to the art of dressing as it is to the more classical artistic pursuits.
Pairing a ditzy day dress with a pair of beat-up trainers is the ultimate cool-girl look for summer styling
Balancing out compositions with the use of a complementary colour scheme or dynamic and harmonious spaces and lines is a commonplace method in the process of producing art. This can be seen from contemporary art to the way Renaissance painters often utilised the triangular structure. In modern art, you need only look at Richard Diebenkorn's abstracted exploration of colour and shape, whereby the composition almost becomes the subject of the work. The ways in which traditional compositional structures are subverted and played with is equally as effective at drawing the eye.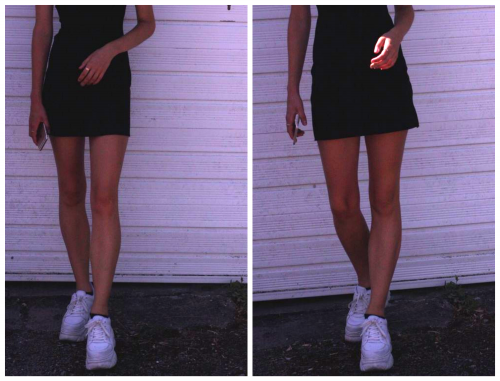 Similarly, in the sphere of fashion balance is created through the harmony of oppositional elements. On the runway, Gucci's superfluous outfits and extravagant accessories are balanced with a muted and consistent colour scheme and consistent silhouettes. The key to breaking rules is to not break them all. The same is true when it comes to mastering street style.
Creating a balanced look when it comes to your personal style in day to day life is as much a game of opposites. So maybe you won't be pairing boldly silhouetted flares with animal prints and religious iconography à la Alessandro Michele at Gucci, but there is definitely something to be said for creating balance when it comes to your personal style. Nothing makes a 'girly' look pop more than a pair of muddy lace-up converse. And what's cooler than wearing a chic work look with messy hair and a tote bag?
This duo is an absolute modern classic
I've come to think of items that balance one another out in such a way as little matches made in heaven. One such match that I've come to rely on in my personal style is the dress and trainer combination. This duo is an absolute modern classic. Pairing a ditzy day dress with a pair of beat-up trainers is the ultimate cool-girl look for summer styling. It's also a look that guarantees absolute comfort, what's not to love?
We all have great pieces that we'd love to wear but find hard to style. Thinking about the design rule of balance will help you hugely in styling such pieces. That dress you bought for a June Event during Easter Term or for a formal that you didn't think you could wear again can suddenly be made an 'everyday' piece by slinging on a pair of chunky trainers.
I always prefer outfits that achieve a more understated look
What's more is you can even wear the trainers to the event in the first place, prioritising comfort no longer means abandoning your style! May Week often involves wearing heels simply for the Instagram opportunity or the purpose of the obligatory family photos before swiftly changing into a pair of comfortable trainers to last you through the night. Why not instead make trainers the pinpoint of your look and cool down the glam of your outfit? I always prefer outfits that achieve a more understated look.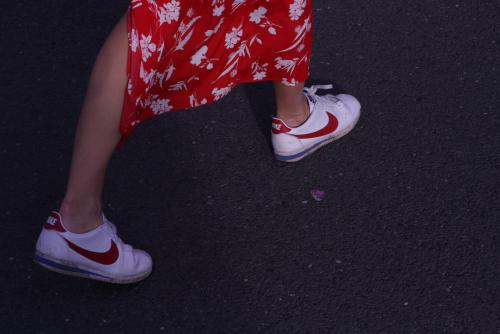 Pairing your dresses with trainers is also a great way to shop more sustainably. Whether you're dressing down that outfit you bought for a formal so it can be worn more casually, or foregoing buying heels altogether, combining the dressy and casual in your wardrobe in innovative ways makes for a more diverse closet. We all need to think more about how we can do more with less when it comes to fashion, and creating less traditional items such as trainers and dresses is a great way to achieve this. You're opening a bunch of new outfit opportunities, in addition to extending the lifetime of more dressy outfits. Good for your budget and good for the planet.
There are certainly a pair of trainers that suit different occasions and outfits, which makes this duo a versatile combination that suits pretty much anyone's style! Whether you want to colour coordinate your trainers to the dress you're wearing or are applying the rule of balance by pairing a more dainty dress with chunky shoes, or a bolder more punk-ish dress with a sleeker option like the Nike Cortez, the dress and trainer combination offers you endless opportunities to dress for the weather in comfort and style.
Now, let me say it once more for those at the back: not all trainers are made equal! Here's some inspiration on classic and chic pairings to wear right now.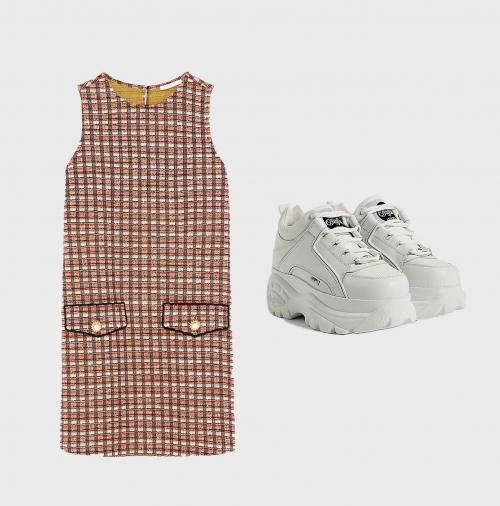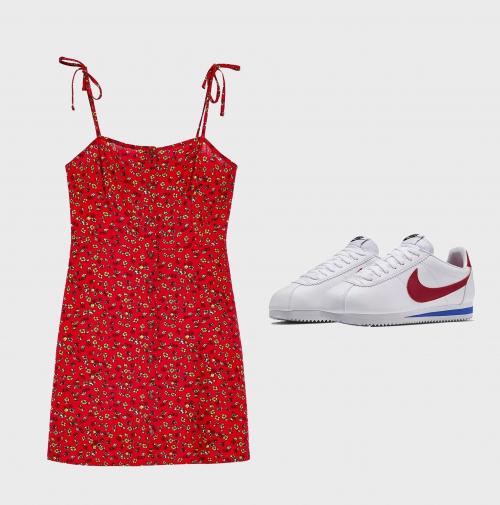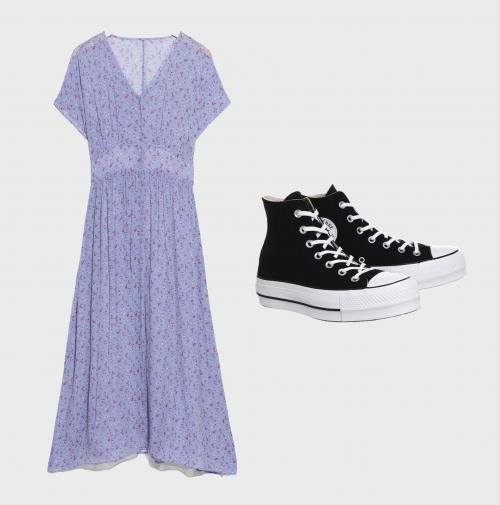 Photography: Noah Hopley-Jones