Five ultimate May Week essentials
May Week can be busy and hectic, so we're here to help. Here's a definitive list of the items you cannot afford to forget that will make your celebrations stress-free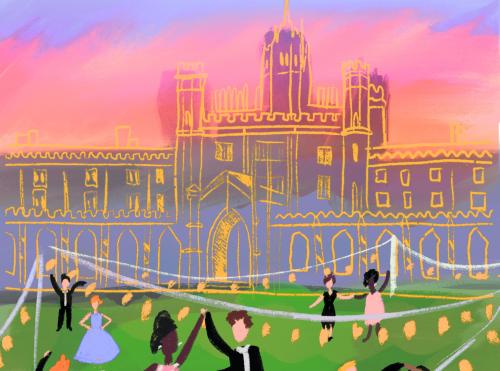 As you may have spotted, May Week is upon us. A whole week where the students down tools and celebrate the end of exams, party the night and day away, and get in the Daily Mail for doing perfectly innocent things like having 'gathered on a bridge'. Anyway, the thrills and spills of the term may have caused you to overlook certain items that might make your May Week much more stylish, comfortable and all-round enjoyable. To ensure you can enjoy the festivities to their full, I have collated a list of what you may need.
Handheld electric fan
I bought one such bad boy from Tiger last year, for the princely sum of around £3. It was invaluable during queues at the start of events, when it was really quite hot and there was no shade. Hopefully the weather will be as wonderful as it was last year, and if so this fan will see you through garden parties, May Balls and hangovers in comfort.
Blister plasters
There is nothing snakier than a shoe that compensates for its beauty by lacking in comfort. Painful feet can ruin your night, so take every opportunity to protect them. Having blister plasters on you could act like a talisman and ward off blisters, and even if you don't need them someone else is sure to.
Fold-up pumps
This is my pro tip to you. If the shoes you choose are the sort that are too beautiful not to wear, but too vertiginous to move in, get yourself some fold-up pumps and keep them in your clutch. I discovered these when I was very little, both in age and stature, and they have been a godsend, both when wearing heels, and generally when trying to walk in cobbly Cambridge. To be able to slip off the torture devices called photogenic heels and boogie carefree is a delight that you should not deprive yourself of. There are some on Amazon for under £10 – you actually waste the cost of your ball ticket if you can't enjoy it due to footwear. Get the pretty shoes in your pictures, and then party in pumps.
A decent bag
You are going to need: your phone, ID, Camcard, ticket or programme, some makeup, electric fan, blister plasters, safety pins, fold up pumps… at the minimum. A decent bag should be pretty, of course, but also functional. I advocate a clutch that has a strap, so that you can party hands-free.  Zara and ASOS always do a wonderful selection of these. And a word to the wise: go for one with a soft body, so that you can cram any last-minute essentials in there that you may need.
Dental floss
Imagine getting something stuck between your teeth at the start of a May Ball and not being able to do anything about it all night. Enough said.
I hope you find this useful, but most of all, I hope you have a wonderful May Week.