2018′s Met Gala is set to be a heavenly affair
Every year, the Metropolitan Museum of Art's Costume Institute holds a Gala which opens it's annual fashion exhibition. But this year, how will it tackle themes of religion and fashion?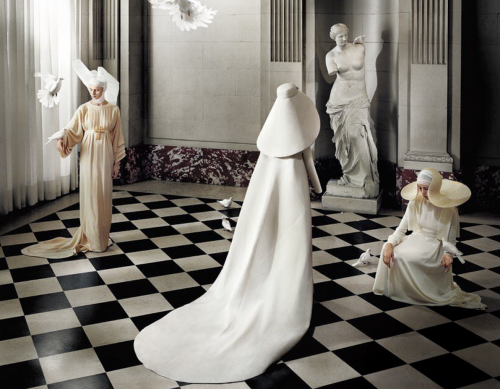 I've written about the Met Gala before. It usually begins in the same way each time; pondering the theme, wondering who will wear whoand what, and will the theme be honoured appropriately? It then usually ends the same way each time; decent theme, a lot of potential for creativity and exploration, but a net failure on behalf of the guests to engage fully.
"The fashion industry is largely about consumerism and generating business, but it is also about fantasy and escapism..."
The Metropolitan Museum of Art's annual Costume Institute Gala, which celebrates the opening of the museum's fashion exhibition (the title of which is also the Gala's theme) is always an enormous fanfare of an event. With every appropriate A-lister in the media industries present, the evening has become over recent years somewhat the ultimate opportunity for celebrities to not only gain fashion credence but boost their egos/reputations/social media followings. I have been a longstanding die-hard fan of the Gala, namely because at the heart of the matter it chooses to celebrate legendary designers, epochs, ideas and fashion as an art form, however there seems to be a view floating around the industry as of late which, to me, rejects what is so important about the Gala and the exhibition it inaugurates.
Vogue contributing editor and celebrity stylist, Elizabeth Saltzman, was recently quoted saying "It's not a costume ball or a fancy-dress party. It's a benefit for fashion, and a wonderful, glorious opportunity to create business and buzz about the industry." To a degree this is indisputably true; the fashion industry is largely about consumerism and generating business, but it is also about fantasy and escapism, something which, I believe, the Gala has the scope to encourage. It saddens me to think that the most magical night in fashion has been reduced simply to a cog in the wider machine of business sales and publicity, yet this year, things might be different.
The theme of this year's Gala is Heavenly Bodies: Fashion and the Catholic Imagination. You might be wondering what on earth fashion has to do with Catholicism and religion, but this is precisely the point. Last year, I wrote a suitably average supervision essay on religious iconography, and it's only just now made me realise that it actually has quite a lot to do with it, and, as the exhibition and Gala should, prompts us to think about and realise the endless influence of fashion into the many diverse spheres of our society. But, it's certainly a risky move – while religion has always been a popular subject for museum exhibitions, choosing to apply it to one of the biggest red-carpet events of the year, and all its connotations, is bold.
There is the omnipresent danger of unknowingly misappropriating religious culture and hence causing huge uproar, but also scaring attendees out of fully adhering to the theme for fear of such results and the drama of fashion politics. Despite this, it seems there is endless potential for the exploration and celebration of both fashion and religion in their own rights, but also how the two interrelate.
Since their birth, all religions have involved rituals and practices which involve some element of performance, in the sense that certain acts or deeds are performed by certain people for certain religious purposes. For many of these 'performances', specific dress is worn to signify religious authority and the acknowledgement of these acts, creating a religious wardrobe or uniform as such. Furthermore, these garments, with all their symbolic meaning, tell a story and convey a message on behalf of the wearer, which is something that fashion does far beyond the realms of religion, and connects people of all backgrounds.
The 'fashion industry' as we think of it, however, connects with religion slightly differently, and it is this that will be the focus of the Gala. For years, fashion's biggest names, from Jean Paul Gaultier, to Christian Dior, to Givenchy, have used religious iconography and references in their collections. I can think of numerous Dolce and Gabbana collections which play on the centrality of Christianity to their Italian heritage, while labels like Givenchy and Chanel implement this on a far subtler basis. There seems to be a perennial appeal for these motifs in what is essentially an ephemeral industry. It probably wouldn't be all that far-fetched (and correct me if I'm wrong) to suggest that many in the world of high-fashion adopting this style aren't orthodox practitioners of their respective religions, so why is religion so popular when it comes to what we wear?
---
10 ways to brighten your spring wardrobe
There has been throughout history an element of mystery to religion, especially in times of persecution and rebellion, propagating a sense of exclusivity which is all too common in the elitist world of fashion. Perhaps, then, the two can relate on some unexpected level, which, in hindsight, may make sense. Fashion can be an admittedly superficial and fleeting place, and this is not at all to suggest that religion works on this same level, as religion is arguably one of the most enduring and pivotal pillars of society that civilisation has ever known, truly standing the test of time. Yet it is for this very reason why it is so interesting to place it alongside fashion, triumphing both the similarities and differences of each.
It remains then to be seen how the Gala's guests will respond to this all too thought-provoking theme. Come the first Monday in May, the stars will descend on the steps of the Met to pay homage (we hope) to a concept and an exhibition which amalgamates two of history's most influential ideas and institutions. Watch this space