London Fashion Week Autumn/Winter 2018: the highlights
Olivia Neave reviews her top moments from London Fashion Week A/W 2018, which was a momentous season in more ways than one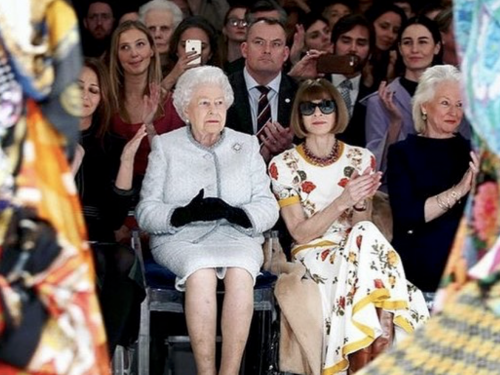 London has always been the fashion city where anything can happen; always innovative, always full of surprises, always packed with talent both established and fresh. This Fashion Week was filled with that singular London spirit, and the appearance of the Queen next to Anna Wintour on the front row at Richard Quinn provided the perfect reminder of the mixture of history, tradition and modern cosmopolitanism which makes London such a unique creative hub.
Her Majesty presented Quinn with the Queen Elizabeth II Award for British Design, and in turn the trailblazing designer tipped his cap to her, with headscarves tied at the chin in a style often worn by the Queen herself during her stays at Balmoral castle. The royal visit didn't cause Quinn to hold back, however – if anything his collection showed a strong desire to push boundaries. The models in his highly publicised show were covered head to toe in bold, rich prints, with their faces covered by Quinn's trademark bondage-inspired 'gimp suits'. Unafraid to create looks which are at once beautiful and disturbing, this young designer certainly stole the first place as the week's 'one to watch'.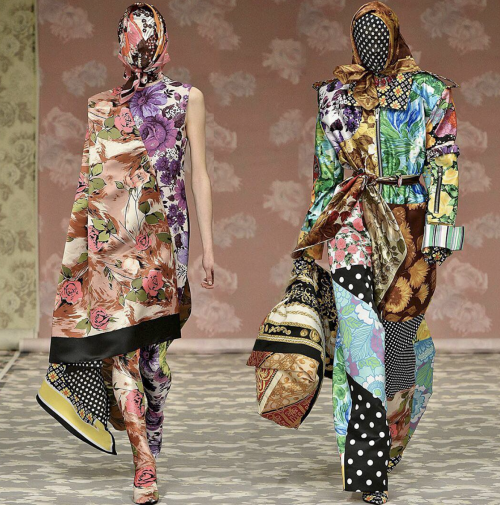 Central Saint Martin's, the school from which Richard Quinn graduated in 2016, again put on a vibrant, lively show featuring the designs of some of their top students. Here, the weird and wacky reigned supreme, where the headline looks featured geometric shapes and structures made of colourful mesh, seashells worn over the eyes like goggles, and shoulders padded in tall cone shapes.  These daring, creative ideas made this a dramatic show, full of potential which heralds a bright future for the British fashion industry.
Roksanda and Molly Goddard, the breakthrough starlets whose designs have been making waves over the last few years, continued to shine this February. Goddard continued to dazzle her audience with her trademark voluminous shapes, including a standout gown in vivid orange (a shade that is rapidly emerging as key for winter 2018), which featured three tiers of tulle ruffles and extra on the shoulders, and could have been mistaken for an extravagant patisserie creation. However, there was a new sense of maturity about this collection. British supermodel, Edie Campbell, opened the show wearing a miniature black crop top, a style that featured a number of times in the collection, along with ruched bodycon dresses in gingham prints.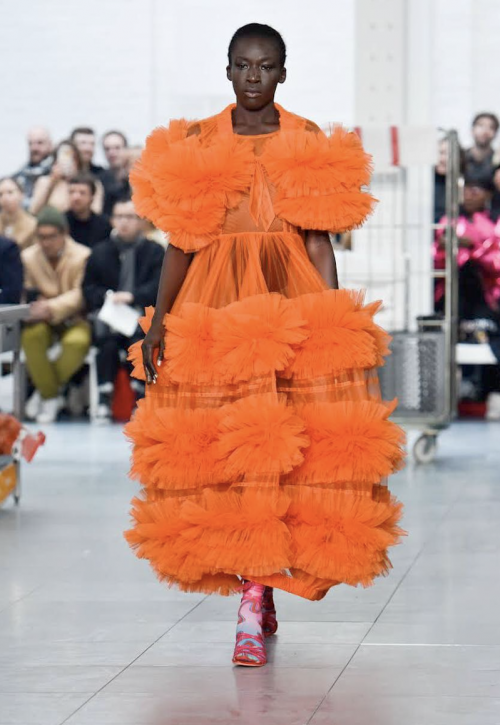 Roksanda Ilincic also added new elements to her collection for the new season, with an emphasis on daywear which brought her into new territory, away from the dresses and evening wear she has been known for. Ilincic managed to find a balance between sophistication and modernity in the masculine tailoring of her camel and navy coats and blazers, which featured stand out red detailing, in silky fabrics of muted blues and golds, often with abstract prints. Shaggy fur, oversized duvet-style outerwear, tightly knotted scarves and woolly blankets worn draped over her delicate, feminine dresses and trouser suits also lent a cosy, warm vibe to Ilincic's winter offering, which proved her more than capable of producing wearable but interesting garments for a range of occasions.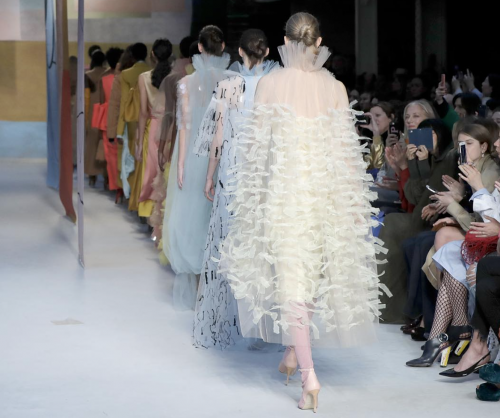 Yet, this was not only a fashion week for newcomers and emerging deisgn talent. Alongside Christopher Bailey's emotional farewell at Burberry, Christopher Kane's show proved one of the highlights of the week. Despite the difficult, troubling questions raised by recent revelations about sexual abuse within the media industries and the Time's Up campaign, Kane chose to use the concept of sexuality in an entirely different way. His collection featured looks inspired by sexual joy and pleasure, experienced particularly from the female perspective. This took the form of beautiful, artistic images of sex emblazoned across simple garments, but Kane also had crafted pieces with materials that carry strong sexual connotations: leather, lace, mesh, and even clear latex. The latter took the form of transparent dresses, which looked almost slippery, and some of which were hemmed in faux fur. It was a show rich in eroticism and sensuality, and has certainly proved a major talking point.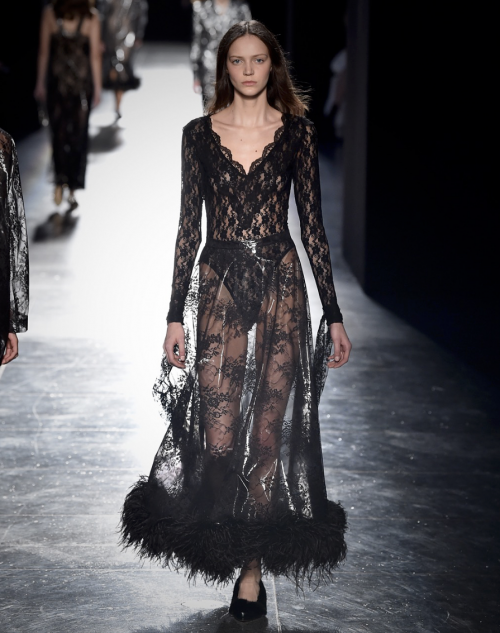 Plenty more shows also made headlines, including Erdem's opulent, mysterious collection inspired by Fred Astaire's often-forgotten sister Adele, and Fyodor Golan's marriage of space, earth and 80s style tracksuits; there was no shortage of head-turning moments at this February's London Fashion Week. It seems that bold, risk-taking, statement fashion is what we have to look forward to next season, with no lack of extravagance and glamour. And, with fashion both in the UK and abroad facing an equally wide range of challenges and new opportunities, it looks like we'll be wrapping up come winter, because the winds of change are in the air