#MeToo: Using fashion as a force for change in the film industry
After the guests of this year's Golden Globes decided to wear all-black in support of the #MeToo campaign, Robyn Schaffer looks at how fashion can be used as a tool for political and social change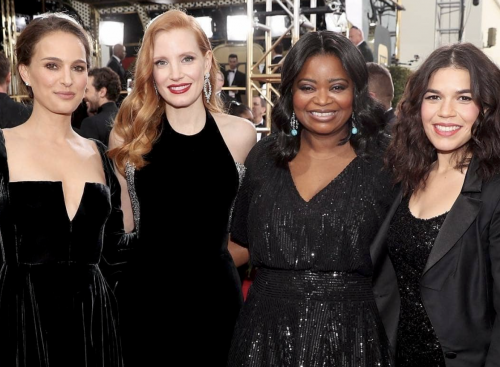 The Golden Globes are often thought of as the more relaxed, light-hearted answer to the Oscars during awards season, kicking off the next few months of ceremonies by giving us a strong indicator of who the big winners might be. This year, however, the focal point of the event was something quite different to what we have experienced before.  
Usually, the awards season opener is a breeding ground for fun-filled fashion opportunities, where the stars get to experiment with the most diverse designs in the industry. However, this year's Golden Globes saw Hollywood's elite take to the red carpet wearing all-black, as a response to the #MeToo campaign started by civil rights activist Tarana Burke, which publicly denounces and criticises sexual abuse and harassment in the workplace in the wake of the allegations made against Harvey Weinstein and other powerful male figures in Hollywood. The night was an impeccable example of how fashion can be utilised as a force for positive change, uniting people and bringing awareness to a greater cause that should no longer have to be fought for. 
"Hollywood may be dominated by middle-aged white men calling all the shots, but the women of the Golden Globes showed that, as the saying goes, time's up"
One way in which several guests of the Globes contributed to this was by arriving at the event arm-in-arm with members of the Time's Up initiative, which also works to fight back against sexual harassment in the workplace. Eight of Hollywood's most illustrious actresses, including Meryl Streep, Emma Stone, Emma Watson and Michelle Williams, took part in this red-carpet political statement, joined by the likes of Billie Jean King, former World No.1 tennis player, and Ai-jen Poo, director of the National Domestic Workers Alliance, to name but a few.  
Not only did these women take advantage of this platform to represent the causes they fight for so passionately in an industry which often feels shallow and devoid of sentiment, but they displayed with grace the incredible power and strength of female solidarity; while Hollywood may be dominated by middle-aged white men calling all the shots, the women of the Golden Globes showed that, as the saying goes, time's up. 
Eight Hollywood actresses were joined by activist guests, including former women's professional tennis player, Billie Jean King
However, the force of fashion did not stop there. Something else, or perhaps we should say somebody, who caught media attention was actress Issa Rae, whose red carpet ensemble not only contributed to the all-black memo but also contributed to the cause directly itself. Rae's liquid chiffon gown designed by Prabal Gurung would see portions of the sales donated to the Time's Up fund, quite literally using fashion to fight back. Gurung himself even stated "it's more than just a colour. It's more than just wearing black. We're about that action." 
But it was Oprah Winfrey who perhaps stole the show at the Globes. Winfrey took to the stage during the ceremony, making a ten-minute speech while receiving the Cecil B. deMille Award, which is sure to be remembered and immortalised in our minds in years to come, warranting pleas for her running in the next US presidential election. The talk show host is undeniably one of the most influential black women not only in show business but also history, and this influence was certainly felt in her speech, which hammered home the importance of both women and men working together to create gender equality and a workspace in which women feel safe and respected.  
Oprah Winfrey's speech was perhaps the most talked-about point of the evening
I couldn't help thinking, however, about Winfrey's former close-knit relationship with Weinstein, the man whose actions her speech so staunchly rebuked. Accusations have emerged in the wake of the scandal with claims that Weinstein even benefitted from his friendship with Winfrey by using her to groom potential victims. Whether these claims are true or not, we cannot know for sure, but we can't deny that Winfrey's speech, together with the influential guests in the room who collectively chose to take a stand against so many women's horrific and unjust experiences, made an impact. 
---
The Golden Globes' Best Dressed
Fashion is often at the forefront of many of these large-scale Hollywood elite events; tabloids across continents wait in anticipation as the celebrities descend upon the red carpet so they can analyse each carefully-curated look head to toe. But this year's Golden Globes decided to take what is usually a light-hearted component of the event and turn it political; fashion is ultimately a tool of self-expression, and what better way to express one's feelings, beliefs and opinions than on a worldwide platform in front of a global audience? Time is truly up for sexual abuse, harassment and inequality in the workplace, but there is still a long way to go