Setting the scene
Kate Hammond explores high fashion brands' use of sets at their catwalk shows and how these might contribute to a collection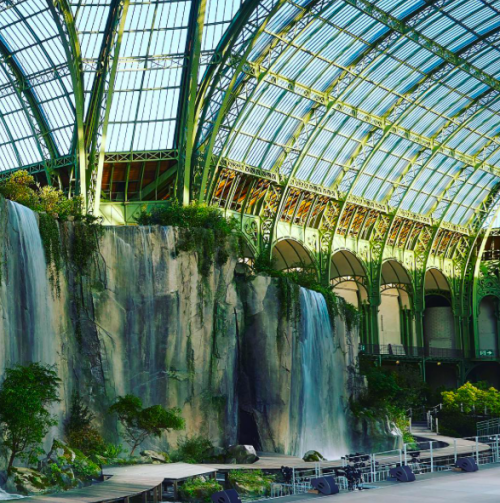 In 2007, Fendi hosted a fashion show on the Great Wall of China. This 2000-year-old, 45 000 km iconic landmark of Chinese history provided the backdrop to Lagerfeld's Spring/Summer release in which models floated down the catwalk in electric red gowns. It cost Fendi $10 million. "It's quite fun," Lagerfeld declared in his backstage interview. $10 million equates to "quite fun"? Laugh if you want, but these larger than life spectacles are taking the fashion world by a storm.
"Sets have the possibility to add another dimension to the world the designer wishes to create"
Now more than ever, what with fashion shows outdoing each other in illustrious fashion weeks, a set can make or break the show. Sets have the possibility to add another dimension to the world the designer wishes to create and arguably the set configuration can act as a masterpiece in itself.
Raf Simons became an icon at Dior when he covered the Louvre in 400,000 hazy purple delphinium flowers. Attendees were transported into a blooming spring-like paradise as the walls inside were all awash with apricot and rose coloured flowers. The effect was one of memorising natural beauty that worked beautifully with the petal-like ball gowns that Simons had produced.
For Fendi's 90th anniversary, Lagerfeld again became the centre of attention when he covered the Trevi Fountain in a clear plexiglass runway that stretched across the celestial waters of Rome's most coveted tourist spot. The couture collection's theme, legends and fairytales, took on a whole new meaning as models quite literally walked on water.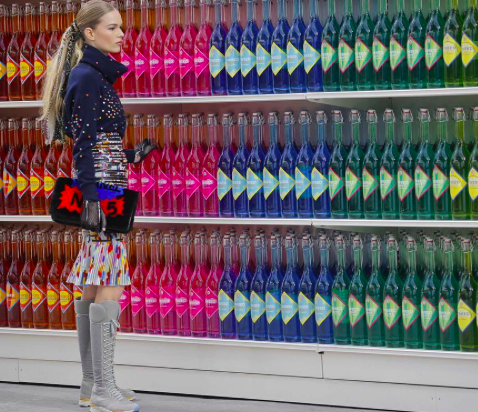 Chanel is also a huge gamer player when it comes to themed sets. Most notable is perhaps their 2014 designer grocery stall where models could pick up everything from 'lait de Coco' to 'Coco carbone'. Lagerfeld has done everything from a space station in which an immense Chanel rocket hung from the heart of the Grand Palais, to an airport coined 'Chanel Airlines' in which models paraded around the chicest of airport lounges. This year, the Chanel ready-to-wear Spring/Summer 2018 set brought us magnificent ceiling-high waterfalls that cascaded down a rocky mountainside to serve as the backdrop while models emerged out of the nooks of the slate grey cliff edge.
---
The modern meaning of the shoulder pad
But what does this mean for the small players who don't have $10 million to drop on decorations? Arguably the clothes should speak for themselves, and therefore it shouldn't make a difference. However, with big-budget brands domineering social media with these outrageous and flirtatious sets, it is pushing smaller and simpler start up brands out of the limelight.
Nonetheless, sets do add a new level of creativity to the show; they have the power to transform the artistic vision of a designer, conjure the mood of a collection and make it literally larger than life. Fashion has always been about out-doing the competition, and when the theatricality is this high, sets have the possibility to command attention more than even the clothes themselves