London Fashion Week: the highlights
Fashion Editor, Robyn Schaffer, comments on her favourite moments from the biggest week in British Fashion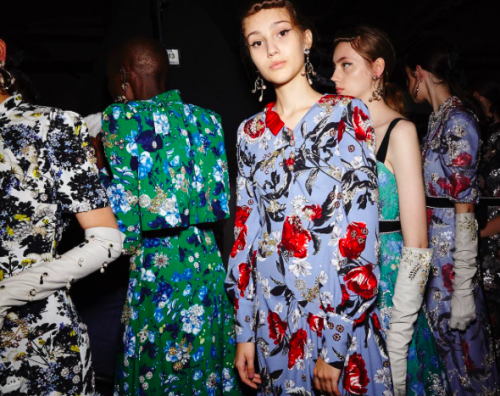 After the hustle and bustle that is New York Fashion Week, with its flamboyant theatrics (à la Alexander Wang), high energy and modernity, we hopped overseas to our very own capital, London. Small but mighty, London is renowned for its support of young, emerging designers from across the globe, its fearlessness and its ceaseless resilience in testing times.
Case in point: Brexit. Living through the aftermath of this immense political upheaval, London Fashion Week proved that the city's arms are very much open to the world, welcoming the likes of Tommy Hilfiger (from the US) and Emporio Armani (of Italian roots) to its home turf to present their collections. London consistently provides global and diverse brands a platform on which to be authentically themselves, something which London does very well itself, and so demonstrated once again through these examples and countless others its creativity, open-mindedness and unapologetic originality.
"London Fashion Week proved that the city's arms are very much open to the world"
1. Ralph & Russo
This season, Britain's leading haute couture house showed its first ready-to-wear collection and it was interesting to see how Ralph & Russo translated their couture prowess into the everyday, or as everyday as clothes upwards of £2000 can be… The label's preferred shades of white, silver, pale pinks, blues and purples were all there alongside feminine shapes, delicate fabrics and their characteristic sophistication, yet with an edge.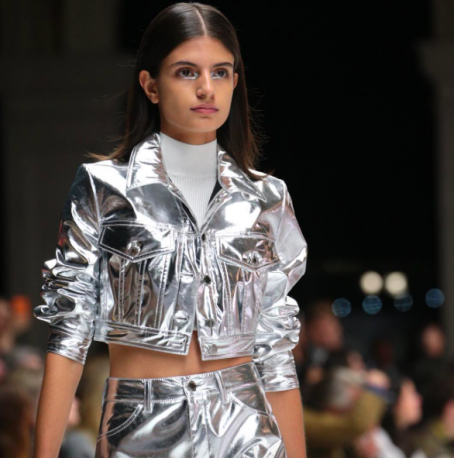 This season, Ralph & Russo introduced us to bold metallics, daring plunges and injections of black leather to keep in touch with the idea of the modern 'ready-to-wear' woman. It was evident that the brand's image, which has been solidified since its founding in 2007, remained at the core of the collection but a new clientele was being catered for.
2. Molly Goddard
Molly Goddard, having left Central Saint Martins only a handful years ago, has been a true pleasure to watch evolve. Goddard's collections have been few, but wildly successful, boasting clients such as Rihanna and Adwoa Aboah, with pieces consisting of heavy, bold and bright tulles, while playing with shape and showing us what it truly means to have fun with fashion. This collection, however, showed considerable progression; "the Molly girl still drinks, smokes and parties, but the overall effect, as Goddard acknowledged, was more polished". Colours were slightly more refined, shapes relatively uncomplicated, while either black boots or bare feet retained simplicity: it was Goddard all grown up. This is not to ignore, however, the presence of loud glittering smocks and a raw edge and attitude that only London can provide.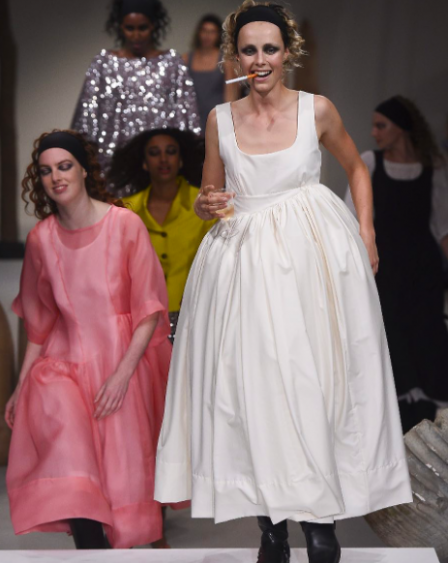 3. Preen by Thornton Bregazzi
Preen's SS17 collection (one of their best to date) centred around witchcraft, cults and underground subcultures was an instant hit, and this season was no less successful. Inspired by The Scarlet Letter and The Handmaid's Tale, models sported white clinical garments, some adorned with a scarlet 'A', while red boots and bonnets accompanied other looks. Stunning sheer dresses in an array of pastel and earthy hues implied both a sexuality and sensuality which appropriately tied in with the question posed by the literature that inspired much of the collection.
The husband and wife duo behind Preen were reportedly thinking about "the world their two young daughters are growing up in", with Justin Thornton adding, "we're living in an anarchy time when people have lost faith in leaders and lost faith in society". While many designers take a more obvious approach to discussing political matters on the catwalk (see Dior and Prabal Gurung for examples), Preen have proved once again that this can be done subtly and deftly all the while creating incredible fashion.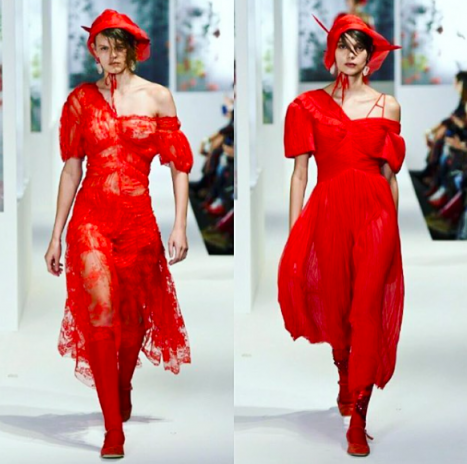 4. Emporio Armani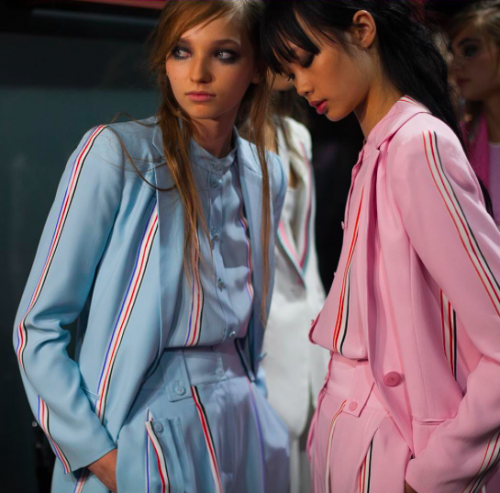 Armani is a quintessentially Italian brand, yet this season they decided to display their SS18 collection in London in celebration of the opening of its Old Bond Street store. As is customary, London provided the stage for Armani to show off its identity; we were presented with the sleek tailoring and the perennial easy elegance that is characteristic of Armani (and Italian style itself), yet it was updated and adapted to its setting with sporty finishes and youthful quirks in the form of baseball jackets, trainers and playful colours.
---
New York Fashion Week: the highlights
Like other designers at London Fashion Week, Armani gave us a range of pastels and feminine colours, implying that this is the style du jour. When asked, Giorgio Armani himself remarked that he was inspired by the Queen; "the Queen can wear whatever - it's her attitude that's most important: the security she gives. So I tried to put the colours of the Queen in the show." And so, it is proven how London has come to be the focal point for global fashion. Alongside supporting its own emerging talent, London continues to appreciate and inspire brands from all walks of life, confirming our capital as a place of creativity, diversity and positive change