A Brief History of Eddie Redmayne
With an Oscar on the cards, Nancy Hine writes a history of this burgeoning star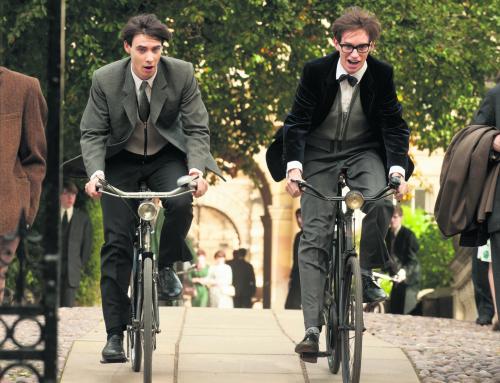 How could I not join the Eddie Redmayne fan club in 2008, after hearing him thus describe kissing Scarlett Johansson in The Other Boleyn Girl, "Together we had lips bigger than Christendom. We didn't even need to stand in the same room."  Only the absence of Mick Jagger prevented a pillow-lipped Tudor health hazard – an image that has kept me entertained for years.
Following Redmayne's most recent role, which brought him back to Cambridge, as Stephen Hawking in the The Theory of Everything, there has been widespread and febrile speculation that he is poised to receive the Oscar for best actor, making him the first Cambrige alumnus to do so. Given this, it seems only right that we should find out a little more about this dreamy Cantab and (forgive me), commence a Brief History of Eddie Redmayne.
During his time as a History of Art undergraduate at Trinity College he led, by all accounts, an 'active' life (in evidence of which I refer you to his photograph on the wall of the Pitt Club). Those of you currently in the midst of writing dissertations may also be interested to know that he wrote his on Yves Klein Blue; which was either heroically ambitious or monumentally foolish for a man who is acutely colourblind. His sojourn in Cambridge was, however, perhaps most memorable for his second year starring role as Viola in the Globe's 2002 production of Twelfth Night. This performance attracted much attention, with Paul Taylor noting in his review for the Independent that the cross-dressing Eddie Redmayne would "bring out the bisexual in any man".
Upon graduation, Redmayne gave himself a year to see if he could make it as a professional actor. One of the first roles he took on post-University was as Billy Grey in the Almeida production of The Goat, or Who Is Sylvia? for which he was awarded: 'Outstanding Newcomer' (Evening Standard Theatre Awards) and 'Best Newcomer' (Critics' Circle Theatre Awards).
Needless to say, at the end of the year he did not need to hotfoot it back to Cambridge to seek the sage advice of the Careers Service.
Redmayne went on to add an Olivier and a Tony to his awards cabinet for his portrayal of Rothko's assistant in the 2010 production of Red. The following year he turned back to the camera and starred in My Week with Marilyn, a film about an aspiring filmmaker's brief roll in the hay with Marilyn Monroe. However, it wasn't until 2012 that Redmayne truly became a household name. He took the role of Marius in the film adaptation of Les Misérables, another Oscar high flyer – although, sadly no one could actually see his performance through all the tears. The acclaim heralded by Les Misérables helped him to land his lead role in The Theory of Everything, and with that, we are brought full circle back to Cambridge.
Redmayne's list of credits and awards (Golden Globe, BAFTA, Oscar?) impressive as it is, may in the future be seen as merely the opening act of a major international career.
Recently he beat Nicole Kidman and Marion Cotillard to the part of the transgender painter Einar Wegener in Tom Hooper's new film, The Danish Girl,  which begins filiming this year. He is also currently starring in the Wachowski's Jupiter Ascending (so typecasting does not appear to be a problem at this time).
And Eddie, if you're reading this, you are welcome to sleep on my floor should you find yourself back in Cambridge filming The Theory of Everything 2 anytime soon – we all know how hard life is as an emerging actor.