13 Questions with Matt Richardson
He is the new host of ITV's The Xtra Factor and has just won the Leicester Comedy Festival's Best New Show award, Matt Richardson tells us about his first ever solo tour.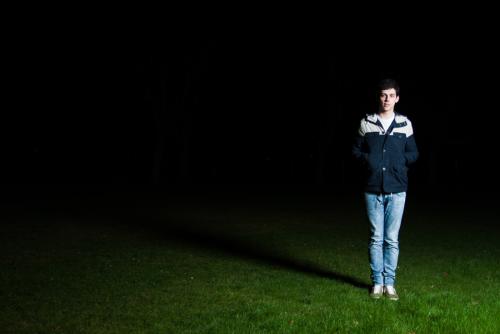 Describe yourself in three words.
Lanky and awkward.
Your new tour is called Hometown Hero, why that name?
I still live at home with my parents and when I wrote the show it was a a tongue-in-cheek title because I'd never done anything of note. But then I got quite a good telly job and it looked like I was being really arrogant, so it sort of back fired.
Why did you include Cambridge in your tour?
It's a great venue and I just think that it's a really nice city. I live in Oxfordshire so I know Oxford well and I have a soft spot for Cambridge because there are lots of similarities.
You called people from Oxford 'Oxymorons', what about people from Cambridge?
I'd call them Cambridiots.
Which would you choose between Oxford and Cambridge, and why?
Cambridge so I could be in the Footlights because they're awesome and way better than the Oxford Review. That's just a fact, not even my opinion, they just are.
You could get some hate mail from people in Oxford for this…
Yeah I think the venue that I'm playing in Oxford is 600 seats... I'll just get Brookes students to come.
How did you find the courage to give up university to become a comedian?
Honestly, I started studying publishing at Oxford Brookes because I didn't know what else to do. I realised I was really unhappy so dropped out in July to become a full-time stand-up but I didn't tell my Dad until October. I was the first person in my family to go to university so they thought I was mental when I said that I wanted to be a self-employed comedian. It's ok now because my Dad came and saw me do a full show which went really well. Now he can quantify my success because I know Dermot O'Leary.
What is the best or worst gig you've ever done?
My worst gig was at Bath City Football Club. I was performing at a 50's themed swing night, where they'd booked a comedian for no apparent reason. The chairman was yelling at me after the gig because I'd sworn and a guest told him to be quiet because they were trying to listen to the music. This somehow led to the vice-chairman hitting someone and me getting banned from the Football Club for starting a fight between two pensioners.
Do you think being funny is something you're born with or something that you can learn?
I think it's a bit of both, there are people who have 'funny bones'. Actually all my friends are funnier than me. Anyone who's half switched on can do an average stand-up routine but you need that extra bit of funniness to make it good. To do stand-up I think you need a weird personality flaw; you need to be insecure enough to want people to love you and strangers to laugh at you but arrogant enough to charge them for the pleasure.
How is it working on Xtra factor with Caroline Flack? We've heard she likes younger men...
She does, but not me. I'm too old for her anyway. She's amazing, I speak to her every day. She knows exactly what she's doing whereas when I started I didn't have a clue so she's taught me everything I know.
Who is your first choice to win X Factor?
I think it's difficult this year. This is when favourites start to emerge. I don't think people were talking about Luke Friend winning it before but now people think either he or Tamera could.
What's the weirdest experience you've ever had with a fan?
When I started on Xtra Factor, a lady sent me a picture of her nether regions on twitter with no explanation or message at all, which was pretty weird.
And to finish, tell us a joke...
I do more stories than jokes but I'll tell you my favourite which is by Gary Delaney.  'I accidentally filled up the escort with diesel the other day. She died.'
I'll also tell you the worst joke in my show, 'does ketamine make you feel a little bit hoarse'? That's as bad as it gets.
Tour dates and how to book tickets can be found on Matt's website