An American in London
Once it was Paris that was the haven of all aspiring artists. But now London is the great cultivator of the arts. From Big Apple to Big Smoke, American artists have found their feet and their careers. as Anna Gelderd finds out.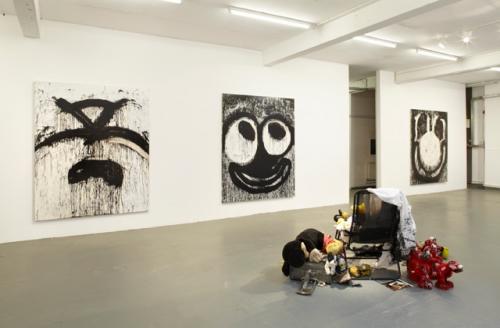 If like me you woke up this morning and comforted yourself with the knowledge that it was week 5, or 6 at the most with plenty of time to do everything; well, it is not and there isn't. Yet you are not alone. This realisation that everything is not how you thought it was is also what good art can sometimes get you to feel. It can remind you that everything might be fine because your experience is both personal and universal. Sometimes timing, artists and location combine and Modern Art breaks out of an individual experience into the national consciousness as an 'art scene'.
In the UK this usually results in a cacophony of accents asking questions such as "How can they charge that much for it?!" and, more directly, "what if the formaldehyde stops working and the dead start to decay?" As George Barker from London gallery George and JØrgen attests "whether or not people like, understand, or care about art...the arts contribute more to the GDP of the U.K than in any other country in the world." This fact is a powerful attribute and in difficult times London galleries are showing established artists in newly cool neighbourhoods and breaking new artists in more traditional areas.
Established Brooklyn painter Joyce Pensato and emerging Manhattan sculptor Will Corwin are a case in point. Both American artists invoke powerful images in their work which pose questions to the viewer. Pensato's gothic paintings of Mickey Mouse directly question a viewer's relationship with iconic childhood characters. In contrast Corwin offers more oblique suggestions, using imperfect plaster panels which can simultaneously be a monument, ruin, forgotten memory or a powerfully present reminder. This forces the viewer to consider the limitations of their own frame of reference and highlights the frustration of not being able to see the bigger picture.
Joyce Pensato is a painter who is part of the very fabric of Brooklyn, having grown up, worked in, and been a stalwart of the Williamsburg art scene. In her recent show at Hotel gallery in East London some of her "installation pieces" feature several Tickle-Me-Elmo's slathered in black enamel paint. In a seriously artsy space, with glorious white walls and an off-the-beaten track pedigree confirmed by having to ask directions to the local mosque rather than the gallery itself, you might not expect the artwork to demand hugs, dance and cackle inanely. Yet these doll's do just that, they don't ask to be merely looked at, they shout back too.
Hotel began as Darren Flook and Christabel Stewart's spare bedroom on the Old Bethnal Green Road. They created a space for international artists to stay, work and exhibit where high living costs would not stop artists experiencing London. The benefits of this international exchange can be seen in the Pensato exhibition which feels like an imported glimpse of the dark side of America.  Elmo's garish colours are obscured by black paint and large monochromatic paintings of Mickey Mouse, made more from thick black drips than brush strokes, re-imagines a sedated, Disney-esque, American fantasy. Despite the macho aesthetic of her paintings, Pensato is a female American artist who questions what it means to be all of these things.
If Pensato has a clear sense of place, growing up and working within a Brooklyn Art Scene, fellow American Will Corwin's work is more enigmatic. He studied architecture before leaving it all behind and heading to London a decade ago to experience the last-gasp of the YBA explosion. His propensity to create site specific work could be a reflection of the importance he attaches to a physical place. Perhaps the architect hasn't completely left the building after all.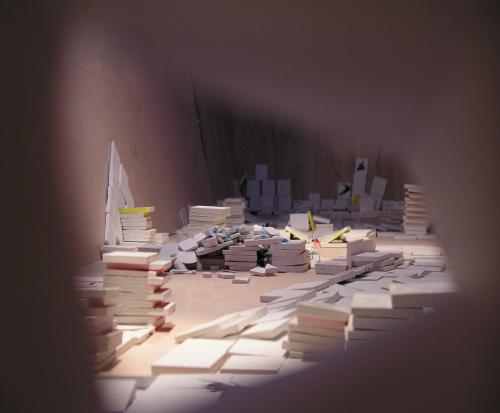 Corwin will create a series of site-specific sculptures at George and JØrgen, a brand-new gallery off Oxford Street, in March. Co-founder Ingrid Reynolds describes the gallery's roster as 'mostly artists at the beginning of their careers' or, in Will Corwin's case, exhibiting in a London gallery for the first time. Fellow founder George Barker believes that their West End location grants them important freedom because 'we can avoid being fashionable, which means we can concentrate on showing artists we think are exceptional without being troubled by following the crowd.'
Corwin's work also follows its own trajectory, evolving from figurative imagery painted on plaster panels, which form large 'canvasses,' to sculpture. This notion of a compartmentalized and expanding canvas has become the focal point of his recent work. His new abstract sculptures are reminiscent of old fashioned viewing boxes which invite you to look inside. On the other side is a surprising world, which expands the corporeality of sculpture to include an unreachable, miraculous, extra dimension.
As my favourite Agony Uncle Dan Savage of the NY Village Voice would say, whatever floats your boat is fine, just don't expect everyone else to understand it. This is also a good way of looking at contemporary art. As a result of the recession New York galleries are sticking with more 'bankable' art and quirky established artists or experimental emerging artists aren't getting a shot. Luckily, in London, galleries are trying new things, blurring the boundaries as they go. For a day return from Cambridge, you might find something different, maybe even surprising, which really floats your boat.
Hotel Gallery http://www.generalhotel.org/
George and JØrgen http://www.georgeandjorgen.com/