Ship Ahoy!: Inside Tit Hall's nautical Jerwood Library
Architecture columnist Arianna Rabin explores the maritime vibes of Trinity Hall's library and marvels at its innovative use of space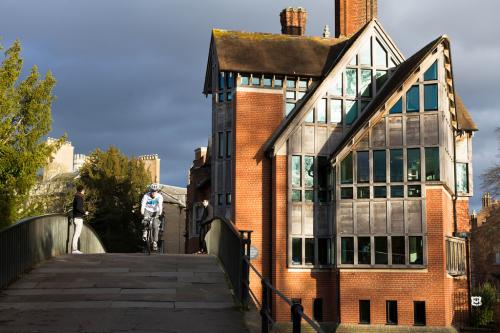 Trinity Hall is so pretty a college that the first time I looked around it (admittedly slightly tipsy with a friend equally partial to the Romantic) I nearly cried. A college nearly made me cry. I'm not kidding. And now I am publicly expounding upon this.
I think Trinity Hall is quaint and delightful, and does everything a Cambridge college ought to: I love its red brick and the flowers everywhere, and the fact that there are so many surprising small courts and spaces you chance upon as you wander about. It really reminds me of the vibe I got in Cornwall last summer – faintly faerie-land-y, with that feeling of discovering mysterious  little nooks you can laze about in. 
The large, aspiring-Oriel windows overlooking the river made it seem the perfect place from which to work
One part of the college that has long held an allure is its Jerwood Library. I first spotted this building in Fresher's week, making my first tentative trips to the UL while keeping an eye out for potential subjects for our very first essay, on a building in Cambridge (I ended up doing the UL itself). I thought the Jerwood does an excellent job of blending into Tit Hall's red-brick-gabled aesthetic. It also recalls the prow of a ship, with its quirky triangular shape protruding out over the Cam. The greyed wood beam façade helps that too.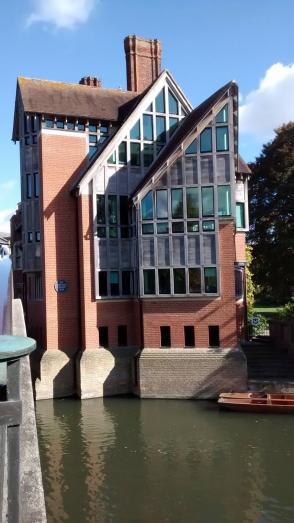 The large, aspiring-Oriel windows overlooking the river made it seem the perfect place from which to work: plenty of natural light, a comfy desk and peepholes which allow for spying but not being spied upon. 
Having now broken into this library for the purposes of this article (just call me a professional investigative journalist from now on, no biggie), I can confirm that it's gorgeous within as well, full of nooks where you can create your own little work cave while spying on punters going by outside, and surrounded by that lovely washed out grey wood that's on both the façades and the bookcase. 
A petite attic provides a computer space, and an absolutely beautiful old reading room which I was too scared to go in because it was completely silent, with not even laptops allowed, is done up in dark wood that matches the first part of the old staircase. The older part of the building blends easily in with this modern extension, which doesn't try to exactly mimic its surroundings, but also doesn't look at all out of place in them.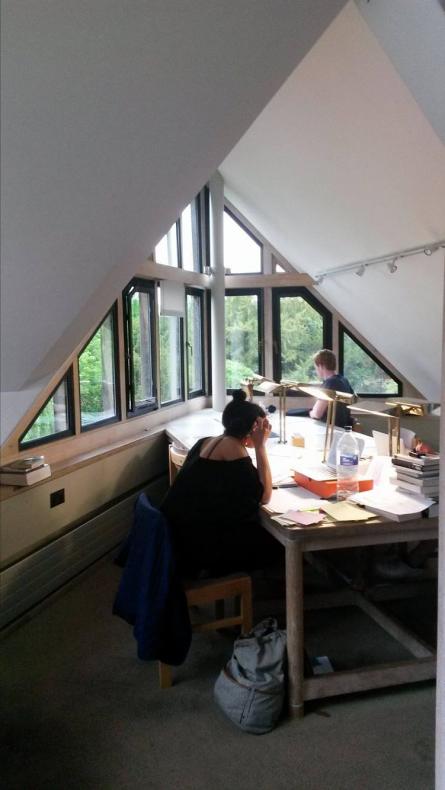 The Jerwood Library was designed by local Cambridge architecture firm Freeland Rees Roberts in 1999, and it turns out this firm has done loads of buildings round Cambridge I've noticed and admired: the Fisher House Catholic Chaplaincy redo, the extension to Scroope Terrace on Trumpington Street for the Architecture department, the back plodge at Queens. They also redid the old library space at the back of Tit Hall soon after the completion of the Jerwood; this was one part of the college that my friend Damian and I happily wandered into after a party that time, and were drunkenly delighted with. Clearly this firm does an excellent job of using small spaces effectively and prettily (I promise they're not paying me – but hey, FRR, I am looking for work experience!). We thought this tiny court (is it even a court? Tit Hallers, correct me) provided such a nice, small, outdoor space for students to hang out in. We don't really have that in my college. 
I'm always on the search for small libraries to work in, cozy spaces with good outdoor lighting streaming in  - our library at Christ's is small, always busy, and rather stuffy, although apparently years after I'm gone they'll be doing it up to have a glass enclosed court to one side. So good for buildings that a) use up existing awkward spaces well and b) trick you into thinking you're outside in the sunshine instead of inside revising!